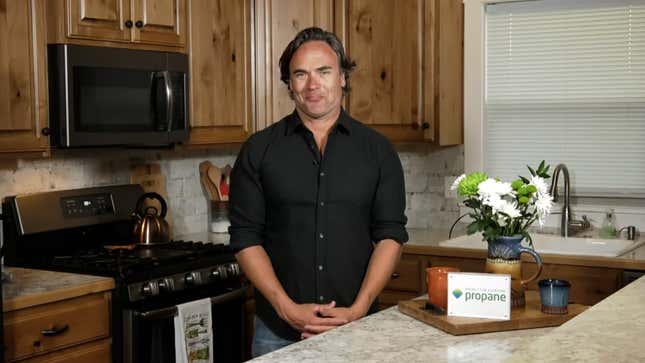 If you're watching HGTV or Netflix, there's a chance that you might run into a show hosted by an influencer who shills for the natural gas industry. An industry group is using federally sanctioned funds that are supposed to go to consumer education to pay for influencers and celebrities to promote natural gas and smear home electrification, the New York Times reported last week.

What Is Carbon Capture? With Gizmodo's Molly Taft | Techmodo
Documents obtained by the New York Times and the Energy and Policy Institute, a watchdog group, show that the Propane Education and Research Council (PERC) is paying for influencers, including HGTV star Matt Blashaw and Netflix science communicator ​​Emily Calandrelli, to spread their pro-natural gas, anti-electrification messaging.
"PERC is running the largest national anti-electrification campaign I've encountered anywhere in the United States," Charlie Spatz, a researcher at the Energy and Policy Institute, told the Times. "Propane customers, whether they're buying fuel for their home heating or for their grill, they're unwittingly funding PERC's anti-climate agenda."'
PERC occupies a strange niche in the oil and gas industry. Since it's a trade association that's federally recognized—Congress passed a law in 1996 that authorized the group—it's allowed to levy fees on the sales of propane; some $40 million of the nonprofit's revenue comes from those sales each year. The money is supposed to be used, per the law, to "inform and educate the public about safety and other issues associated with the use of propane."
But in recent years, the group has joined in with much of the rest of the natural gas industry on aggressive pro-fossil fuel, anti-electrification pushes. According to the Times, PERC documents detailing the organization's budget show marketing and communications as its largest spending category. And they've been spending some of that money on recruiting people like Blashaw and Calandrelli to be messengers for their pro-fossil fuel agenda.
A spokesperson for PERC told the Times that their campaign "asserts propane's role in a clean energy future" and "promotes the advantages of a wide path to decarbonization." Influencers "use and specify propane in their construction projects and are very familiar with propane's advantages."
In an email to Earther, a PERC spokesperson said that the organization "is committed to being part of the solution to climate change." The spokesperson said the group "has a clear mandate from Congress to promote the safe use of propane, provide for research and development, and educate consumers" and it "fulfills this mandate transparently, responsibly, and in full compliance with the statute."
Propane is made of fossil fuels and emits CO2 when burned. Much of PERC's messaging around propane is that it's a "cleaner" fuel; while propane may emit less CO2 than using coal, oil, or other fossil fuels, it still has a carbon footprint. The comparison of propane to dirtier fuels here—and giving it the moniker "cleaner" or "lower carbon" when compared to these fuels—is a deliberate industry misdirect from the zero emissions future that scientists have stressed we need to achieve.
Searching for Blashaw's name with "propane" turns up a lot of interesting results. Blashaw, a hunky contractor who has hosted a number of HGTV shows, routinely does feel-good local news spots extolling the virtues of propane. In a particular twist of irony, he hosted one such segment last year for Earth Day talking about how propane is a good choice for the planet-conscious.
"[On] Earth Day, we're thinking about being stewards for the planet," he said. "It's time right now to use a very diverse, low-carbon energy mix to power homes and businesses. …We talk about electrifying everything, but that's really not the answer at this point." Propane, Blashaw went on, is a "clean burner, it cleans up the environment."
Calandrelli, meanwhile, describes herself as a "MIT engineer + Emmy-nominated TV host" on her Instagram page. She has appeared on a number of local television programs as part of a campaign with PERC to promote propane buses, touting them as cleaner than diesel and less expensive than electric buses.
Calandrelli posted a response on Twitter to the Times piece defending her work with PERC on the school bus campaign; when we reached out for further comment, her agent referred us to that thread. Blashaw referred questions the Times asked him to PERC; he did not respond to an Earther request for further comment.
The Times report came during a fever-pitch week for the conversation around electrification, as Republicans in Washington seized on the idea of a ban on gas stoves to kick off a new culture war. These incidents aren't happening in a vacuum: The industry has been on red alert for the past few years, as increasing numbers of cities and municipalities have banned new natural gas hookups. It has deployed aggressive tactics to help along legislation that would ban bans on fossil fuels. And this also isn't the first time the natural gas industry has employed influencers to tout the wonders of gas in the home. A Mother Jones investigation in 2020 found that the industry was also paying social media influencers to rave about the benefits of gas stoves.
The propane industry, for its part, feels the need to "combat the growing narrative that fossil fuel combustion is the main cause of climate change, and that propane is a dirty fossil fuel," the chief executive of a North Carolina propane company told the propane council at a meeting in 2021, according to meeting minutes reviewed by the Times. "The movement to electrify everything is rapidly gaining momentum, and poses a substantial threat to the sustainability of our industry."