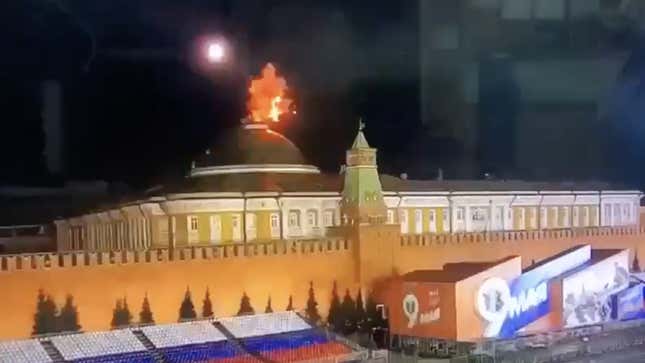 Russia claims Ukraine staged an overnight drone attack to assassinate President Vladimir Putin but has provided no evidence to back up the accusation. This is the latest claim made by the Kremlin amidst what it says has been a series of attacks beyond enemy lines.
Russia said in a post on its government website that its military and special services disabled two drone attacks "aimed at the Kremlin" on Tuesday night. "We regard these actions as a planned terrorist act and an attempt on the life of the president, carried out ahead of Victory Day," the site said, according to NBC News.
It said no one had been hurt by falling debris in Moscow, but added, "The Russian side reserves the right to take retaliatory measures where and when it sees fit."
This is a video of the alleged drone attack against the Kremlin 🇷🇺. I have some serious question marks. Is it really realistic - if the drone was from far away - that no air defence could have intervened until right above the Kremlin itself? pic.twitter.com/WYRdaHPf5g

— Carl Bildt (@carlbildt) May 3, 2023
According to The New York Times, a Ukrainian official said Kyiv had "no information about the so-called night attacks on the Kremlin." Mykhailo Podolyak, an adviser to Ukrainian President Volodymyr Zelenskyy, suggested in a statement to NBC that "guerilla activities of local resistance forces" might be at fault, adding it is a sign that Russia is preparing "a large-scale terrorist attack."
An unverified video of the alleged attack was posted on social media early on Wednesday, showing what appears to be a flying object heading toward the Kremlin before bursting into flames. Putin was reportedly not in the building at the time of the attack, a Kremlin spokesperson told RIA Novosti, according to Reuters, and was instead at his Novo Ogaryovo residence outside Moscow.
The move comes ahead of Russia's Victory Day celebrations, which commemorates the defeat of Nazi Germany during World War II. The holiday is typically celebrated with a parade held in Red Square in Moscow and will go ahead as planned, however, a Ukrainian spokesperson told the BBC, "What happened in Moscow is obviously designed to escalate the situation before 9 May."
Mick Mulroy, a former US deputy assistant secretary of defense and CIA officer told the outlet that the possibility that it was an assassination attempt remains unlikely, citing that Ukraine tracks Putin's movements at all times and would have known he wasn't in Moscow during the alleged attack.
"This may have been to show the Russian people that they can be hit anywhere and that the war they started in Ukraine may eventually come home to Russia, even the capital," Mulroy told the BBC. But, if the reports weren't accurate, he added, "Russia may be fabricating this to use as a pretext to target President Zelenskyy. Something they have tried to in the past."
Russia has accused Ukraine of carrying out numerous cross-border attacks since its invasion of Ukraine in February of last year. Ukraine has repeatedly denied all accusations including reported strikes on a Russian airbase in December and accusations that it crashed a drone in Kolomna, about 70 miles outside Moscow, in February.