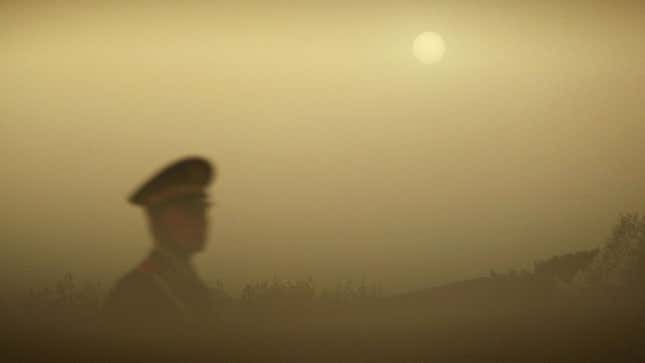 Simply viewing a photo of the Quran in the Xinjiang region of China is enough to be designated a dangerous extremist by government officials, according to a Human Right Watch report released Wednesday. Chinese police maintain a "master list" of around 50,000 video, audio, and photo files they claim contain violent and harmful content. Individuals found with copies of those files stored on their own devices were reportedly flagged and brought in for interrogation. That supposedly violent content? Quran readings and wedding songs, according to Human Rights Watch (HRW).

The Boogeyman's Sophie Thatcher Reveals What Draws Her to Dark Characters | io9 Interview
HRW says it analyzed around 1,000 files flagged by police in more than 11 million searches during a nine-month period between 2017 and 2018. More than half (57%) of those flagged files were media HRW describes as "common religious material," something any Muslim anywhere in the world might have saved on their phone. Only 9% of the flagged files contained explicitly violent content, and just 4% included calls for violence, according to HRW.
"The Chinese government's abusive use of surveillance technology in Xinjiang means that Uyghurs who simply store the Quran on their phone may trigger a police interrogation," China director at Human Rights Watch Acting China Director Maya Wang said. HRW says the master list is part of a larger Chinese police database leaked to The Intercept back in 2019. Though The Intercept previously reported on account of police surveillance in the region, HRW says the master list details are new.
"The Chinese government outrageously yet dangerously conflates Islam with violent extremism to justify its abhorrent abuses against Turkic Muslims in Xinjiang," Wang added.
What else is on the CCP's Uyghur master list?
Some of the videos, photos, and audio files included on the master list of harmful content does, in fact, seem to match most people's definition of violent or harmful content.
The list, for example, includes gruesome beheading videos carried out by the Islamic State, Mexican cartels, and other militant groups, according to the report. On the overtly political side, the list also includes media from the East Turkestan Independence Movement—a group China considers a separatist organization—and Radio Free Asia, which receives support from the US government.
Anti-Communist material, including a documentary film detailing the events of the 1989 Tiananmen Square massacre, were also included in the list. News regarding the Tiananmen Square event, in general, is heavily censored on the Chinese internet and is even restricted in China's new generative AI chatbots.
Details of the police master list offer new insights into the mechanisms authorities rely on to carry out its alleged systematic persecution of the Uyghur ethnic minority. Human rights organizations and media reports claim the Chinese government, has persecuted and arbitrarily detained millions of Uyghur and other Turkic Muslims. Once detained, some of those prisoners are reportedly subject to torture, forced labor, and intense surveillance. Children of detained individuals are reportedly separated from their parents and placed in state-run child welfare institutions. The new master list suggests Uyghur with copies of the banned files can find themselves among the detained even if they never intended to take any action against the government.
"Criminalizing mere possession of material deemed extremist even if the accused has no intent to use it to cause harm to others is a particularly severe threat to freedom of belief, privacy, and expression," HRW said. "These rights are guaranteed under the Universal Declaration of Human Rights and the International Covenant on Civil and Political Rights, which China has signed but not ratified."