Paul Williams is probably best known as a rock critic who started the groundbreaking magazine Crawdaddy! as a teenager and sang with Timothy Leary on John Lennon and Yoko Ono's "Give Peace a Chance." But Williams, who died yesterday after a battle with dementia, also has a major place in science fiction history, including as Philip K. Dick's friend, literary executor and biographer.
Williams met Philip K. Dick in 1972 and the two remained friends until Dick's death, after which Williams served as Dick's literary executor, getting several of Dick's previously unpublished and trippiest novels into print and helping to fuel the rise of Dick's literary reputation. He did an important 1975 article about Dick for Rolling Stone, wrote one of the first biographies of Dick in 1986, Only Apparently Real, and helped to run the Philip K. Dick society.
Over at the Gollancz Blog, Malcolm Edwards writes:
Dick's reputation is now so secure that it's hard to remember that it wasn't always so, particularly – perhaps – in the USA. (He was generally better served by publishers in France and the UK.) It was Paul's and Russ [Galen]'s work which transformed the situation. When you read one of the many Gollancz editions of Philip K. Dick it is worth remembering that they are there in part because of their efforts.
He also edited the complete stories of Theodore Sturgeon, and collaborated with David G. Hartwell on the first book edition of The Universal Declaration of Human Rights, with a foreword by Jimmy Carter.
Even his books of music writing weren't just about music, but about a lot of other stuff. Speaking about his legendary book Das Energi in one interview, Williams explained:
Das Energi was written in 1970 when I was on this wilderness commune in Canada. It was the next book after Time Between. And I'd been thinking about it for a while. It came out of these late night conversations, where you suddenly, you're sitting around with your friends, you get all excited and you figure out what the world is all about, how everything works, and all these ideas that were in the air from taking psychedelic drugs, reading science fiction books, using the I-Ching, and all that kind of thing. I had some vague idea before I started writing it of, yeah, let's get all that stuff down somehow. And then I was writing fanatically, turning out all kinds of stuff, and I break, which really turned out to be only for four or five months, and when I started writing again, I was in this community in the woods, writing with a pen, and it started coming out in this funny way, just like a few sentences on a page. Maybe an extension of what was happening with Time Between, where the way the words are on the page is part of the story. And, I wasn't really thinking about it, but you start writing and one page leads to the next one, you say, well, let's see, what other subjects haven't been covered yet. I gotta talk about security, I gotta talk about whatever. It was a book of thoughts, though everything I write is really an essay of some kind, and this was just an essay stretched out, where there might just be a paragraph or a sentence on a page, but it's still an essay going from one thought to the next.
G/O Media may get a commission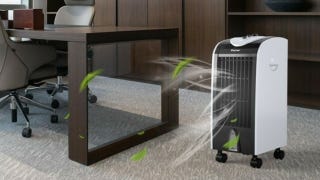 Save $10
Evaporative Portable Air Conditioner Cooler with Filter Knob
Williams carried a lot of the science fiction fanzine culture into the world of rock criticism — and then he brought something back from rock journalism to science fiction, too. Writing in Paste Magazine, Bob Hill said of Williams:
Paul Williams' pieces weren't just about music. They were about faith and struggle, religion and redemption, life and death, love and loss. They were about all the major themes that great songwriting is about. But Paul had the space and the freedom to go even deeper; to explore what exactly was at stake in every song and how—on any given night—rock 'n' roll had the power to break down the walls that kept people boxed in; to show us the edge without pushing us over.

Paul Williams was indie before indie was indie; punk rock a full decade before anyone even knew what that meant. And he had the foresight and intelligence to recognize that Crawdaddy! would always be more respected and less successful than most of the other mainstream magazines out there… and that that was a good thing.
But you don't hear Paul's named mentioned with the same frequency as Lester Bangs or Jann Wenner or even Hunter Thompson. And you won't find a statue or a stamp or even a park bench bearing his name. And that's okay, because those things never seemed to matter much to Paul Williams. What does matter is that he created a brand that still stands for something—some 43 years later. He created a magazine that not only gave birth to rock criticism, but somehow managed to outlive it.