Italy's Mediterranean climate has turned Siberian.

Usually winter weather has a snowball's chance in hell of reaching Rome. But on Monday, flakes flew in the Holy See and other parts of Italy normally spared from winter weather. The culprit is the "beast from the east," a mass of cold Siberian air that has turned much of Europe's weather upside down.
The mark of the beast may sound like bad news at the epicenter of Catholicism, but Romans seem to be taking it in stride. In addition to beautiful pictures from the Vatican blanketed in snow, Romans and tourists had an impromptu snowball fight in St. Peter's Square. Elsewhere, kids turned the ancient chariot racing grounds at Circus Maximus into a sledding hill.
Romans haven't seen snow since 2012 in the city, and it's the largest in decades for late February, according to Reuters. Because it so rarely snows in Rome, the city shut down schools and called in the army to help plow the streets. Flights have also been wildly delayed or cancelled.

Elsewhere, snow has fallen in Adriatic resort towns on Italy's eastern flank. The rare snow there has snarled traffic along the coast.
G/O Media may get a commission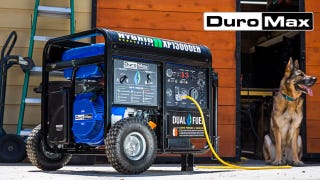 Black Friday Sale
DuroMax Generator Sale
While Italy is the most visible case of weird weather in Europe, much of the continent is dealing with the deep freeze. Meteo France, the French weather service, said temperatures will be up to 18 degrees Fahrenheit below normal and that "such values are quite remarkable at this time of the year."
Only Spain and Portugal are likely to get a reprieve from the cold air, so if you're taking a European vacation this week, consider re-routing there.
All of this cold air comes courtesy of a high pressure ridge parked over Scandinavia. It's created what's known as anti-cyclonic pattern, which means that winds circulate around it in a clockwise direction. Unfortunately for Europeans, that means winds sweep across Siberia dragging all that cold air with them toward Europe.
The bizarre chill is hardly the only upside down weather in the northern hemisphere right now. The Arctic is sweltering for this time of year, with warm air pouring in from the North Atlantic and North Pacific. This weekend, the world's northernmost weather station (located in northern Greenland) topped out at 43 degrees Fahrenheit, which is around 60 degrees Fahrenheit above normal for this time of year. This heat could have much more lasting consequences than the snow in Rome, which should melt within a few days.
This weird pattern of cold Europe, warm Arctic is likely to continue for part of this week. After that, we could see a pattern that brings the cold, stormy weather to the eastern U.S. just in time to wrap up winter. Here's how Capital Weather Gang explains it:
The resulting atmospheric pattern, known as the negative phase of the North Atlantic Oscillation, is forecast to fall to record low levels as February turns to March — a reflection of the extreme nature of this weather configuration. This same pattern could also turn conditions in the Mid-Atlantic and Northeast United States cold and stormy in about seven to 10 days.
But for now, let the Romans enjoy the snow.