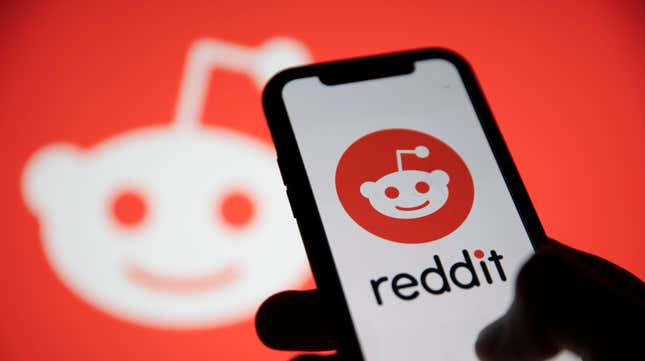 While Reddit's recent moderator-led protests against the company's new API pricing have been loud, dramatic, and sympathetic to most, they don't seem to have affected traffic to the social media platform in a significant way, according to new data.
Reddit Knowingly Downvoting Self | Future Tech
Data from the independent web traffic analyst Similarweb shared with Gizmodo shows that traffic dropped about 5% on June 12—the first day of the protest where more than 8,000 subreddits went private—from 57.8 million visits to 54.3 million, and remained at that decreased level for nearly a week. Less than a week later on June 18, though, traffic on Reddit began to bounce back to near-normal levels. That day, Reddit traffic stood at 56.9 million, an increase of 7% compared to the previous day. On June 19, traffic to Reddit remained steady at 56.5 million, not significantly far from the June 12 level.
David Carr, a senior insights manager at Similarweb, told Gizmodo in an email on Friday that one metric that saw a much steeper decline in response to the protest was the time people spent on the site, which dropped by about 16% in the first days of the blackout. At one point during the protest, the average user was spending 7 minutes and 16 seconds on Reddit, Similarweb's data showed, compared to an average of 8 minutes and 41 seconds in May. However, time spent has likewise returned to pre-protest levels.
"In other words, people were still coming to the site (traffic was down about 8%), but not sticking around because some of the most interesting content was unavailable," Carr said. "Since then, the average duration of visit has recovered to near-normal levels, however."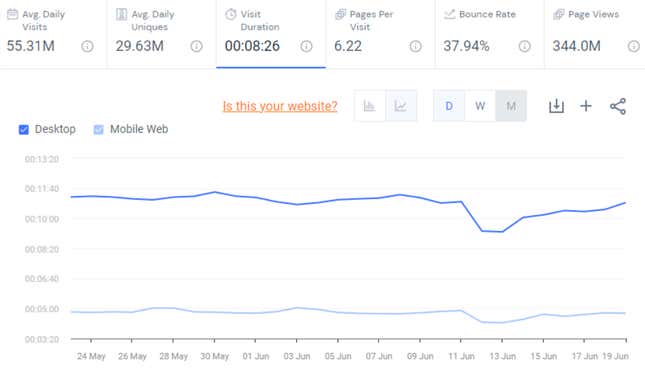 Overall, Carr stated that his impression was that "that traffic (and probably the business value of that traffic for advertising) are bouncing back after most subreddits came back online," despite the fact that some are still protesting by only posting photos of British comedian John Oliver. In some cases, Carr pointed out, traffic is up in subreddits expressing their discontent with photos of Oliver. Traffic to r/pics, for example, is up 564% compared with last month, while traffic to r/Aww is up 152% compared with last month.

The traffic analysis from Similarweb seems to largely support the message Reddit CEO Steve Huffman, the main villain of the protests, sent to the company's employees on the first day of the protest last week, where he reassured them that "like all blowups on Reddit, this one will pass as well." At that time, Huffman said that Reddit had not seen any significant impact on the company's revenue.
However, Similarweb told Gizmodo traffic to the ads.reddit.com portal, where advertisers can buy ads and measure their impact, has dipped. Before the first blackout began, the ads site averaged about 14,900 visits per day. Beginning on June 13, though, the ads site averaged about 11,800 visits per day, a 20% decrease.
For June 20 and 21, the most recent days for which Similarweb has estimates, the ads site got in the range of 7,500 to 9,000 visits, Carr explained, meaning that ad-buying traffic has continued to drop.
Reddit declined to comment on the traffic analysis from Similarweb.
Moderators on Reddit blocked public access subreddits last week to protest the company's upcoming changes to its API pricing, which was free for years. Reddit's API allows third-party developers to create apps and products for the platform. As a result, developers of many third-party apps beloved by Reddit users, such as Apollo, announced they would have to shut down because they wouldn't be able to pay what Reddit was asking to use its API.
Reddit, meanwhile, argues that it's only fair to charge third-party developers that use its API because the company pays for its data and hosting. The company claims it costs Reddit $10 million to support third-party apps. Reddit's new API pricing will go into effect on July 1.
Although Huffman, Reddit's CEO, originally stated he would let the moderators end the protests on their own accord, the company has changed course in recent days, pressuring moderators to reopen their subreddits and, in some cases, removing them. As of Friday, more than 2,500 subreddits were still barring the public from accessing their communities to protest the company's API pricing.