The leading cause of death worldwide isn't an infectious disease or cancer. It's air pollution. And despite our best efforts to control it, smog is still increasing at an alarming rate worldwide, posing a health risk to over 80 percent of all city dwellers.

That's the sobering conclusion of an update released today by the World Health Organization, whose global air pollution database tracks annual mean concentrations of fine particulate matter—tiny particles of sulfates, nitrates and carbon that bury themselves deep in human lungs. The WHO was able to compare information on particles smaller than 10 or 2.5 microns (PM10 and PM2.5) across 795 cities in 67 countries between 2008 and 2013.
Since the WHO's last global analysis, cities around the world have seen an eight percent growth in outdoor air pollution. A whopping 98 percent of cities in low and middle income countries do not meet the WHO's air quality standards, placing residents at a greater risk for stroke, heart disease, and acute respiratory illnesses. In wealthy countries, the number of cities with unclean air falls to 56 percent.
G/O Media may get a commission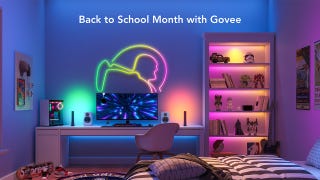 Back to School
Back to School Month with Govee Sale
Overall, the worst air pollution was seen in India, southeast Asia, and the Middle East, where annual mean levels of particulate matter often exceeded WHO limits by a factor of 10. But the dirtiest air in the world goes to Onitsha, a trading city in southern Nigeria where PM10 concentrations average nearly 600 micrograms per cubic meter. The safe recommended limit is 20.

"We have a public health emergency in many countries," Maria Neira, director of public health at the WHO in Geneva told The Guardian. "Urban air pollution continues to rise at an alarming rate, wreaking havoc on human health. It's dramatic, one of the biggest problems we are facing globally, with terrible future costs to society."
All of this is, of course, can be tied to rapid population growth, urbanization, and industrialization. When countries impose stricter emissions regulations on power plants and vehicles, and when cities make greater investments in public transit, walking and biking networks, the drop in air pollution is immediate and dramatic. In fact, if you live in a country whose industrial revolution took place over a century ago, it can be easy to forget that air pollution is still such a problem today.
But whether it's your backyard or not, this is something we all need to worry about. The more resources we have to spend fighting a public health crisis that claims up to 5.5 million lives a year, the harder it is to double down on the investments in clean energy infrastructure we need to keep our global atmosphere safe for future generations.

[WHO via The Guardian]