I don't know why we're seeing a flood of Android tablets this season. It could be because the operating system can finally handle the scale of all sorts of screen sizes. Or it's the long-awaited arrival of the Pixel Tablet that's made every other manufacturer feel like it needs to follow in its still-unreleased footsteps. Whatever the reason for the sudden influx, it's welcome because this category within the platform needs a boost. I'm tired of telling people to buy an iPad if they want a tablet.

I wasn't expecting OnePlus to deliver a tablet I'd enjoy using, but here we are. Sure, the $480 OnePlus Pad could use a better moniker, but it's showing promise that tablets have a future in the Android realm. Unlike the announced-but-not-released Google Pixel Tablet, this isn't positioned as a device for the home but rather one that showcases Android's large-screen capabilities. It's still rough around the edges—Android 14 is supposed to help with that later this year. But until then, the OnePlus Pad is teasing what's to come.
Gorgeous green and a big screen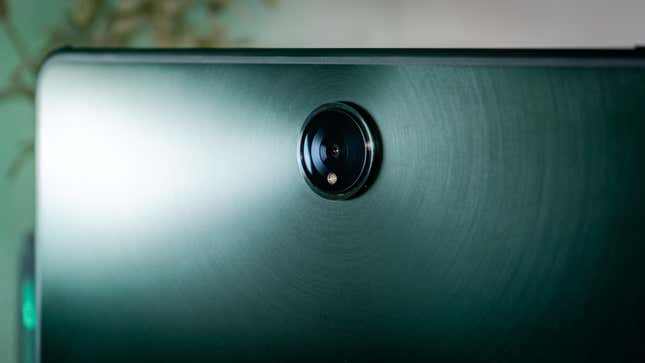 No Android tablet has been able to dethrone Apple's iPad, especially when it comes to overall aesthetics. But the OnePlus Pad is undoubtedly pleasing to the eye. It comes in one color: "halo green." It's jade-hued in sunlight and emerald under an office lamp. The important thing is that it's not black, as many of my previous favorite Android tablets were (the Nexus 7 and Nexus 9, respectively). It's nice to see OnePlus try something different—or at least something that helps its brand stand out.

The tablet chassis is sturdy and carries a bit of the signature OnePlus look with its design finishes. Look closely, and you'll notice the cambered aluminum backside—it's impressive in person and adds a bit of decadence to an otherwise standard tablet. There are physical buttons on the side of the tablet around the left or right corner of the device, depending on whether you orient it horizontally or vertically. They include the volume rocker and power button. I like that they're clustered together, and using the screenshot shortcut is easier this way on a large tablet.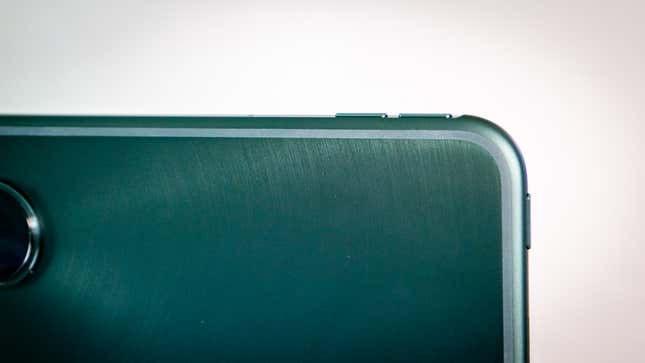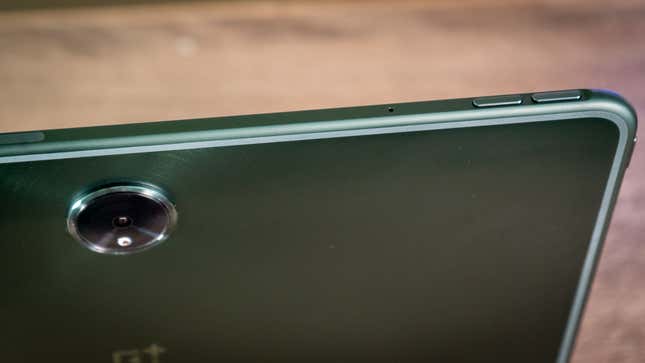 The OnePlus Pad is a big tablet. It's an 11.6-inch screen, bigger than Samsung's Galaxy Tab S8, though smaller than the Tab S8+/S8 Ultra. At 6.7 mm, it's relatively thin, though all three tablets mentioned above are thinner by about a millimeter. Regardless, the OnePlus Pad fits nicely into a backpack or large tote bag, but you need a bag with padding for this dense 1.2-pound tablet. It feels heftier with the keyboard case on.

The OnePlus Pad comes with 128GB of storage space. It's too little storage to cart around the tablet as a companion work machine, especially if you're prone to downloading every email attachment for offline use or want to edit locally-stored RAW images. There is no expansion slot on the device or a SIM card tray—OnePlus actually encourages you to use the built-in Cellular Data Sharing capability, the idea being that you're already paying for 5G service on your smartphone, so why not extend it across two devices? It's meant for use with the brand's phones, like this year's flagship release, the OnePlus 11.
A decent, but ageing processor that can handle gaming and impressive sound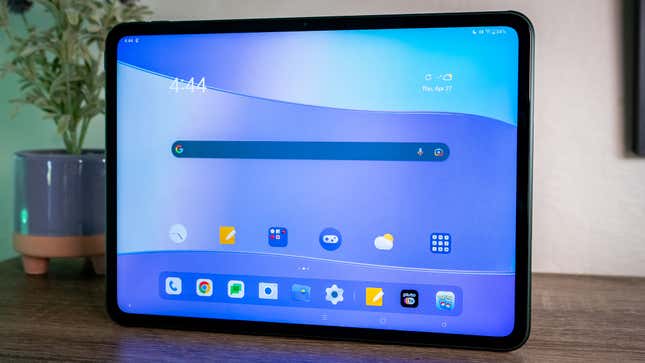 The OnePlus Pad runs on a MediaTek Dimensity 9000 processor. That's MediaTek's flagship equivalent from about two years ago. Though it's not a performer like the Snapdragon 8+ Gen 1—what I'm assuming Samsung would have used if it released the Tab S9 this year—the Pad handled everything I threw at it. In Geekbench 6 tests, which we use to get a basic idea of how a device performs relative to others, the Pad trailed about 300 points behind flagships like the Pixel 7 Pro and nearly 800 points behind the tiny Galaxy S23 just in the single-core scores. Those are the only devices we've tested using Geekbench 6 thus far.

The memory configuration definitely keeps things tepid. There's 8GB of RAM bundled in the OnePlus Pad, making it less capable than its smartphone counterpart, the OnePlus 11, at least in the WebXPRT 2015 test. This measures standard browser-aided capabilities like photo editing and OCR recognition. The OnePlus Pad scored 392, ranking slightly higher than last year's Samsung Galaxy S22 series. For a broader comparison, this year's Galaxy S23 series scored in the mid-500s.
I did experience some slowness in my interactions. While in Creative Cloud, it took a second for the app to register my taps on the screen, causing me to get a little frustrated as I tried to enter my credentials. But otherwise, I was able to get lots of everyday tasks done across the system. I quickly edited some RAW photos that I transferred using NearbyShare from my PC. I launched into Xbox Game Pass and logged into my Dreamlight Valley cloud account, which was a delight on the big screen (though I'm still trying to figure out how to use the mouse and keyboard instead of pairing a Bluetooth controller).
Speaking of the display, the 11.6-inch LCD screen on the OnePlus Pad supports up to a 144Hz refresh rate for any apps that have been whitelisted—like Xbox Game Pass, for instance, which helps even bandwidth-hungry cloud games run smoothly. Otherwise, the OnePlus Pad toggles between 30-120Hz in increments.
The OnePlus supports all the perks of Dolby's immersive entertainment offerings, including Dolby Vision and Dolby Atmos. The latter has become standard across Android hardware like this year's Samsung flagships. In the case of this OnePlus tablet, the idea is that content can take advantage of the Pad's "omni-bearing sound field," which is a fancy way of saying that you can hear music and sound from the tablet whether you're on the left or right side. I listened to the jazz musician Dave Koz while trying to get this piece written, and I liked the atmosphere set by the OnePlus Pad despite being a mere slab on my desk. It's about as effective as the tiny Amazon Echo Dot or Apple HomePod Mini I have stationed beside me, but a little less bassy. It's also practical for passively watching TV, which is most of what I did with the giant screen.
The OnePlus Pad is powered by a 9,510 mAh battery. It's compatible with OnePlus's SuperVOOC charging capabilities and comes with a 67W charger in the box. This proprietary technology does charge OnePlus's devices rather quickly—it took a little over an hour for the OnePlus Pad to fill up about 60% battery with the charging spec, or nearly 6,000 mAh.
Although OnePlus promises a little over 12 hours of battery life on a charge, I am still testing that claim on the Pad and will update as soon as the benchmark finishes. Android tablets like the Galaxy Tab S8+, which boasts a 10,090 mAh battery, didn't reach 10 hours off the charger in our internal testing, so I'm not expecting the OnePlus Pad to impress in this category.
I took some preliminary battery notes, however. The OnePlus Pad used up about 22% of the battery as I casually used it to chat with my husband, run a browser benchmark, and edit a photo. It dropped nearly 30% after three hours of watching a little Pluto TV and using the browser to conduct some research. Pack the charger with you if you're going out for the day because at least it will do that fast.
Lastly, we must remember the cameras, which include a centered rear 13-MP sensor and a front-facing 8-MP sensor. They're solid for video calling and sending a quick clip of a real-life happening to a family member. That front-facing camera is also much less muddy than the photos I've snapped with a tablet-like device, the Samsung Galaxy Z Fold 4.
You're probably going to want the OnePlus Pad's stylus and imperfect keyboard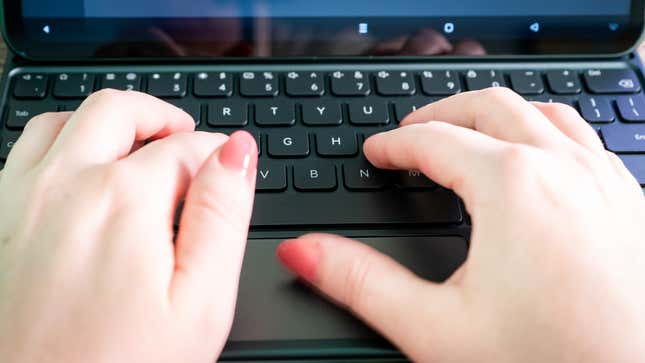 Integral to the OnePlus Pad experience is its accessories—I wouldn't suggest buying this gargantuan tablet without considering the $150 OnePlus Magnetic Keyboard, which latches onto the Pad via a three-point pogo pin and an assortment of strategically placed magnets. You should still have a nice, solid surface if you attempt to type anything on this tablet with the physical keyboard. The case isn't the sturdiest, and a few times, the OnePlus Pad slipped out of the enclosure as I set it up.

The keyboard reminds me a bit of what the Surface Go has going on with its chiclet keys and gesture-compatible touchpad. It's weird to remember that Android has a cursor! It isn't an arrow like a desktop OS, but rather a little circle. Anyway, typing on this keyboard is fine if you're chatting with someone or inputting a password, but I could not get away with filing a story with just this keyboard. I have long nails, which makes it hard to feel when I've pressed the keys, not to mention they tend to slip around the board depending on how fast I'm going. I felt slowed down by it and could only get as fast as 90 words per minute in a 30-second monkeytype test. I'm typically a 100+ WPM gal on a full-size keyboard.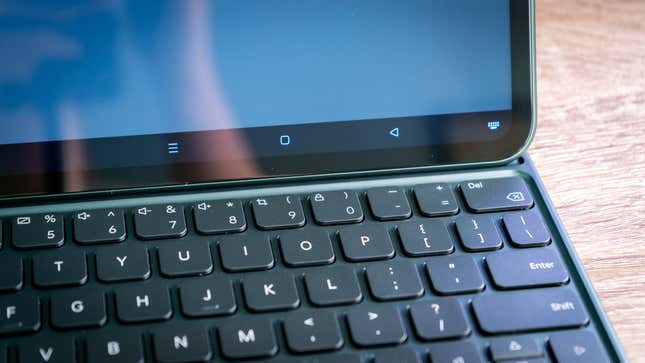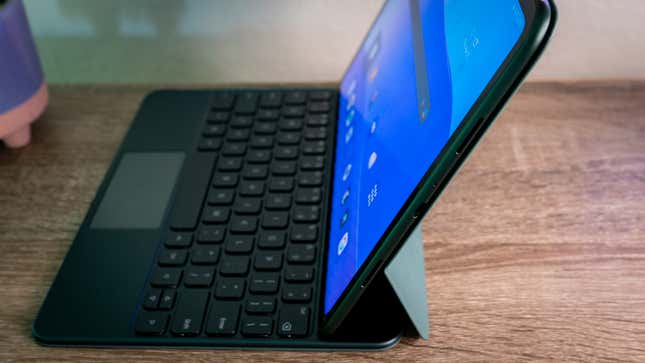 The OnePlus Pad has an optional stylus called the Stylo, which costs $100. It clips magnetically to the top of the tablet to charge. OnePlus boasts a "millisecond-level smooth" writing experience with the pen, which supports 60-degree angled interaction and 4,096 levels of pressure. I can't speak to it as a drawing tool because that's not really in my programming, but I found it a comfortable writing tool. I don't usually use a stylus on Android hardware because, in cases like the Galaxy S23 Ultra, the screen isn't big enough to trick my brain into thinking it's a notebook. But the OnePlus Pad is big, so I took notes periodically throughout my week of testing, and it's a nice alternative for when I didn't have a pen and paper nearby. The only issue is there's no cloud syncing with third-party services if you're using the OnePlus Notes app, so I had to remember to share my documents as text or images outside the app to access them elsewhere.

Skip the gestures on the OnePlus Pad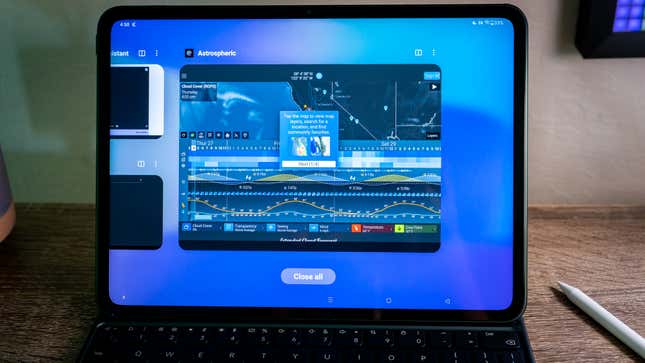 The OnePlus Pad runs Android 13 right out of the box, though it's OnePlus's flavoring called OxygenOS 13.1. The helpful parts of Android that make the Z Fold 4 usable, for example, are present here. If you use the navigation bar, it can move left or right, depending on how you're holding the screen. Split-screen happens by long-pressing from the multitasking menu, though OnePlus offers gestures. I'll get into those in a bit.

You will want to turn on some settings before the OnePlus Pad becomes a primo Android tablet experience. First, the floating keyboard: if you plan on getting the magnetic keyboard case, you should go into the Android settings and turn off the floating keyboard when it's attached. It's cumbersome to deal with on the screen when you're trying to use the mouse to navigate the OS. Then, you'll want to enable the ability to double-tap to wake the screen—it just makes things easier. You'll also want to shut off the "Smart Sidebar," which feels like more of a burden when trying to use the OnePlus Pad to type words and answer emails.
There's more to customize about this software, including whether to enable a plethora of gestures that OnePlas has bundled in for so-called "power users." Some include a three-finger swipe from left to right to switch between apps. Or, you can pin an app into a floating window with four fingers. I tried it with my newspaper app, and it worked, but only after the third try. It shrunk it down to a 9:16 window. But then I wanted to snap it to either side of the display, and I couldn't. There's a different gesture for that one, and it's a two-finger swipe up, but only if you're on the Home screen. Overall, interaction with the software didn't feel as fluid as using ChromeOS, and I felt better off not even bothering with the gestures.

Is the OnePlus Pad worth the money?
The OnePlus Pad has slinked into the Android world just as Samsung's Tab S8 series from last year starts to age out, and we're all waiting with bated breath to see what this highly leaked Google Pixel Tablet will be about. If you don't care for last year's hardware or are waiting to see what Google will bring, the OnePlus Pad is worth the pre-order, especially if you want a nice-looking piece of hardware. It goes on sale May 8.
I wouldn't buy the OnePlus Pad to replace a work tablet, nor would I get one to toss over to a kid for unfettered access to Mickey Mouse's Clubhouse. The OnePlus Pad resonates more with Android enthusiasts longing for a Very Big Screen with an operating system that matches their smartphone. Its under $500 price point is approachable enough to seem like an actual Android alternative to an iPad, and it's another option for Google-led households who want to keep it in the ecosystem. It'll be interesting to see how the rest of the tablet lineup pans out when Samsung gets around to refreshing the Tab S lineup and the Pixel Tablet comes out.