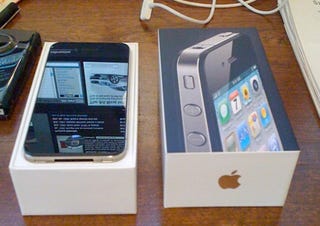 IPhone 4s are already starting to pop up days ahead of schedule. First, we heard that Apple pre-orders were shipping early. Then, suddenly, they were on FedEx trucks, and now they're showing up on people's doorsteps. So, how's yours?
Along with every other tech outlet, we'll be diving in for our iPhone 4 review soon enough. But everyone uses their phone every day, and we're officially bestowing upon you the title of "expert."
If you've lucked out and landed yourself an iPhone 4 early, we want to know what you think. Unbox it. Shoot it. Caress it. Whatever.
- Twitter people can tweet @gizmodo with iPhone 4 pictures and initial hands-on thoughts
- Facebook users can upload pictures or post their iPhone 4 impressions directly to Giz's Facebook Wall for all to see (you'll have to "Like" the page to post.)
- You can always let us know where yours is right now in the comments on this post.
- Or just shoot us an email and show us what you've got.
Image credit Gil Cabrera