When Roku released their new HD-XR box, they mentioned that big new features would be launched in the coming weeks via software update. Now the Roku Channel Store is finally here, but it's awfully short on excitement.
The Roku Channel Store is an open platform for delivering content to Roku boxes beyond the already-integrated Netflix, MLB.tv and Amazon channels. We all had high hopes for full-length streaming video, and rumors pointed to Hulu, but alas, it is not to be. The first ten "channels" were released today, and Hulu is not among them. The list:
Pandora, Facebook Photos, Revision3, Mediafly, TWiT, blip.tv, Flickr, FrameChannel, Motionbox and MobileTribe.
G/O Media may get a commission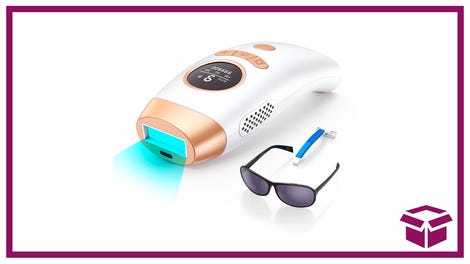 58% Off + Coupon
IPL Hair Removal Device
The Channel Store itself seems pretty open-ended, with a freely available SDK so developers can add to the Store's selection—and we hope they do, because these offerings are pretty meager at the moment. The Roku Channel Store is a free and automatic upgrade starting today, and works on all Roku devices, but there aren't any killer apps here (and neither Pandora nor Flickr is really a barn-burner at this point—at this point, every gadget I own, including my alarm clock, does that stuff). Here's hoping for some serious development efforts. Press release is below. [Roku]
Roku Launches Open Platform for Delivery of Content to the TV; Announces First 10 New Channels

Pandora, Facebook Photos, Revision3, Mediafly, TWiT, blip.tv, Flickr, FrameChannel, Motionbox and MobileTribe all now available on the Roku player

Silicon Valley, Calif. – November 23, 2009 – Roku, Inc., maker of the popular and award-winning family of Roku players, announced today the Roku Channel Store and the first 10 free channels for Roku customers to enjoy on their TVs. From internet radio to video podcasts, professional web content to photo sharing and personal videos, the Roku Channel Store provides an open platform for delivering quality content to the TV. New channels now available for customers to add today to their Roku experience via the Roku Channel Store include: Pandora, Facebook Photos, Revision3, Mediafly, TWiT, blip.tv, Flickr, FrameChannel, Motionbox and MobileTribe. For the complete list of channels and specific channel descriptions and features, please go to http://www.roku.com/roku-channel-store.

These first 10 channels are just the beginning for Roku. Many other developers are working on Roku Channels now, and Roku expects additional developers to adopt the Roku platform over time. New channels will appear in the Roku Channel Store automatically as they become available.

The Roku Channel Store represents an opportunity for content owners and publishers to reach an already large and growing audience of Roku customers. By creating an open platform for delivery to the television over the Internet, Roku has leveled the playing field for content owners.

"The Roku Channel Store turns the Roku player into the world's first open platform designed specifically for the TV," Anthony Wood, founder and CEO of Roku, Inc said. "Now content producers and distributors – from single person shops to billion dollar corporations – can deliver their content directly to consumers without having to go exclusively through cable operators, satellite networks or TV affiliates."

To create a channel for the Roku Channel Store, a developer creates an application using Roku's free software developer kit. This SDK is available free upon request by emailing partners@roku.com.

All Roku players, including the Roku SD, Roku HD and Roku HD-XR models, are compatible with the Roku Channel Store. The new channels are in addition to the existing Roku channels already available: Netflix (NASDAQ: NFLX), Amazon (NASDAQ: AMZN) Video On Demand and MLB.TV.

Pricing and availability

The Roku Channel Store will be delivered as an automatic and free upgrade to all existing Roku customers over the course of the next two weeks. New customers will automatically be upgraded when they first install their Roku player. To browse and use the Roku Channel Store, customers will be prompted to create a Roku account. Existing customers who do not want to wait for their Roku player to update automatically can manually update their Roku player immediately. Detailed instructions can be found under the Roku Channel Store tab at http://www.roku.com/support/faqs.

First introduced in May 2008, and updated regularly with free software updates, the Roku player family provides the easiest, most affordable and reliable way for hundreds of thousands of Roku customers to watch their favorite movies, TV shows and sporting events instantly on their TV. All three Roku players are available immediately at http://www.roku.com starting at $79.99 and include free shipping for a limited time.

About Roku, Inc.

Roku is a market leader in innovative applications for digital media, opening up a new world of entertainment to the TV. Through its work in both software and hardware, the company develops and sells consumer products that give customers the ability to take charge over their entertainment choices, combining high-value content and immediate access to that content at a low price. Its products include: The family of Roku players and the SoundBridge Internet radio line. Roku is privately held and based in Saratoga, Calif. For more information on the company and its products, visit: http://www.roku.com.