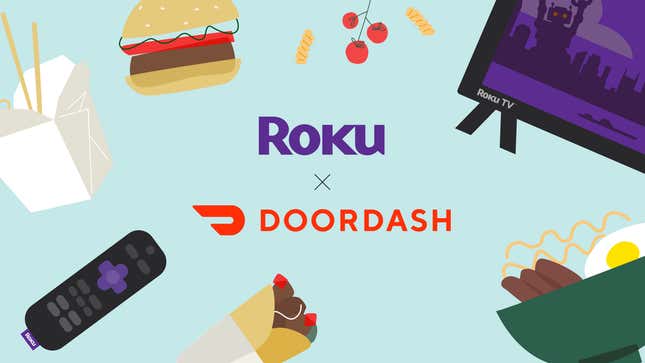 There are arguably already too many ways to order food for delivery right to your door. You can call a restaurant. You can open up your laptop and go online. You can click through an app on your smartphone. Heck, you can summon a drone, if you're willing to endanger your local power grid. Now, for better or worse, the ever-expanding advertising hellscape is offering one more option.

How The Last Airbender Inspired Lisette Olivera
Roku and DoorDash have partnered up to bring interactive ads directly to customers' TV screen. Roku users in the U.S., who have one of the plug-in streaming devices or smart TVs, will now see "shoppable ads" promoting delivery and deals from DoorDash restaurants and grocers.
These advertisements will prompt customers to do things like enter a cell number through their remote controls. Those who choose to do so will get a promo link texted to their phone with the click of a (few) button(s). From there, the smartphone link will take users directly to the DoorDash app to place a food order at a discount.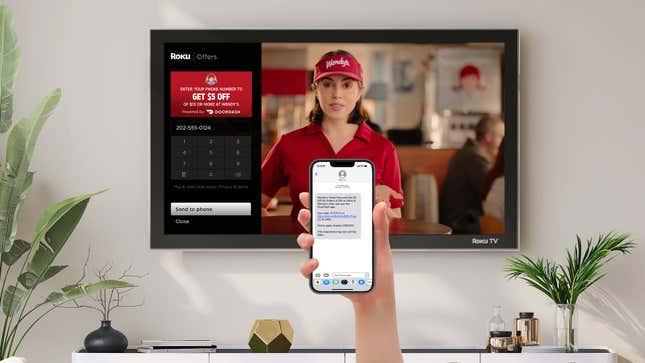 In addition to the interactive ads, the Roku x DoorDash collab means that eligible Roku account holders will get six months of free DashPass membership. DashPash offers its subscribers $0 delivery on certain orders—usually in exchange for a $9.99 monthly fee. Note: If Roku customers don't remember to cancel after their 6 month trial, they too will begin being auto-charged for DashPass.
'Why bother with all this?,' you might ask. Well, Roku—which could at first be mistaken for a streaming platform, software maker, or hardware manufacturer—is really an ad company when it comes down to revenue.
The bulk of the widget brand's profits come from digital advertisements, ad tech, and ad data management. More than 80% of Roku's net revenue in 2021 came from its platform (including advertisements), not its' hardware players. The company has made a big push in recent years to further capitalize on advertising as its primary business, like through its partnership with Nielsen to make targeted TV ads even more specific.

Interactive ads are just another way for Roku to market itself to marketers, and the company is being pretty transparent about that. "Just in time for the big game, we're bringing consumers and marketers the same leading scale, data and tech that have made buying a new device or signing of for a service simple and delightful," said Gidon Katz, Roku's president of consumer experience, in a statement.
And DoorDash is, in turn, eager to have another means of attracting restaurants and other vendors to its platform. "While this offer unlocks DashPass benefits and perks for Roku users everywhere, it also provides our merchant partners with an opportunity to promote DoorDash offers through TV streaming," said Rob Edell, a DoorDash exec, in the same press release. "Consumers can conveniently and affordably get the best of their neighborhood delivered to their door, while brands can reach diners at the right time and drive instant conversion from the comfort of the living room."
These new DoorDash spots aren't Roku's first foray into interactive advertisements. Last year, in yet another push to expand its ad reach and earnings, Roku began offering push-to-purchase ads through a Walmart partnership. These shoppable advertisements enable customers to buy items directly through their TVs with a few clicks.
However, unlike the Walmart ads, the DoorDash spots won't allow for one-click ordering directly through users' TVs just yet, a company spokesperson told Gizmodo via email. Instead, the ads will initially be limited to the promo offers and smartphone links. Asked about future remote control food ordering, the spokesperson equivocated. "Nothing to share today. As we look ahead, we're excited about the opportunities to work closer with DoorDash on our partnership to make streaming and ordering delivery go hand-in-hand," they wrote.
Beyond not being able to actually order food via the interactive ads without a smartphone, the new partnership program is limited in other ways as well. Wendy's is the only DoorDash-affiliated restaurant franchise to have hopped on board for the pilot. Though, the Roku spokesperson noted that the company plans to "open this up to additional advertisers in the coming weeks." It's fair to assume that when the company does, the amount and variety of interactive food delivery ads on Roku devices will expand along with the number of participating vendors.
The logical progression of this is a world where you need to make sure your TV remote is kept far enough away from pet paws and kids that you don't end up with a boatload of Wendy's orders unexpectedly showing up at your front door. Rejoice, for the future is almost here, and it's a hamburger on demand through every screen.
Update 2/7/2023, 3:07 p.m. ET: This post has been updated with additional comment from a Roku spokesperson.