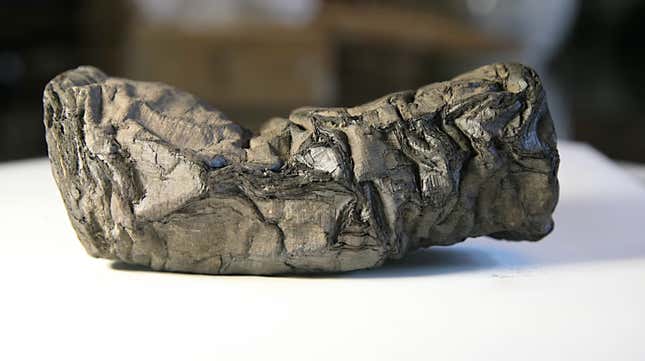 In 79 A.D., Mount Vesuvius lay waste to a library in Herculaneum that was owned by the father-in-law of Julius Caesar. Now, former GitHub CEO Nat Friedman and some scientists are giving $250,000 away in prizes to the person or team who successfully uses modern technology to decipher scrolls recovered from the site of the library.

It's called the Vesuvius Challenge and the winners who crack the codes first could receive a $150,000 Grand Prize and $100,000 in Progress Prizes. Those who enter the Vesuvius Challenge will receive 3D x-ray scans taken at an 8µm resolution of two Herculaneum scrolls, owned by the Institut de France in Paris, as well as scans and images of three pieces of papyrus from the site.
Global entrants will have the rest of 2023 to extract the text from these historic artifacts using whatever means necessary (machine learning, computer vision, etc.) but will only be able to access the data corresponding to the top half of the scrolls. If their methodology succeeds, the Vesuvius Challenge team will grant them access to the other half of the artifacts.
The Vesuvius Challenge team points out that techniques already exist to virtually unwrap scrolls like this. Past researchers have used a digital workflow that involved scanning a scroll in three dimensions, identifying each layer within the scroll using software, and then detecting the ink written on the scroll. The Herculaneum scrolls prove different, however, since they are incredibly long and need to be unwrapped and the ink used to write on the scrolls doesn't show up on scans.
Scientists led by Brent Seales from the University of Kentucky—who sits on the Vesuvius Challenge team—have used artificial intelligence to extract data on small variations in the paper of the scrolls that correspond to inked regions, but those researchers haven't been able to unlock the whole story. Seales and his team unwrapped and read the En-Gedi scroll in 2015.
"We've shown how to read the ink of Herculaneum. That gives us the opportunity to reveal 50, 70, maybe 80% of the entire collection," said Seales, as quotes in The Guardian. "We've built the boat. Now we want everybody to get on and sail it with us."
In order to snag the Grand Prize, the winning team must read four passages of text from the inside of the two scrolls, and the team's work will be evaluated by a group consisting of technical experts like papyrologists. Those interested in entering the contest can download the absolutely massive scroll and papyrus fragment data files on the Vesuvius Challenge website, and all submissions must be turned in before 11:59 p.m. Pacific Time on December 31, 2023.