Could it be? The WSJ busts out the "breaking" graphic on the front page to say a new iPhone's coming this summer, and Apple "appears to be working on another model for U.S. mobile phone operator Verizon Wireless." Updated.
Update: The details are in. A second new iPhone that runs on CDMA—Verizon and Sprint's cell tech of choice—is being made by Pegatron, while the GSM model will continue to be produced by Hon Hai (aka Foxconn), according to the WSJ. Presumably, the hardware would be exactly the same in both, except for the cell networks they run on. A more recent version of the article adds the the phones are "likely to be thinner" too.
That a new iPhone is coming this summer surprises no one—in fact, it's why I haven't replaced my own decrepit phone yet, biding my time 'til June. But this marks the first credible rumor of a Verizon iPhone in a long, long time, if ever, by a major publication.
What's funky, and has us feeling a bit skeptical, is the timing: "One person familiar with the situation said Pegatron is scheduled to start mass producing the CDMA iPhones in September, but it was unclear when Apple might make the model available." Would Apple, who's always released iPhones during the summer, really release a second model months later, in the fall? It'd be an odd, un-Apple-like split. Also, logically, with LTE coming online in the next couple years, where Verizon will share the same cell technology as AT&T (and the rest of the world), producing a CDMA iPhone that could possibly be obsoleted in just one generation of hardware seems somewhat inefficient. Update 2: The WSJ article now says that's because Apple "realized Verizon's upgrade would take longer than expected, said people familiar with the situation." Update 3: Verizon's apparently requiring handsets to have dual-banded CDMA powers as well for the first few years of LTE, so this is less crazy once again.
G/O Media may get a commission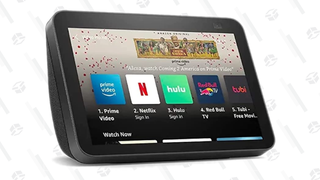 It wouldn't be the first time the WSJ's gotten specs of a major new Apple product wrong, either—the same writer's sources said that the iPad would have a front-facing camera that recognized individuals. We all know what happened there: The internet howled, much like it will if there's no Verizon phone.
That said, if this the end of AT&T exclusivity is true, by bringing the iPhone to biggest carrier in the country, suddenly making it available to 90 million new people—not to mention loosing a flood of AT&T refugees—the US cellphone market would be turned upside down. Because of how carrier-centric the US tends to be, the results would be far more explosive than what happened in Europe when the iPhone ceased being exclusive. Make no mistake: We do not apply the gamechanger label lightly.
But while we're talking gamechanger, if true, given all the counter-evidence, there's still a solid possibility the Verizon iPhone will continue to be purely mythical. And a "breaking" tag on the WSJ's front page? For a new iPhone, really? [WSJ]