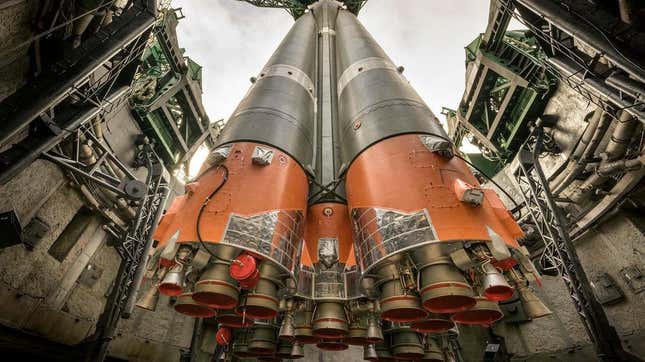 Update: September 15, 1:47 p.m. ET: The Russian rocket lifted off on schedule, delivering its trio of passengers to space.
First Full-Color Images From Webb Space Telescope
Original article follows.
A NASA astronaut and two Russian cosmonauts are getting ready to launch to the International Space Station (ISS), where they will spend six months to a year on board the orbiting lab.
The trio are set to launch on board Russia's Soyuz MS-24 spacecraft from the Baikonur Cosmodrome in Kazakhstan at 11:44 a.m. ET (8:44 p.m. local time). The launch of Expedition 70 will be broadcast live on NASA Television, the NASA app, and the space agency's website. You can also tune in through the live feed below. Live coverage will begin at 10:45 a.m. ET.
The Soyuz MS-24 is scheduled to dock with the ISS at 2:56 p.m. ET. From there, NASA astronaut Loral O'Hara will begin a six-month mission on board the space station while Roscosmos cosmonauts Oleg Kononenko and Nikolai Chub will spend a year in low Earth orbit.
The latest crew members will join the space station's Expedition 69 crew, which includes NASA astronaut Frank Rubio. Rubio recently broke the record for the longest duration U.S. space mission, logging in 355 days (and counting) on board the ISS. The astronaut launched to the space station on September 21, 2022 on board a Soyuz spacecraft, which later suffered a coolant leak that made it unfit to transport Rubio back to his home planet.
With the launch of the Expedition 70 crew on board a Soyuz crew capsule, Rubio, along with Roscosmos cosmonauts Sergey Prokopyev and Dmitri Petelin, will finally have a ride to Earth.
For more spaceflight in your life, follow us on X (formerly Twitter) and bookmark Gizmodo's dedicated Spaceflight page.