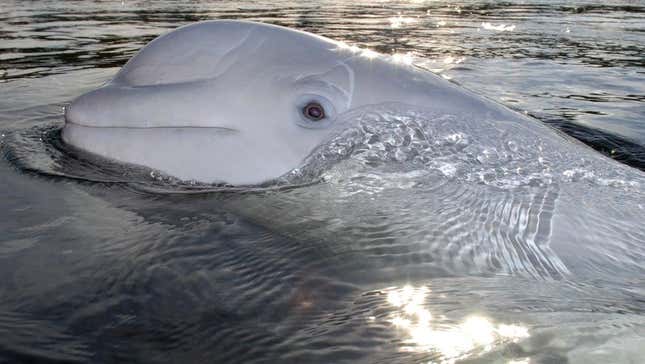 A beluga whale first spotted off the coast of Norway in 2019 and believed to be used for Russian surveillance, confused scientists when it resurfaced in Sweden this week. Marine biologists say the whale traveled to the area much faster as it continued to distance itself from the species' typical living area.
Rare Polar Bear Attack in Canada | Extreme Earth
The scientists are baffled why the beluga whale journeyed to Sweden, saying the closest beluga population is located in Svalbard archipelago, a spot halfway between Norway's northern coast and the north pole. Since arriving in Norway, scientists believe the whale has not encountered a single other beluga whale, and say it could be looking for a mate.
"We don't know why he has sped up so fast right now," Sebastian Strand, a marine biologist with the OneWhale organization told The Guardian. "It could be hormones driving him to find a mate. Or it could be loneliness, as belugas are a very social species – it could be that he's searching for other beluga whales," he said, adding that the whale, who is believed to be 13 to 14 years old, is "at an age where his hormones are very high."
The whale was nicknamed Hvaldimir, a combination of the Norwegian word "whale" and Russian President Vladimir Putin's first name, after it was found wearing a harness equipped with camera mounts and labeled with the words "Equipment St. Petersburg." Marine Biologist Jorgen Ree Wiig told CNN at the time that "the whale seemed playful but our instincts said that it was also asking for help to get out of the harness." He told the outlet that Russia's navy "has been known to train belugas to conduct military operations before," and were used during the Cold War to sniff out mines and torpedoes.
Marine biologists from the Norwegian Directorate of Fisheries removed Hvaldimir's harness in 2019 and have continued to track the whale's progress since then. They believe Hvaldimir might have escaped the Russian enclosure and was trained by the Russian navy because the whale appears to be comfortable around humans.
The whale appears to be in "good health" local marine biologists told The Guardian, having foraged for fish under Norway's salmon farms. However, the organization is concerned whether the whale will find food in Sweden, telling the outlet it has already observed Hvaldimir has lost some weight.
Beluga whales live between 40 and 60 years old, generally inhabiting the waters surrounding Greenland, northern Norway, and Russia. Russia has never issued a formal response to claims that the whale is being used as a Russian spy, but Russian reserve colonel, Viktor Baranets, said in a 2019 broadcast with Govorit Moskva, "If we were using this animal for spying, do you really think we'd attach a mobile phone number with the message 'Please call this number?'" the BBC reported. He added, "We have military dolphins for combat roles, we don't cover that up."