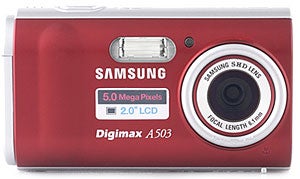 Reviewers at Lets Go Digital took a look at the Samsung Digimax A503, an attractive and low cost ($125) digital camera for the entry-level enthusiast. This 5-megapixel shooter has a 2-inch LCD viewscreen, but at these prices you'll have to sacrifice an optical viewfinder. Overall, the reviewers were impressed with the quality of this low-cost camera:
"There is little chromatic aberration to be found at normal lens settings and program setting A. The final picture quality is fine as far as sharpness goes and the Normal setting is also adequate in this regard. . . . Samsung has managed to bring a digital camera on the market that has great possibilities, simple operation, excellent results and last but not least, also looks great."
There are a few sacrifices you'll make for the low price, though, including a 5x digital zoom but no optical zoom. However, its small form factor, ease-of-use, good looks, low cost and sharp pictures might make it worth a look.
Samsung Digimax A503 Digital Camera Review [LetsGoDigital]