With additional armor and unique, physical buttons, the waterproof Samsung Galaxy S5 Active targets outdoorsy users. Well, I'm outdoorsy, so I took it outside and beat it up. Does it work?
You might be reading this review on Gizmodo, but I'm no phone expert. Instead, I'm an outdoors nerd making the sub-site around adventure travel and camping and stuff. Brent's already done a thorough review of the regular Galaxy S5, which the Active is identical to in all but armor and external buttons. If you're interested in processor speeds and OS skins, start there. I'm going to talk to you about using the S5 Active in its intended environment and from the perspective of a layperson.
This story is also about my first experience with a non-iPhone smartphone. I've carried Apple's option since the second generation and most recently had a 5 that died after I dropped it into a toilet on an island off the coast of Morocco. The iPhone's fragility, combined with Apple's lack of recent innovation had me hungry for something different and, when the S5 Active came out, I figured it was the phone for me.
G/O Media may get a commission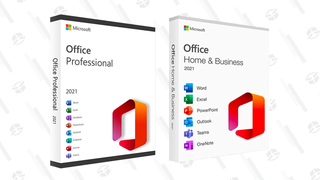 89% off
Microsoft Office Professional 2021 Lifetime License
An unadvertised advantage of the large, camo-covered phone is that it completely conceals you from observation while talking on it. Can you find where I'm hiding in this photo?
What's It Supposed To Do? Take what's arguably the best, most advanced smartphone out right now and ruggedize it enough that it won't spontaneously combust the instant you try to use it without a protective case. Optimize its feature set to appeal to us active types and ditch the fussy touchscreen buttons for "menu," "back," volume and a new "active" key and you have the Galaxy S5 Active. The new home button does without the regular S5's fingerprint scanner.
Because the regular S5 is waterproofed in the exact same way, the big news here are the plastic bumpers on the corners, new colors (burgundy, grey and this camo) and those buttons.
Samsung claims the S5 Active, "…has a rugged design that's engineered for outdoor activities." And that it's designed for users who, "Run in the rain, camp in the desert, dig in your garden." To achieve those goals, it emphasizes the armor, IP67-level waterproofness, the bright, clear 5.1-inch AMOLED display, the 16 megapixel camera and a unique suite of "Active" software.
How's It Supposed To Do It? Externally, the Active wraps the standard S5 body with plastic bumpers on the corners designed to protect the phone in a fall. Samsung claims it can survive a fall from a height of up to four feet, 27 times in a row without experiencing damage. A diminutive raised plastic lip around the glass screen provides further protection against scratching, should you rest the phone face-down on a rough surface. The side of the phone is textured in an effort to improve grip.
The pop-off back cover, which includes an internal rubber gasket to keep out dust and water is given metal-appearance studs meant to resemble screws or rivets. These are appearance parts only, not actual screws that hardmount the back to the phone body.
Altimeter and barometer functions are neat, but they require cell data or WiFi to work. Not much good if you're actually in the mountains.
New "Activity Zone" software is accessed through the new, external "Active Button," launching a four-screen program that includes a barometer, compass, altimeter, flashlight and stopwatch. This package also makes accessing Samsung's "S-Health" software quick and easy, giving you stuff like a pedometer, calorie tracker and heart rate monitor.
No option to track weight lifting or other gym exercises, really?
That "Active Button" can be re-programmed in the Settings menu to function as a camera shutter, giving you the ability to use the phone to take underwater pictures.
That's all on top of the basic Galaxy S5 package, which is actually a great option for outdoors use. Its incredibly bright screen is easy to see and use in even direct sunlight and the rubber gaskets on the back cover and charge port cover make it waterproof in submersions of up to three feet in depth for up to 30 minutes. The Galaxy S5 can also survive extreme temperatures and high elevations and its water-tight construction will also keep out sand, dust and dirt. If you get it dirty, just wipe it clean.
Great, you can type in what you had to eat. But, aftermarket apps give you the ability to scan barcodes, a functionality that provides accurate calorie, macronutrient mix and ingredient tracking abilities. Why bundle software that's not as good as stuff you can download for free?
Battery life is another S5 strongpoint that will be very useful for active types. General use gives you about a day and a half of battery life, while two power-saving modes can massively extend that. The "Ultra Power Saving" mode makes the screen go greyscale (on AMOLED displays, that saves a ton of power) and blocks all but essential apps — apps you choose yourself. Regular "Power Saving" mode, plus switching the phone into airplane mode could give you four to five days of use. That'll be killer on multi-day camping trips, where you will use the phone as only a camera, an eBook reader and maybe as a GPS navigator.
Running Android gives you the ability to use Backcountry Navigator ($12), the best GPS navigator app available on any phone or tablet. More on that soon.
Now here's a function that'll be massively useful outdoors. 6.6 days on 53 percent battery? That's extraordinary.
How Does It Perform? I've intentionally and unintentionally dropped the S5 Active from up to six feet (my ear) onto surfaces including concrete, brick, hardwood and boulders and it's yet to show a single scratch, dent or cracked screen. The integrated bumpers can't provide the same protection as a case as they don't protrude as greatly, but they do seem effective in preventing damage in most common drops. The battery cover has yet to pop off during one of these falls, but other testers have experienced that when dropping the phone onto hard surfaces.
I've also submerged the S5 Active in pots of water and run it under my kitchen tap on full pressure. It has continued to work flawlessly during both tests with no moisture buildup inside the screen or camera cover or apparent diminishment in speaker performance — even while under water. While you can't use the touchscreen under water, the push buttons mean you retain access to and use of some features — notably the camera — but you can't answer calls.
Unfortunately, those same physical buttons have given the S5 a major flaw — they continuously activate while the phone rides in your pocket, particularly if you're doing active stuff like walking, running or riding a bike. Before I set the PIN-lock to activate the instant the phone sleeps, it was making pocket calls and opening apps near continuously and even after setting that security measure, the phone still wakes up its screen constantly, opens the camera and yesterday, even managed to pocket dial 911 as I walked home from the gym. That's not just annoying, it's a real problem that will eat into battery life and potentially cause you some hassle or embarrassment.
Further, the "Activity Zone" software borders on worthless. It's altimeter and barometer seem nifty until you realize they're powered by Internet data. The second you leave cell coverage, they cease to function. S-Health is similarly worthless, its pedometer being wildly inaccurate, annoying to use and the rest of its programs being distinctly less capable than third-party options available in the Google app store.
This problem is evident throughout the S5 — the software both Samsung and AT&T bundle with it is heavy, clunky, slow and less capable than other options. But, the S5 is inexplicably loaded down with it. As it comes from the factory, the S5 has 16gb of space, but you only have access to 10.6gb of that, the rest being taken up by factory app bundles you won't be using, but can't remove. A clean, basic Android install would make better use of the S5's incredibly powerful 2.5ghz processor and 2gb of RAM.
That criticism continues to the S5's stock camera app — it doesn't seem able to take full advantage of the excellent hardware; in this case the 16 megapixel camera. Enter a marginally low-light condition (such as under a shady canyon wall) and images become pixelated immediately. The stock photo processing app is also very limited, failing to deal with simple photo development needs like a backlit photo. While photos taken under ideal lighting conditions are noticeably superior to those I took on my iPhone 5, anything taken while facing a light source or in low light is markedly worse.
The S5 does, though, have excellent clarity during phone calls, even with only one or two bars of signal showing up. Confusingly, the phone doesn't seem to be able to access LTE data in or around my home in Los Angeles.
Like the regular S5, the Active includes a slot for a Micro SD card, giving you the ability to augment the S5's storage capacity by up to 128gb. Putting aside the manly man image of doing stuff outdoors, this last feature is going to be genuinely useful for most campers, giving you the ability to carry a large music collection with you on your adventures. Paired with a good Bluetooth speaker, the S5 makes an excellent outdoor entertainment system.
The metal studs on the back cover are appearance-only. If they were actual metal screws, the cover would be held on far more securely, better ensuring both drop protection and waterproofness.
How Does It Compare To Rivals? I'm not qualified to compare the S5 Active to its top-tier smartphone rivals like the iPhone 5S or HTC One. But, I can compare it to what you should consider as its main alternative — a case.
While the S5 Active is the same price as the regular S5 — $199 with two-year contract on AT&T only — its added ruggedness is nowhere near as protective as that offered by a case like the $90 Otterbox Preserver. Buying the standard phone and fitting it with that case will give you much more substantial, IPX8 waterproofness and much more protection from drops and impacts. On top of that protection, going this route will eliminate the Active's main flaw — the near-constant unintentional activation of its physical buttons. The tractive case material will also give you a much more secure grip on the phone than the hard, slippery phone body ever will and will eliminate the issue with the battery cover popping off in some heavy falls.
Compared to that long-broken iPhone 5, the Galaxy S5 Active is a much more durable package with a larger, brighter, clearer screen, much better battery life, better phone reception and voice clarity and with a better selection of aftermarket apps tailored to the genuine needs of outdoor activity.
Adventure Ready? The Galaxy S5 Active offers outdoorsmen a compelling package for the same reasons the regular S5 makes such great phone for anyone — its huge, bright screen, fast processor, upgradeable storage and 16 megapixel camera. Simply having Backcountry Navigator available makes Android a superior option for active people than other operating systems.
While the Active is more resistant to drops than the regular S5, its external buttons cause major annoyance. Due to that, we'd recommend that anyone interested in this phone simply swallow the extra cost and fit that normal Galaxy S5 with an Otterbox or similar case. Doing so eliminates the recurring issue of unintentional activation and pocket calling while adding much more survivability than the Active.
Photos: Chris Brinlee Jr
IndefinitelyWild is a new publication about adventure travel in the outdoors, the vehicles and gear that get us there and the people we meet along the way. Follow us on Facebook, Twitter and Instagram