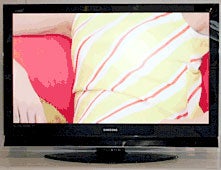 Samsung announced it will ship a 40-inch LCD TV next month with an unusual attribute: its back light won't be a fluorescent bulb but a row of LEDs. This method of backlighting an LCD screen provides richer colors and results in much longer bulb life.
It's not the first monitor to do this, though. In fact, we tested a monitor with LED backlights a couple of years ago from NEC, but at the time it was a technological oddity and cost well over $6,000 just for a 20-inch computer screen. But the color was noticeably better and the screen was noticeable brighter than its conventionally-backlit counterparts.
Then, Sony released a couple of LCD TVs with such backlighting back in November 2004, too, but its high price ($9629 for the 46-incher) slowed sales. However, prices for this technology have come far down, allowing Samsung to ship this first TV using the LEDs for $3000. Those in the know say most LCD monitors will be backlit with LEDs by 2010. Bring it on.
Samsung to unveil 40-inch backlit LCD TV in September [DigiTimes]