For years, Samsung has been trying to make TVs look pretty even when you're not watching TV. The company just announced the latest lineup of its flagship QLED TVs with an all-new feature called Ambient Mode. Basically, thanks to some hardware trickery, Ambient Mode can replicate the texture on the wall behind your TV and almost make it disappear. It's sort of like an invisibility cloak for your TV.
The effect actually works surprisingly well in the carefully designed demo I saw earlier today in New York. To set up Ambient Mode, a Samsung representative just used an app to take a picture of a TV on the wall and then pointed the phone's camera at the display as it built a screen that matched the wall around it. In the case of my demo, the wall was clean brick, not unlike what you'd see in a stereotypical comedy club. With Ambient Mode all configured, the TV really did look just like the wall, save for some slight lighting differences. (The picture above doesn't do the effect justice, but that might be because of the low-light demo environment.)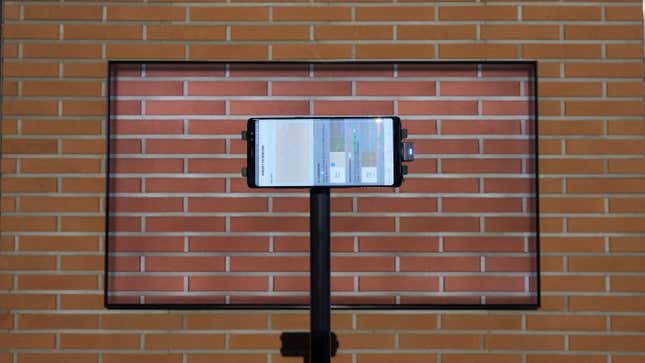 It's a cool concept, one that would probably wow your neighbors when they came over for cocktails. You can also add a handful of dynamic effects on top of ambient mode so that it looks, for instance, like some trippy mountains are floating on your wall. Again, the suspension of disbelief is only almost complete, as any conscious viewer would still realize they were looking at a TV. I did find the overall illusion to be more convincing than Samsung's famous Frame that supposedly turns your TV into a work of art. This might be because the new QLED TVs are better at deflecting glare.
The new Ambient Mode arrives along with features that display the time, weather, and even newspaper headlines on the screen when you're not around. This represents Samsung's latest effort to make the TV the centerpiece of the connected home. As such, all of the new QLED Smart TVs come with Bixby support that lets you use voice commands to control connected gadgets around the house and even ask the TV to play certain shows. The QLED TVs also comes with some energy-saving features that will turn off the display if it doesn't sense a smartphone or human nearby. Otherwise, in Ambient Mode, the new TVs use 40 to 50 percent as much energy as they do when playing live programming.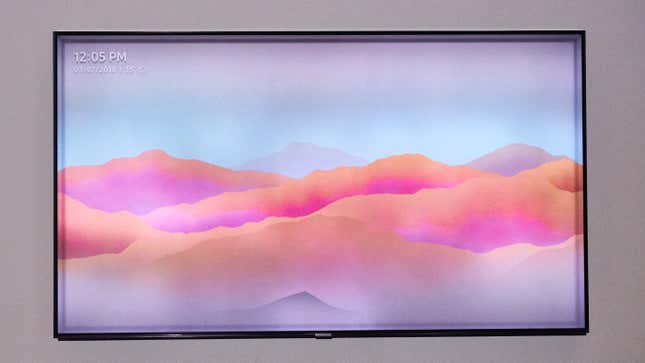 The other noteworthy improvement in this year's QLED lineup is the so-called One Invisible Connection. A year ago, Samsung introduced the One Connect Box that linked all of the inputs (HDMI, audio, etc.) to the TV itself with one impossibly small cord, but the setup still required a chunky power cable. This year, Samsung's new One Invisible Connection crams the power cable into a new, impossibly small cable that can be nearly 45 feet long. That means you can place your TV wherever you want and string the tiny cable through nooks and crannies so that all your other components are clearly out of view.
So it's safe to say that Samsung is making progress on making your TV disappear. We'll have to try out Ambient Mode ourselves before we make any final judgments on how well it does. Meanwhile, we're eager to test out the latest QLED displays and Samsung's Direct Full Array technology so we can make a better judgment about the TVs' picture quality. Based on today's demos, it looks like Samsung might have finally fixed the contrast problem we experienced with last year's QLED TVs. With the new top-of-the-line 65-inch Class Q9FN Smart 4K UHD starting at $3,800, the quality better be astounding.