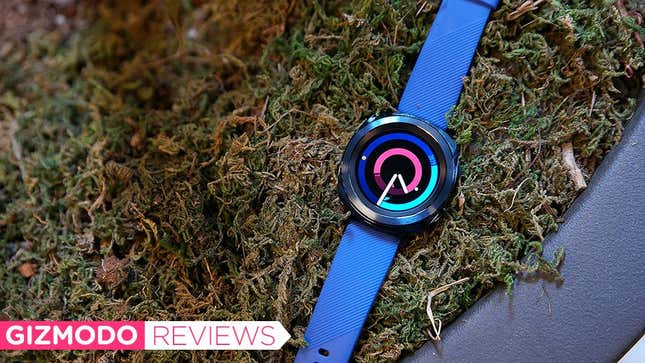 The Apple Watch might be the most popular smartwatch, but its controls and interface don't hold a candle to what you get on Samsung's watches. The problem is that because Samsung has been trying to start its own watch ecosystem with Tizen OS, its watches never received the rabid support that Apple's got from day one. But with new partnerships with some of the biggest workout app makers around and a tighter focus on fitness, it feels like Samsung and the new Gear Sport could be inching its way towards a critical mass.

Taylor Lorenz Talks "Extremely Online"
Now, if you've been paying attention, you may have already noticed that this thing looks a lot like Samsung's current flagship wearable, the Gear S3. In fact, the two are even priced the same, starting at $300. Where they differ is that instead of trying to be the one wearable to cover all your needs, the Gear Sport has gotten a couple tweaks and improvements that should make it a bit more sporty.
Like the Gear S3, the Gear Sport features a circular AMOLED screen with a rotating bezel and two side-mounted buttons for Back and Home. However, the Gear Sport is slightly smaller, with a 1.2-inch display (versus 1.3-inches for the Gear S3), and it's a bit thinner at 11.6mm (versus 12.9mm for the Gear S3). While that might not sound like much, those smaller dimensions make the Sport feel noticeably less cumbersome.
Make no mistake: This thing is big. While the 45mm Gear Sport feels right at home on my wrist and my 6-foot tall frame, smaller people will still find it a bit unwieldy.
What you won't get is the optional LTE connectivity available on the Gear S3, in case you're the kind of asshole who really needs to call people on a watch. The Gear Sport also lacks support for Samsung Pay's magnetic stripe transaction tech, though the Sport will still work at terminals that support NFC.
In return, Samsung has added an impressive 50 meters of water resistance. Unfortunately, since I don't have access to a pool that deep, I wasn't able to explore the Gear Sport's full range of water resistance. (Pardon me for not taking a dive in the Hudson River.) But no matter how much I splashed, dunked or submerged it otherwise, the Gear Sport was just fine.
To beef up its app offerings, Samsung has partnered with big names including Speedo and Under Armour, with Gear Sport buyers getting one year of premium access to UA's portfolio, which includes UA Record, MyFitnessPal, Endomondo and Map My Run. The problem is that while all that sounds nice in theory, like the rest of Samsung's wearable ecosystem, things are a bit rough around the edges. Take for example MyFitnessPal, which on your smartphone makes it easy to track your calorie intake so you can maintain your diet. But on the Gear Sport's MFP app you have to guess and manually input calories without the help of MFP's huge user curated food database. That means you need to already know how many calories a certain dish contains, and if you knew that, you wouldn't really need MyFitnessPal in the first place. Despite having software made for the watch, you're still going to have to take out your phone and use the real app.
There also seems to be some friction in the way the Gear Sport interacts with Samsung's own S Health app too. While the watch doesn't have problems sending info like sleep data, heart rate measurements, and step counts to the app, the two don't always work together like you think they might. I asked the S Health app on my Galaxy S8 to measure my heart rate and instead of using using the paired Gear Sport it asked me to put my finger on the sensor on the back of the phone. Equally irritating, for people doing exercises that aren't running, walking, cycling, or swimming, you have to dive into the settings menu for the Gear Sport and S Health app to track those activities properly.
When it comes to music, which is often the biggest factor in how far I make it through a workout, the Gear Sport includes 4GB of onboard storage and is the first wearable with support for Spotify offline play. That last part is a biggie, because if you actually intend to connect Bluetooth headphones to the Gear Sport and use it as a standalone music player, the other main method of transferring music to the watch is by using the Gear app and doing it one song at a time. Ain't nobody got time for that.
As a regular smartwatch, the Gear Sport makes it easy to check your notifications, respond to messages using quick replies or the Sport's built-in mic, and even get a little help from Siri for people using the watch with Samsung's iOS Gear app. (S Voice works too, but I don't even think Samsung cares about that anymore now that Bixby is out). But most importantly, Samsung hasn't messed with its smartwatch interface, which is still the hands-down best way to interact with a wrist-mounted mini computer. All you have to do is twist the rotating bezel left to see your recent notifications, or right to view all your pertinent fitness stats and music controls.
And every time you rotate the bezel, there's a small vibration that lets you know precisely where you are in the UI. When you want to dive a little deeper, you can press the bottom button to see all your Gear apps arranged in a neat circle around the edge of the screen, before rotating the bezel to highlight the one you want and then tapping on the icon to open it. It's light years better than all the swiping you have do on the Fitbit Ionic or Android Wear Devices, or that stupid tiny crown you get on the Apple Watch.
Beyond the novelties Samsung's Tizen OS ecosystem has a lot of room to grow. Some big players like CNN and NPR have managed to create bespoke apps for Samsung's Gear platform, but others, like the Philips Hue app, haven't arrived yet. There's also some weirdness in the way apps are installed, because some are full standalone apps that live entirely on the watch itself, while others are companion apps that piggyback off your phone's capabilities and make your handset feel unnecessarily cluttered. The Gear's collection of watch faces is also in dire need of some curation, because even after scrolling through the top 500 free options, I struggled to find more than one or two aside from Samsung's default faces that I could consider trying out.
In many ways, the Gear Sport is emblematic of Samsung as whole. While the company continues to improve its software, the Tizen smartwatch ecosystem, like its Bixby digital assistant and its SmartThings smart home platform, still needs more time to mature. But the Gear Sport's hardware and interface are absolutely top notch and with its sleeker dimensions and more focused mission, I actually prefer it to both versions of the Gear S3 and the Fitbit Ionic for a fitness focused watch. This thing also might not beat Apple for sheer number of apps and smart watch features, but it's a solid alternative thanks to the Gear Sport's better controls and more robust water resistance. Little by little, Samsung is getting closer to making a smartwatch that's more than just a fashion piece.
README
Samsung has partnered with big brands including Under Armour, Speedo and Spotify to ensure the big apps are available, but Samsung's Tizen app ecosystem is still pretty barren outside of that.

Battery lasts 3 to 4 days in its default setting, but if you switch the display to always-on mode, you're looking at more like a day and change. That's better than the Apple Watch, but worse than the Fitbit Ionic.

Features 4GB of onboard storage and supports Spotify offline so you can stream music to Bluetooth headphones directly from the watch.

Samsung's rotating bezel and touchscreen combo is still the best smartwatch interface on the market.

Compatible with Galaxy phones on Android 4.3 and later, other Android phones running Android 4.4 or later, and iPhones with iOS 9 or later.

SPEC DUMP
Tizen OS • 1.2-inch circular AMOLED display • 360 x 260 resolution • 768MB RAM • 4GB of storage • Bluetooth 4.2 • 802.11 b/g/n wi-fi • NFC • 5 ATM water-resistance (165 feet) • 300 mAH battery • uses 20mm watch bands • 1.76 ounces