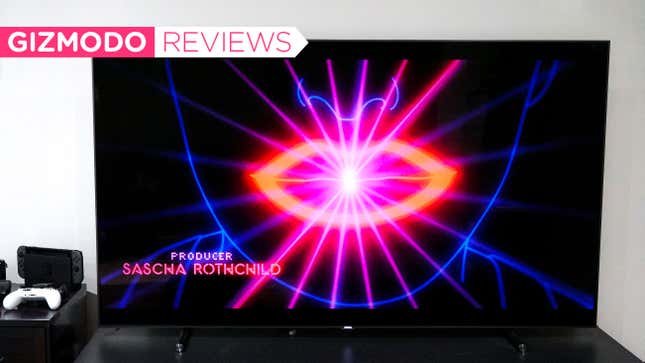 Huge, detailed, brightly colored images flickered across the screen, illuminating the whole room like the lights off one of those laser light disco balls at the skating rink. My brother's eyes bulged. "It's too much," he gasped as I scrambled for the remote just to pause the vivid assault on our eyeballs. He'd just come over to help me set up the enormous 65-inch Q9 television from Samsung, and after adding on the feet—which required laying it across my entire bed, and then wrestling it onto the stand (it weighs over 60 pounds), we sat down to watch one of my favorite test shows Sense8. The show is great for testing TVs because it's bright and colorful with a wide array of skintones that can end up looking orange or muddy on a cheaper TV. I wanted to know if a super expensive set like the Q9 was ever worth it when it's totally possible to get great TVs for $1,000 or less. As soon as I hit play I had my answer—a pricey TV can be a real game changer.

Twitter Is Shifting Right | Future Tech
Samsung's Q9 television made waves at CES earlier this year. The vibrant edge-lit display is about as thin as you can get without going OLED. Edge-lit LED displays produce light from the sides of the set, while OLED controls light on a pixel by pixel basis. Edge-lit tends to be thicker—you need all that room for the LEDs. To mitigate that thickness most of the guts of the Q9 have been moved off the back of the TV and into a box that connects via a single super thin cord. All four HDMI inputs move through a single cable that's about as thick as the brake cable on your bicycle.
It feels like a remarkable feat of engineering, and Samsung clearly thinks so too, as the One Connect box, which handles all the inputs, is now employed by the company's design-focused Frame TV as well. The cable is crazy thin, but the OneConnect box demands a second power outlet, which is a little frustrating if you're like me and have a router, PC, two consoles, a set top box, and a smart home box plugged in already. In many homes plug space is at a premium, and demanding two for a single TV seems positively extravagant—even if you're already pretty extravagant by dropping $3,500 on a TV to begin with.

The extravagance of the Q9 is not just limited to the OneConnect box or that $3,500 price tag. This is easily one of the best sounding televisions available today. Normally when I recommend a TV to someone I insist they budget in a soundbar as well. The thinner a television gets, usually, the worse it sounds. Some TV makers, like Sony and TCL, get around the bad sound problem by slapping huge speakers on the side. Samsung has the speakers hidden away, but that doesn't stop them from being surprisingly powerful and tossing sound around the room as capably as any soundbar. Explosions while playing Destiny 2 boom with surprising bass and when lasers and raccoons with rocket packs zoom by in Guardians of the Galaxy 2 the audio seems to really whizz by my head.
A dedicated soundbar like the Samsung Sound+ or Sonos Playbar still sounds better than these TV speakers. There's a lot more bass in $700 soundbar. Yet I didn't feel the inescapable urge to plug in the soundbar as quickly as possible as I would with a cheaper set like the $1,000 Vizio P-Series or our favorite cheap set, the $650 TCL P-Series. But when you're paying $3,500 for a TV set you should hope, at least, that you don't need to invest in a soundbar just to enjoy the TV. For $4,000 the TV should melt your eyeballs and pound your ears more than the sub-$1,000 TVs we like to recommend.
And by all accounts and experiences, watching this TV is much nicer than watching a cheap set. There's a noted vividness to the picture, and a sharpness to images that I just don't find in less expensive TVs, but it's also not quite the holy shit breathtaking experience of that $8,000 OLED from LG. That TV forced me to reconsider how I consume my shows. This one just reminds me that yes, more money means nicer TV.
It's when things go dark that the Q9 makes me shy away from telling you to drop a few months rent on a cool TV. See, Samsung made a big change from its last high-priced, high-end display, the KS9800. That TV was a full-array local dimming set, which means there were tons of little lights just behind the screen and they would light up, region by region, depending on what was on display. The Q9 is edge-lit, which means the only light comes from the sides of the TV. This allows for the TV to be thinner, and, theoretically, cheaper. But you don't get nearly as much control of light when the only source of light is coming from the edge of the TV.

Consequently the Q9 suffers if you're watching anything set in space. A ship zooms over a field of stars in Destiny 2, and there's a distinct halo around the ship. The screen goes black and the white text of credits at the end of a movie appear, and there's that telltale glow around the text. It's not going to ruin whatever you're watching, by any means, but it feels like a frustrating occurrence, particularly as cheaper sets (including a whole array of super cheap $1,500 OLED TVs from LG) don't have the same issue.
It's worth noting that there isn't an OLED out there that can get as bright as the Samsung Q9. Whether I was watching the TV at midnight or at noon, and whether I had the lights all off or on, this TV looks gorgeous. Even the reflective glare is kept at a minimum
So should you chuck your $1,000 (or cheaper) TV to the curb? Probably not. Have you seen the economy lately? You should be saving that scratch so you can buy a bunker to wait out the nuclear winter in. But if you've already invested in the bunker and you want to outfit it with a really nice TV, then the Samsung Q9 might be a great choice, and as we go into the holiday season it will drop further in price (it's already dropped $500 since it launched in July). The cheaper the Q9 gets the better the buy. With it's bright display, vibrant colors, and surprisingly great sound, this is a TV so good you might forget it's edge lit.

README
It's $3,500, which is a lot for a TV. We have plenty we like for cheaper.
This thing is bright enough that when you open the Tizen menu you won't need any lights on in the room.
Colors pop and the picture is so sharp you might be alarmed.
Edge lit display means the dreaded halo effect when bright objects appear on a black background.
Audio is surprisingly good.