The Samsung Galaxy Camera is the company's latest answer to the great connected camera problem brought on by smartphones. How do you make the perfect Wi-Fi camera? Give it a data plan.
What we have here, is the literally the Samsung Galaxy S III stuck to the back of a generic point-and-shoot camera. Seriously. This is a Galaxy S III: 4.8-inch LCD touchscreen, 1.4 GHz quad-core processor, and Android Jelly Bean OS. As for the camera, it sports a 1/2.3-inch, backside-illuminated image sensor and shoots 1080p video—in other words it's basically every inexpensive pocket camera out there. The 21x optical zoom more reveals that in all likelihood the camera's optics are identical to those in the Samsung WB850f Wi-Fi camera released earlier this year.
Oh, and it comes in both 3G/Wi-Fi and 4G/Wi-Fi versions—that's what really makes the difference between this camera and other Wi-Fi cameras. No more clumsy connectivity because the Galaxy Camera is basically a phone. Combine a reliable connection with Android OS and suddenly you're posting to Instagram and Facebook with a real camera. The Galaxy Camera also comes equipped with an auto backup feature that sends your photos to the cloud using your data connection. And of course, like the Galaxy S III, the camera is has GPS a Bluetooth radios, too.
Indeed, the Galaxy Camera seems so obvious that it's hard to believe no one ever thought to just sew together a smartphone and a point-and-shoot camera. We're well acquainted with the failings of Samsung's other Wi-Fi cameras that don't use Android. And since the Galaxy Camera already runs Jelly Bean, Nikon's newly announced Android 2.3 camera might be dead in the water.
G/O Media may get a commission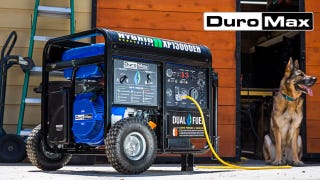 Black Friday Sale
DuroMax Generator Sale
But remember, this will not be as light or thin as a smartphone. It weighs nearly 11 ounces and it's 19.1 mm thick—more than twice the Galaxy S III's proportions.
No word on pricing or availability, but that'll make a big difference to whether or not people adopt the Galaxy Camera. Especially if you're paying for an additional data plan to keep it connected.