Dexter's Laborator and Samurai Jack creator Genndy Tartakovsky is making the leap from 2D animated television to 3D animated features with Hotel Transylvania, his tale of a vampire-run hotel that provides monsters refuge from the dangers of humanity. At his San Diego Comic-Con panel, Tartakovsky talked about his attempt to make CG animation more cartoonish and why he connects classic monsters with comedy.
Although Hotel Transylvania has been a Sony property for years, Tartakovsky came aboard just a year and a half ago. But Tartakovsky says that he's always seen monsters like Dracula, the mummy, and the wolfman as humorous; his first encounters with these classic monsters was not through horror, but through Abbot and Costello's comedic films. He said that imagining the character of Dracula for a new generation appealed to him, especially in making Dracula an over-protective father.
The titular haunted chateau is run by Dracula (Adam Sandler), who views Hotel Transylvania as a haven for monsters, far from the torches and pitchforks of humans. But Drac's 118-year-old "teenage" daughter, Mavis (Selena Gomez), is chaffing under the stagnating monster culture. But the dusty monster routine is about to get a much-needed shaking when human backpacker Jonathan (Andy Samberg) mistakes the hotel for a colorful youth hostel, forcing Drac to disguise him as the blue-skinned Johnnystein.
Tartakovsky brought four relatively finished clips from the film, giving attendees a taste of his adventure in computer-generated animation. The first shows Jonathan's entrance into the Hotel Transylvania with a nice visual introduction to the characters with whom we'll be spending our time, from the always hungry gremlins to the disagreeing heads of a fuzzy blue hydra to the yeti, who is so tall that we never see his head. We also got two peeks at Mavis' 118th birthday celebration, where Jonathan counters the stale monster party (including a laugh-out-loud funny bingo session) with a little livelier fun, and a moment in which Drac is won over by Jonathan's infectious sense of play.
G/O Media may get a commission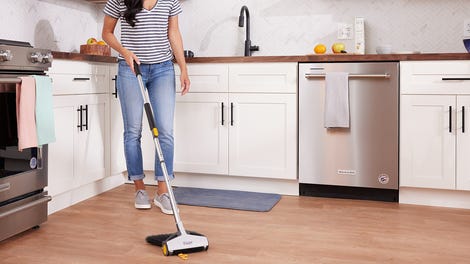 BOGO 50% Off
Flippr - BOGO 50% Off
Tartakovsky noted that the current trend in CG animation is toward increasing amounts of realism, and that he wanted to return to the classic cartoon movements and character designs of hand-drawn animators like Tex Avery and Bob Clampett. In fact, he and the rest of the Sony animation team had to do quite a bit of extra work to achieve that effect, since they were working with computers that had been programmed to mimic reality. The result is that the characters more closely resemble stop-motion dolls than CG characters typically do. They have oversized heads and hunched over bodies and come in a variety of shapes, sizes, and number of faces. And they move across the screen manically, sometimes even spastically, in shapes no reality-mimicking body ever would.
Tartakovsky has a strong sense of the sight gag, and that certainly came across in the scenes he showed. The living skeletons, the Invisible Man, and the Frankenstein monsters are all used to fantastic effect. For example, werewolf pups should really be trained before hanging out with skeletons, and the Invisible Man makes a poor charades partner. But so far, it looks like Hotel Transylvania could use a firmer editorial hand. The sequences were delightful, but overstuffed, giving the scenes an unfocused feel. Even the star-studded cast list feels like evidence of the film's unwieldiness: Kevin James as Frank, the Frankenstein monster; Fran Drescher as Frank's bride Eunice; Jon Lovitz as hotel chef Quasimodo; Cee Lo Green as Murray the Mummy; Steve Buscemi as werewolf Wayne; and Molly Shannon as Wayne's werewolf wife, Wanda. Hotel Transylvania may well be a feast for the eyes, but those eyes might end up with a bit of indigestion.
The audience, naturally, wanted to hear about the future of Tartakovsky's past projects. Unfortunately for fans of Sym-Bionic Titan, Tartakovsky said the franchise is likely dead since it was never able to secure a toy line. And sadly there's no movement at present on a Samurai Jack feature film. Tartakovsky had high hopes when J.J. Abrams was involved in a 3D rendering of 2D Samurai Jack film, but the project stalled as Abrams became too busy to keep Jack going. Tartakovsky said, with a sigh, that no studio is particularly interested in 2D animation these days, and "It needs an 800-pound gorilla to push it through."
Images from the Sony Animation Tumblr.