The affordable housing crisis in San Francisco has reached a fever pitch, with even George Lucas helping out. Here's another smart solution that chips away at the problem: Swapping a parking lot with a new neighborhood, courtesy of one of the city's most influential landowners, the San Francisco Giants.
Right now, the swath of bayfront land just south of AT&T Park is a huge surface parking lot that hosts over 2,000 cars during a game. The new proposal for the 28-acre site will essentially be a brand-new neighborhood named Mission Rock, according to the San Francisco Chronicle. There will be 1,500 residences, an eight-acre park, and plenty of commercial space including a working brewery. In addition to all that, a full one-third of the units will be affordable housing.
Stadium parking is one of the biggest blights on the urban landscape. These rippling fields of asphalt take up acres and acres in cities and in the case of football stadiums, are only filled to capacity a handful of times a year. In this case, all of the 2,000 spaces at the Mission Rock site were easily accommodated in new stacked parking garage. But hey, this is San Francisco, it's pretty damn easy to walk, bike or take transit to a game. It's good that that city recognized that fact and took the focus off parking completely.
G/O Media may get a commission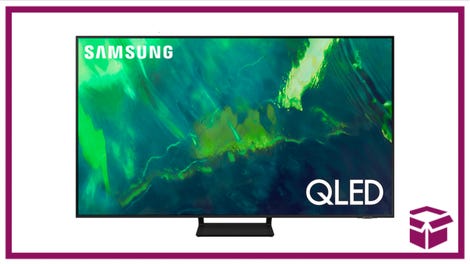 35% off
Samsung Q70A QLED 4K TV
Save big with this Samsung sale
If you're ready to drop some cash on a TV, now's a great time to do it. You can score the 75-inch Samsung Q70A QLED 4K TV for a whopping $800 off. That knocks the price down to $1,500 from $2,300, which is 35% off. This is a lot of TV for the money, and it also happens to be one of the best 4K TVs you can buy right now, according to Gizmodo.
Now the project goes to a ballot measure in November for voter approval. In addition to the affordable housing unit increase, the latest revisions include shorter building heights and a focus on local, mom-and-pop stores, which should endear the project to residents. But let's be honest here, anything is better than a parking lot.
Top image: Steelblue/Perkins + Will via SF Chron