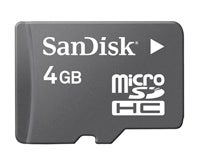 SanDisk announced today the world's highest capacity microSD HC card, coming in at an impressive 4GB. (It was only six months ago that it released a 2GB microSD card.) Good thing, too, what with all those storage-hungry cellphones that are coming out of 3GSM this week. Not only does it have plenty of space, but it should be plenty fast too, since it complies with the new SD Speed Class 2 spec. Good thing, since current microSD card, I've noticed, can be a little on the slow side. Keep your eyes open for all 4GB sometime later this year.
Press Release [SanDisk via Fareastgizmos.com]
UPDATE: World's largest != world's first. Kingmax dropped a 4GB microSD card last month, too.