Sam Zabel was once a cartoonist of minor renown and much acclaim, but in the last few years, he has suffered from persistant anhedonia and writer's block. He's lost the joy of making comics, and his subconscious just won't stand for it any more. Suddenly, Sam finds that the comics he's reading and writing are coming to life—and that all of the fictional women in them want to bed him.
In his book Hicksville, Dylan Horrocks explores the simple joys of reading and writing comics by sending his protagonist to a mysterious town where every resident utterly adores the medium. In Sam Zabel and the Magic Pen (frequently NSFW, occasionally for explicit sex), Horrocks once again examines the joys of comics, but through the lens of someone for whom those joys are a distant memory.
Sam Zabel is a husband and father who made his mark on the comics world with a critically acclaimed series called Pickle (incidentally, Horrocks created a series of the same name). But lately, he can't take pleasure in any of his life. He hacks for a sexy superhero comic called Lady Night, but he's so displeased with every word he writes that he lets the deadline lapse without finishing a single scene.
But Sam's flailing pen is about to get a little help from his subconscious. One night while desperately working on Lady Night, Lady Night herself chastises him for his inability to finish the story. After an encounter with an eager young webcartoonist at a literary conference, Sam finds himself traveling through an Edgar Rice Burroughs pastiche, filled with amorous Martian women.
G/O Media may get a commission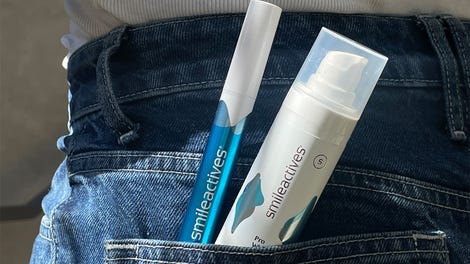 58% off
Whitening Powerhouse Pen & Gel Duo
And this is where Sam's trouble becomes clear. The Magic Pen is very aware of how women are portrayed in comics, but suggests that Sam's joylessness comes from his inability to surrender to the fantasy. He encounters improbably dressed superheroines, barely legal manga girls, and harem women who beg to show him their erotic arts, and Sam in thoroughly uncomfortable with the lust they inspire in him. It's a controversial thesis, although Horrocks makes a rather stunning case for it when he shows us the gorgeously drawn Martian orgy Sam is depriving himself of. Then again, perhaps Sam will once again be able to surrender to the joys of comics when he can find a way to imagine comic book women in a way that leaves him unashamed.
Update: Hey folks, the comic site is down at the moment, but Dylan Horrocks just messaged me that he's working on a solution. You may have to bookmark the comic for now and read it during the week. Thanks for your patience!
[Sam Zabel and the Magic Pen (NSFW)]