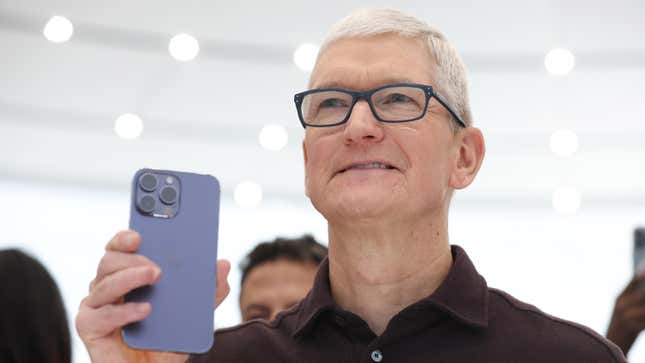 Apple has once again had a wrench thrown in its plans for smartphone hardware, though it won't affect the hotly anticipated autumnal release of the iPhone 15. Saudi Arabia had passed a law requiring all future smartphones sold in the country to have USB-C ports beginning in 2025.
Hey Google, Where Did My Watch's Battery Life Go?
GSM Arena reports that the law will take effect on January 1, 2o25, with all iPhones and Androids sold after that date in the kingdom needing to sport a USB-C port. The law comes from the Saudi Standards, Metrology, and Quality Organization and the Communications, Space, and Technology Commission. Other hardware that must have a USB-C port includes keyboards, headphones, speakers, and routers. The law is an attempt to decrease e-waste and improve user experience while also saving customers an estimated 170 million riyal, which is approximately $45 million, per those bureaus. Apple and Google did not immediately return Gizmodo's request for comment on the new law.
A second part of the law applies to laptops. Starting on April 1, 2026, all laptops and portable computers sold in Saudi Arabia must include a USB-C port as well. Saudi Arabia's law follows a similar mandate passed by the EU last autumn that made USB-C the standard charging mechanism for smartphones sold in the region. These laws definitely put the pressure on Apple as the company famously uses its own Lightning port to serve as both a charger and a jack for wired earbuds.
In response to the EU's law regarding USB-C, Apple was willing to give in but had plans to keep the technology proprietary. A leaker revealed that while USB-C is coming to the iPhone 15, data transfer speeds could be throttled to speeds in line with USB 2.0 for the smartphone's base and Plus models. Data speeds for the iPhone 15 Pro and Pro Max may be capped at USB-C 3.2 and Thunderbolt 3. Any cables or accessories not manufactured by Apple that also fail to meet Apple's "Made for iPod" certification standard may also see reduced data speeds.