Google faced a bunch of uproar from employees after it was revealed the company was offering its artificial intelligence tools to the Pentagon for a drone project. Now, after deciding not to renew the contract, the company is getting pressure from the other side as lawmakers are pressing Google over its relationship with Chinese telecommunications firm Huawei.
In a letter addressed to Google CEO Sundar Pachai, a group of mostly Republican legislators called out Google's "strategic partnership" with the Chinese firm, which has been deemed a potential threat to national security by US intelligence agencies. Google told Reuters it looks forward to responding to the inquiry.

The letter—signed by Republican Senators Tom Cotton and Marco Rubio, Republican Congresspeople Mike Conway and Liz Cheney, and Democratic Congressperson Dutch Rupperberge—urges Google to reconsider its relationship with Huawei, which has "extensive ties with the Chinese Communist Party," according to the lawmakers. They warn that a continued relationship between Google and Huawei could pose a threat to national security and consumers in the US.
The outcry from the members of Congress stems mostly from concerns raised by US intelligence agencies, which have warned (without providing evidence) Huawei and other Chinese telecom companies like ZTE could be doing dirty work for China's government. Earlier this year, FBI Director Chris Wray testified at a Senate Intelligence Committee hearing that his agency is "deeply concerned" about the possibility of Huawei gaining a position of power inside of US telecommunications networks. He warned that allowing the government to use products from Huawei, ZTE, and other Chinese firms could provide the Chinese government with the "capacity to conduct undetected espionage."
As a result of intelligence agencies ringing the alarm, the government has moved to drop Huawei as a contractor for many of its projects. The Federal Communications Commission is reportedly readying a rule change that would cut subsidies for any company using Huawei or any other Chinese firms' networking equipment, and US telecoms including AT&T and Verizon have already dumped Huawei in the wake of the government's scrutiny.

G/O Media may get a commission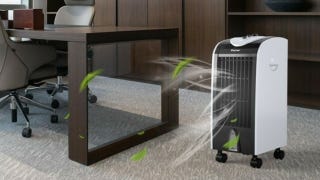 Save $10
Evaporative Portable Air Conditioner Cooler with Filter Knob
There's another reason that lawmakers are taking a swing at Google over its work with Huawei though, and that's out of scorn. The company opted not to renew its contract for Project Maven, a controversial program that used Google's AI to analyze drone footage for the Pentagon. Tom Cotton and his fellow legislators aren't too pleased about that:

We urge you to reconsider Google's partnership with Huawei, particularly since your company recently refused to renew a key research partnership, Project Maven, with the Department of Defense. This project uses artificial intelligence to improve the accuracy of U.S. military targeting, not least to reduce civilian casualties. While we regret that Google did not want to continue a long and fruitful tradition of collaboration between the military and technology companies, we are even more disappointed that Google apparently is more willing to support the Chinese Communist Party than the U.S. military.
Google, for its part, holds that there's nothing to worry about with regard to its work with Huawei. "Like many U.S. companies, we have agreements with dozens of OEMs (manufacturers) around the world, including Huawei," a spokesperson for Google told Reuters. "We do not provide special access to Google user data as part of these agreements, and our agreements include privacy and security protections for use data."

[Reuters]