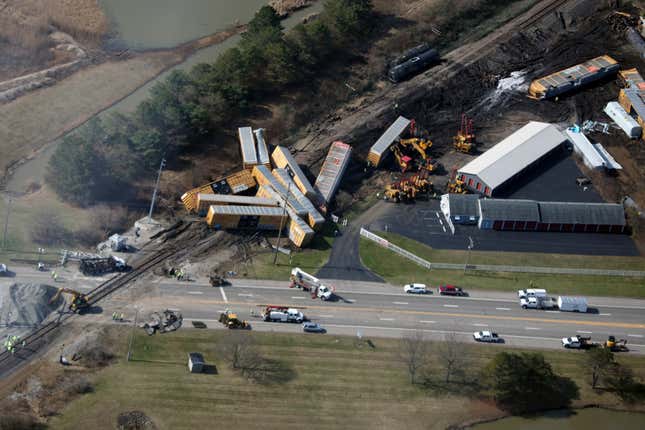 Investigators from the National Transportation Safety Board on Monday were scheduled to begin assessing a railway incident that occurred over the weekend. A Norfolk Southern freight train derailed near Springfield, Ohio on Saturday, March 4, around 5 p.m. ET. Of the train's 212 cars, 28 went off the tracks, Kraig Barner, a Norfolk Southern general manager, said during a Sunday press conference.

Rail Company Sued For Train Derailment in Ohio | Extreme Earth
Nobody was harmed in the derailment, including the train's 2-person crew, reported Barner. Further, the train wasn't carrying hazardous materials and the derailment hasn't led to any spills, according to Barner and multiple state and local officials who also spoke at the press conference.
However, the derailment had officials and community members on high alert over the weekend and into Monday. NTSB announced in a Sunday night tweet that investigators from the the federal agency were en route to the scene of the incident and that a probe would begin early this week.
This Saturday's accident follows the disastrous Norfolk Southern derailment of a freight train carrying vinyl chloride—a toxic chemical precursor to some plastics—that happened on February 3, also in Ohio. That derailment, subsequent chemical spill, fire, and "controlled chemical release" near East Palestine prompted evacuations for thousands of people and ongoing concerns about public health and wildlife. Though, even in this earlier incident, the overturned freight cars were officially designated as "non-hazardous."
The February derailment led to apparent human health impacts in its immediate aftermath, with locals complaining of respiratory, eye, and skin irritation, as well as other symptoms like headaches. Further, the East Palestine spill caused direct environmental harm. Chemicals leaking into nearby waterways killed an estimated 43,000 animals. Health and environment experts and community members remain concerned about potential lingering, ongoing effects from that derailment, and testing is ongoing.
The more recent derailment poses no immediate risk to people or wildlife nearby, despite having occurred very near to some homes, officials reported on Sunday.
"There was no release of any chemical or any hazardous material to the soil, to the air, to the water," said Anne Vogel, the director of Ohio's state environmental protection agency, at the press conference.
Clark County's health commissioner, Charles Patterson, further noted: "There have been multiple sweeps by multiple teams... to ensure that there aren't any chemicals present in the soil, air, or water that would harm the public."
Saturday's derailment did occur very near to some live power lines, and so first responders had to wait for the go-ahead to access the site. Following that hold-up, they found little of concern, according to fire chief David Nagel.
Of the 28 cars that left the tracks, four were tankards, though all were traveling empty. Two previously held diesel exhaust fluid, while the other two had contained "an additive commonly used in waste water treatment," Norfolk Southern's Barner explained on Sunday. "This derailment, as all derailments, will be fully investigated, and the findings will be turned over to the federal railroad administration," the company spokesperson added.
Another of the derailed train cars was reportedly carrying PVC pellets, which spilled on the ground, according to Ohio EPA's Vogel, and clean-up of those plastic bits is ongoing.
Bernie Willis, Ohio state representative for the impacted district, acknowledged the shadow of the East Palestine incident looming over the Springfield derailment in yesterday's press conference. "Obviously we're in a time where it's very sensitive with another rail event, with East Palestine right on our minds," he said. "In the Ohio House and legislature right now, we're obviously looking for all of the things that can come out of these incidents so we can find good legislation, if it needs to be formed and passed, to ensure the safety of our residents in Ohio," Willis added.
Freight train derailments are a common occurrence, more than 1,000 such incidents occurred in 2022. Though the number of derailments has declined in recent years, the severity of accidents has increased. Freight trains have gotten longer, with 25% more cars, according to the Government Accountability Office. Plus, staffing on many trains has decreased as rail companies have pushed for one-person crews to reduce costs.
The disaster in East Palesine, Ohio has drawn renewed attention to the issue of freight train and transportation safety, worker protections, and the state of railway infrastructure. Local and federal officials, including U.S. Transportation Secretary Pete Buttigieg, are calling for stricter regulation in response.
Yet in contrast, Buttigieg, Congress, and President Joe Biden all openly worked to halt a planned rail strike at the end of 2022, in which rail worker union members were prepared to shut down freight operations in an attempt get paid sick days and other basic protections and benefits added into their contract.

Norfolk Southern will have to pay for damages caused by the East Palestine derailment. But it remains to be seen what policy changes, if any, will result from the debacle.