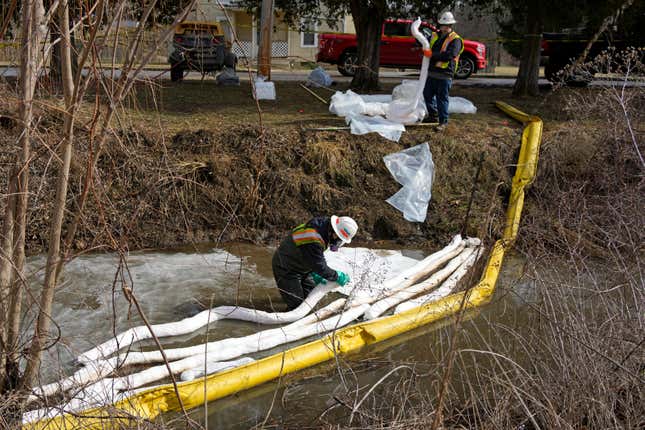 People in East Palestine, Ohio are still struggling with uncertainty and fear for their health and community in the aftermath of the disastrous derailment of a train carrying hazardous chemicals on February 6. This week, the extreme impacts of that spill on local wildlife became clearer.

An estimated 43,785 aquatic animals died as a result of the train derailment, Ohio's Department of Natural Resources said in a Thursday statement and recorded press conference.
The agency came to that number through sampling and surveying dead wildlife in the immediate aftermath of the chemical release. Officials collected 2,936 deceased animals at four sites along the impacted waterways, and then used standard calculations to extrapolate the number of wildlife deaths along the entire 7.5-mile-long area affected by the spill.
They concluded that about 38,222 small fish or minnows were killed, along with between 5,500 and 5,550 other aquatic organisms like crayfish, newts, frogs, snails, and insects. The agency believes that all of these animals were killed immediately following the spill and that wildlife in the affected streams are not still suffering from chemical impacts.
Initially, ODNR reported finding approximately 3,500 dead animals, based on visual observation of their sampling sites. However, the agency noted the actual amount of wildlife collected was less than this number—though the calculated estimate is greater than 10 times higher.
Some residents of East Palestine reported pets like chickens, cats, and dogs falling ill or even dying after the derailment and subsequent controlled chemical burn. ODNR received many pet-related questions during its Thursday press conference but noted that it couldn't offer any information about non-wildlife animals. Instead, an agency official instructed people to consult with their veterinarians.
The derailment occurred right next to a small creek called Sulphur Run, which flows into Leslie Run, which in turn meets up with Bull Creek and flows into Little Beaver Creek, eventually reaching the Ohio River. Officials noted that the primary affected area included parts of Sulphur Run, Bull Creek, and Little Beaver Creek, and the entire stretch of Leslie Run.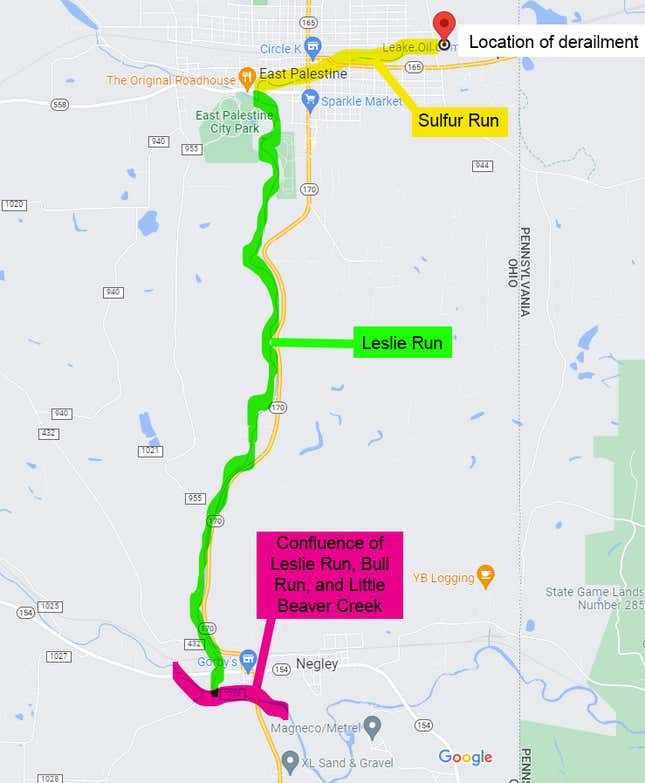 ODNR said is it has had officials monitoring all of those impacted waterways every day since the spill and will continue to keep tabs on the streams. "We haven't seen any additional signs of aquatic life suffering," said agency director Mary Mertz in the press conference. "In fact, we have seen live fish already returned to Leslie Run," she added. A few videos posted to the agency's Flickr page illustrate that return of life, showing minnows and crayfish below the surface of the shallow stream.

Out of an abundance of caution and to minimize possible harm up the food chain, the agency said it disposed of all of the collected poisoned wildlife. ODNR personnel also removed additional dead fish from the impacted waterways that weren't part of the sampling calculations, to prevent other animals from eating the carcasses.
The department said it doesn't believe any terrestrial wildlife was directly harmed by the train derailment and chemical spill. The agency did collect three dead birds and one dead opossum after the animals were reported to ODNR. Examination and testing of those animals by the Ohio Department of Agriculture found no evidence of chemical poisoning, said Mertz in the press conference.
The agency also reported that it found no evidence of wildlife harm farther downstream of the creeks immediately near the Norfolk Southern train tracks and derailment site. The Ohio River, the officials said, seems unimpacted. Asked if people can safely eat fish caught in the larger waterway, Mertz responded "absolutely."
In a bit of silver lining, ODNR said that none of the collected dead animals included any endangered or threatened species. Though a hellbender restoration site is downstream of the immediate impacted area, Mertz reported that the endangered giant salamanders appear to be doing just fine so far— through additional monitoring is necessary to ensure the rare animals' safety.
Ultimately, Mertz noted that fish kills from chemical spills and other causes are not uncommon in Ohio. They happen every year, many smaller and some on the same scale as this disaster, she explained. This is probably not the largest fish kill Ohio has experienced, Mertz said.
The ODNR director and her colleagues in the press conference all expressed expectations that the affected streams and wildlife populations to bounce back. "Ecosystem restoration is not instantaneous... we know it won't be quick," Mertz said. But, "we do expect a full recovery eventually, and we're going to keep sharp eyes on it."
In the interim, Norfolk Southern will have to pay for the environmental damage it caused. ODNR's estimate of dead wildlife will be used to inform the amount of restitution the rail company is forced to provide. That payout will also cover the cost of staffing and monitoring involved in the natural resources investigation. Mertz said that her agency will also be asking the Ohio Attorney General to "review the potential for criminal penalties."