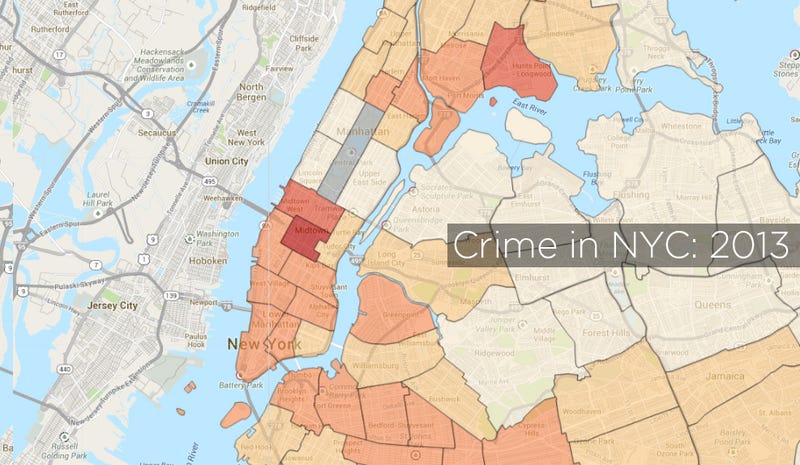 The NYPD isn't known for its, uh, transparency. In fact, it's mostly known for aggressively withholding information. So this new, interactive crime map released by the NYPD this weekend is a welcome surprise.
The map sticks to the major New York State felonies: Murder and Non-Negligent Manslaughter, Rape, Robbery, Felonious Assault, Burglary, Grand Larceny and Grand Larceny Motor Vehicle. Though the site uses data available on the NYPD website, it was developed by Department of Information Technology and Telecommunications—which is responsible for creating ways to broadcast city information to the public (for example, it created the 3-1-1 information line).
The site appeared on NYC.gov yesterday afternoon, accompanied by a statement from outgoing police commissioner Ray Kelly, who commented that it shows how, "with unprecedented population levels, New York City is safer than ever, with homicides on pace this year to fall below recent historic lows." In fact, it's only possible to search monthly or yearly for crimes committed from January of 2012 to October 2013, which means that it's hard to see the broader overall trends in crime. But that will change as time passes, since the map will be updated with more and more data.
Here's a heat map of most of this year's burglaries:
And murders:
Along with rape:
You can also zoom in to see each crime plotted individually:
So, what inspired this change of heart by Commissioner Kelly? It wasn't a mediation on his time as police commissioner. Rather, as Gothamist explains, it was created in response to a City Council ordinance that required it. Baby steps... [NYC.gov]