A group of US senators on Tuesday announced that more than 40 lawmakers had joined an effort to overturn the 2017 FCC order killing net neutrality.

Democrats are seeking to undo the FCC order using the Congressional Review Act (CRA), passage of which will require a simple majority in the both the House and Senate. Sen. Edward Markey, a member of the Commerce, Science and Transportation Committee, who first proposed the CRA resolution last month, emphasized that, regardless of the outcome, there would be a vote on the floor of the Senate over net neutrality; a "political price" would be paid, he said, by lawmakers on the wrong side of the issue.
"Last month, the Federal Communications Commission turned a deaf ear to millions of Americans standing up for a free and open internet and instead gutted net neutrality," Markey said during a press conference on Tuesday. "That's why we plan to fight these actions in the halls of Congress and in the courtroom."
The order, which passed the Republican-controlled FCC in a 3-2 vote along party lines in mid-December, eliminates federal protections that prevent internet broadband providers from blocking or throttling content delivered to customers, or from creating so-called "fast lanes" for companies that pay for speedier service.
The math for this effort remains difficult, particularly in the House, where sources told Gizmodo on Monday that telecom-industry lobbyists were swarming in an effort to dissuade lawmakers from supporting the resolution. Pressure was coming from all major industry groups, which count among their fold many former congressional staffers. However, House Democrats are planning a similar announcement in the coming weeks, the sources said.
"Millennials played a huge role in sending Doug Jones to the Senate in Alabama," Senate Minority Leader Chuck Schumer said Tuesday. "So make no mistake about it, net neutrality will be a major issue in the 2018 campaigns, and we're going to let everybody know where we stand and where they stand."
G/O Media may get a commission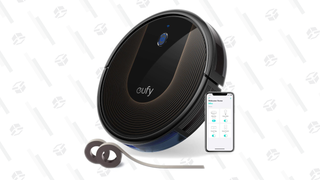 48% Off
Eufy BoostIQ RoboVac
"Our every colleague in the Senate should know there will be a vote," added Schumer. "We will know on which side do you stand."
Sen. Ron Wyden said that the CRA effort would restore "real net neutrality." "By that, I mean what Americans think of as an open and free internet and actual net neutrality," he said. "It means after you pay your internet access fee, you get to go where you want, when you want, and how you want."
Sen. Brian Schatz said that Republicans had awoken a "sleeping giant" by opposing or failing to support net neutrality and promised that young voters would rally to hold Congress accountable in this year's elections. "Members of Congress, members of the United States Senate have heard from the lobbyists and the corporations," he said. "And now they need to hear from the people."
Sen. Richard Blumenthal said the issue seemed simple: "Why should we even be here? The reason is, quite simply, that the FCC has proven itself a puppet of the special interests. There is nothing more anti-Democratic and un-American than strangling freedom of communication. That's what the FCC has done."
Noting the persistent interest of her own daughter in college, Sen. Amy Klobuchar said that young adults had grown up with the internet as their primary means of communication. None of them, she said, wanted to see "a fast lane for those who can pay and a slow lane for everyone else."
Sen. Tammy Duckworth echoed Sen. Blumenthal in calling the FCC's decision "un-American," saying the order would inhibit small business from competing in industries dominated by tech giants. "What this does," she said, referring to the FCC order, "is take away competition."
In addition to the CRA effort, a massive legal fight is brewing over the order, with several advocacy groups declaring their intention to sue the FCC. Last week, the Internet Association, a trade group that represents Facebook, Amazon, Netflix, and Google, among other top tech firms, announced its intention to intervene in the lawsuit against the FCC.