A pair of Nevada senators say the Federal Communications Commission's recently released broadband coverage map—intended to provide transparency on the nation's internet access—is "deeply flawed," and presents an inaccurate reading of rural America's internet access. Those inaccuracies, they say, could cost them and other rural states millions in federal broadband infrastructure funds.
In a letter addressed to the FCC's five commissioners, Democratic senators Jacky Rosen and Catherine Cortez Masto said they were "seriously concerned" about the accuracy of their states' internet access presented in the maps. Nevada's Office of Science, Innovation, & Technology, the senators claim, reportedly found over 20,000 purported broadband locations on the maps that overstate coverage capability, as well as incorrect information on the quality of internet services provided in certain locations. In some cases, the letter states, serviceable locations simply weren't included on the map. Though the state's remote, desert topography may account for some of the gaps, the senators said that still only tells part of the story.
"This level of accuracy has even greater impact when considering the vast space and rural nature of our state," the senators wrote. "However, these concerns cover all areas of the state, including urban, suburban, rural, and Tribal communities where already underserved communities are going to be further hampered in their ability to access affordable and quality internet service."
The senators worry these inaccuracies could result in Nevada losing out on potentially millions worth of funds for expanding broadband connectivity included in last year's massive bipartisan infrastructure package.
The FCC altered the methodology it uses to determine the country's fixed and mobile broadband coverage in recent years, responding in part to past criticism of inaccuracy. Previously, the commission's approach relied on "census block-level data," which critics say led to a broad over-counting of who exactly had access. The new map, which will be used to distribute an estimated $42 billion in federal funds to states and territories to expand high-speed internet access, has made improvements but is still dependent on self-reported data from ISPs, which the senators suggested could contribute to an overestimation of coverage.
G/O Media may get a commission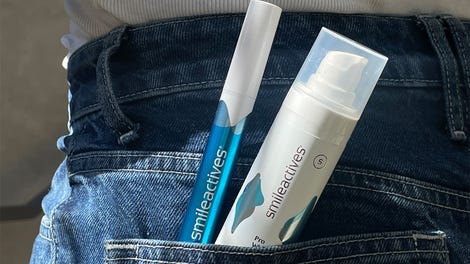 58% off
Whitening Powerhouse Pen & Gel Duo
Rosen and Cortez Masto's concerns come on the heels of a separate letter signed by a bipartisan group of 26 senators last month highlighting more concerns over the maps' accuracy. In that case, the lawmakers called on the FCC to do more to ensure all serviceable locations were represented on the map and demanded service providers be held accountable if they are found to overreport coverage. Around the same time, Vermont's Community Broadband Board told residents to check their addresses against the map and verify the accuracy of their coverage status.
The FCC did not immediately respond to Gizmodo's request for comment.
Though broadband access as a whole in the U.S. has expanded in recent years, there are still glaring gaps, particularly amongst rural and low-income communities. Only 72% of rural U.S. adults surveyed by Pew Research in 2021 said they had acres to home broadband, compared to 77% of rural adults. Suburban residents meanwhile have the most acres at 79%.
Concerns over broadband access and map accuracies aren't new, but the prospect of potentially cashing in on or losing million in new federal funds creates more incentive than ever for states, particularly in rural areas, to press the FCC