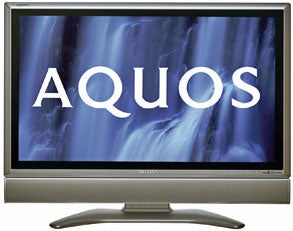 Just when our jaws stopped gaping over the Sharp "P" series of pro LCD monitors including that awesome 65-incher, the company blows out a squadron of new Aquos LCD TVs today that will soon be available in Great Britain but probably not in the US since they're set for European broadcast standards (DVB-T).
But don't get too excited just yet. These are not anything special, where the intro consists of eight new models, four 32-inch and four 37-inch TVs. Each one has 1366x768 pixel resolution and the best part is their fast 6ms response time. However, none of these specs really raise our boxers until we hear that magic alphanumeric password: 1080p.
Up for grabs in the UK starting this month will be the widescreen analog 32-inch and 37-inch GA series (models LC-32GA9E and LC-37GA9E), the GD9 series with Sharp's TruD anti-judder stuff (models LC-32GD9E and LC-37GD9E), the widescreen GD8 series with an integrated digital DVB-T tuner (models LC-32GD8E and LC-37GD8E) and the analog GA series in 32"and 37" trim (models LC-32GA8E and LC-37GA8E).
Now Sharp, let's see some true 1080p Aquos sets stateside, stat!
Sharp introduces new range of Aquos HD-ready LCD TVs [TechDigest]