An ongoing scheme to steal glass art by Dale Chihuly proved successful for over a year, because the warehouse worker accused of the crime stealthily only took items that he (correctly) "believed would go unnoticed." By the time someone realized what had happened, over $3 million in work was gone.
As CNN reports, former Chihuly employee Christopher Kaul stands accused of smuggling $3,082,000 worth of Chihuly pieces from a warehouse in the widely-exhibited artist's hometown of Tacoma, Wash and selling them for well below their worth to collectors. He almost got away with it, too, according to a press release distributed by the Pierce County Prosecuting Attorney's Office via the FBI's Seattle division:
In September 2014, an art appraiser contacted the Chihuly Company regarding three pieces of artwork that were brought in for appraisal. Employees determined the pieces were missing from the company's warehouse. An audit was conducted, which found that 90 pieces were missing.
It's worth noting that 2014 is a year after Kaul was fired for not showing up to work, as Seattle's King 5 notes:
Charging documents show Kaul was employed there from March 2010 to June 2013, when he was fired. Kaul told the FBI, which conducted the investigation, that he took the items to sell to support his addiction to pills.
The FBI noted that the warehouse's organization was poor and its inventory system was lax.
G/O Media may get a commission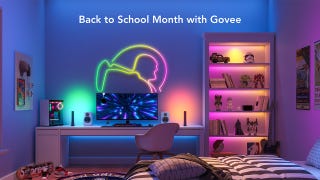 Back to School
Back to School Month with Govee Sale
(That sound you hear is every other artist prominent enough to have a warehouse full of works scrambling to upgrade his or her inventory system.)
The FBI press release includes a note of hope about the stolen pieces, and also a word of caution for any collectors who're offered suspiciously cut-rate prices on works by high-profile artists:
"We've seen this story before—an employee is hooked on drugs and steals from his boss," said Prosecutor Mark Lindquist. "The twist here is the boss is a world famous artist."

A private investigator, hired by the Chihuly Company, has recovered nearly half of the stolen artwork from buyers who returned the items.

"If a deal sounds too good to be true," said Lindquist, "it probably is."
Kaul has been charged with first-degree theft and three counts of trafficking stolen property; he'll be arraigned June 15.

As it happens, Chihuly's distinctive sculptures have been targeted by crooks before, including an incident that ended in several arrests just six months ago. As Artnet points out:
This is not the first time Chihuly's blown-glass baubles have been the victim of theft. In a particularly amusing, spur-of-the-moment heist that took place this past year, four friends drunkenly scaled the walls of the Denver Botanic Gardens. They stole four sculptures worth $100,000, which they stashed in a cornfield before being arrested and charged in January.
A similar theft, in which several pieces were taken from a Chihuly exhibit at the Fairchild Tropical Botanic Garden in Coral Gables, Florida, occurred in 2007.
In 2013, a Renton, Wash. man named Michael Little was popped for buying glass sculptures online, carving Chihuly's name into them, and selling them for thousands of dollars to two dozen unsuspecting collectors. According to the FBI:
Little told various stories to potential buyers about how he had acquired the Chihuly work, including that his family had purchased the pieces after winning the lottery. As early as 2011, PayPal had reversed one purchase, and eBay had removed some of Little's postings after being alerted to the fraud. Despite the warning, Little persisted in posting and selling the art in person, online, and through a Renton auction house.
Top image: A 2012 photo depicting a chandelier in the permanent Chihuly Garden and Glass exhibit (note: this is not one of the stolen pieces) at the Seattle Center. AP photo by Elaine Thompson.