Lens: Canon EF 24-105mm 1:4L IS USM
Fall #1 September in Germany, Green electric field is strong contrast to the Thunderstorm passing over a large region of green vegetation . Location: near by of Rüdesheim am Rhein, Germany
-Alikhan Kuljanov
Fall #2 Late September in Northern Italy. Autumn came to quick to this region this year. Cold atmosphere is strong from the Alpine mountains. Villa Balbianello in Como Lake, Italy.
-Alikhan Kuljanov
G/O Media may get a commission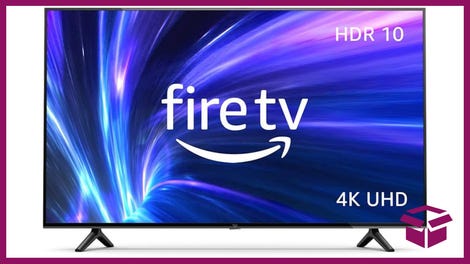 42% Off
Amazon Fire TV 50" 4K Smart TV
Shot with a Canon t1i
Tv( Shutter Speed ) 1/60
Av( Aperture Value ) 5.6
ISO Speed 160
Kit Lens
-Andrew Keippela
Aspens at 9K. Shot with a Canon EOS REBELl T2i w/ a Canon EF 17-40mm f/4.0 L USM Lens, Tv 1/320, ISO 100, Av 8.0. This aspen tree was on the trail while I was hiking in Rocky Mountain National Park on my way to Emerald Lake to go bouldering for the afternoon.
Equipment: iPhone4
Technique: Point and Shoot.
-Beau Kahler
This picture was taken in Stanley Park in Vancouver B.C. Using my Nikon D300 with the Nikon 18-200 VR lens.
Although the Fall leaves is not the main subject. The colour of this picture screams Fall and instead of the leaves being the subject, it is the really background in this picture giving it the shades of Fall...
-Brandon Tsoi
A couple of photos from my recent visit to the Woodland Workshop in Dorset.
-Carl Baldwin
At my parents house in the northern michigan countryside;
taking a break from packing for a move;
i walked down the dirt road to shoot the blazing yellow tree
set against the deep green pines. Ended up shooting leaves
into the sunlight amidst the bright blue sky.
Panasonic Lumix GF-1
20mm Pancake Lens
F1.7
1/4000
ISO 100
1:1 Format
No Photoshop
-Carl Bean-Larson
Nikon D40
Nikkor AF-S 18-55mm
1/1000th
f4.5
ISO 200
I was taking pictures of a friend for her yearbook photo. It was an overcast fall morning.
-Chris O'Brien
I took this photo just after the sun came up while camping at Dingman's Falls in the Delaware Water Gap in Pennsylvania. I used a Sony DSC-N1.
-Cooper Faust

-Dana Foulks
I used to live in Boston and the falls there were pretty magical. Still being in graduate school I couldn't afford much gear so I had a D40 with a kit lens (18-55) which I used to take these photos. At this time I was probably shooting in full auto mode and just checking my histograms to make sure things were in range. I wanted the light to be coming through the trees so I waited till around noon. These were taken at the Arboretum in Jamaica Plain Boston.
-Dan Dao

"Puddle Of Light"
Equipment: Canon 7D w/ Canon 17-40mm f/4.0L lens
Settings: 1/200 sec; f/4.0; ISO100
Story: Walking in a park in Toronto, I stumbled across this leaf that was perfectly lit from a sun peaking through the trees above.
-Daniel Gueorguiev

"Fall Is Here"
Equipment: Canon 7D w/ Canon 17-40mm f/4.0L lens
Settings: 1/60 sec; f/4.0; ISO640
Story: Amongst the urban jungle of a large city, one can often find peaceful and serene places, such as this park, which was carpeted in leaves of all colours.
-Daniel Gueorguiev
Taken today while watering my tree. Rebel txi.
-Eric Martinez
iPhone 3GS, thus no settings or whatever. Just catching the moment. Nothing altered, cropped or whatever. This was taken on a Saturday Morning at "Round Lake" - close to Eagle River, Wisconsin.
-Florian Hauser
This shot was just a handheld shot with my Digital Rebel XTi taken in the La Sal mountains in southeast Utah. I took it while on a hike of Mount Peale.
-Garret Nuzzo-Jones
Falling into the category of occasionally less is more, the photograph was taken on my Treo 650 (I know, a very late adopter of technology) on a late afternoon facing east, which captured the late afternoon sun.
Now the Treo is dreadfully inadequate for any kind serious photography, however the end result of this created an almost Impressionist-type quality, and is un-retouched with any kind of software. I think it looks more like a painting than a photograph.
The photograph is a neighbor's driveway in Califon, NJ (Hunterdon County) that while seemingly planted with the same species tree, has this annual color show as each tree seems to change color at a different time.
-Gary Dean
Taken with a Canon 30D and a 10-22mm lens, handheld. We drove up to Lake George, NY in hopes of seeing some fall foliage in early October. While it was a little early, even the subtle changes with the overcast weather all day made for a beautiful fall scene. I used my wide angle lens to show as much of the scene as I could, including the foliage, the clouds in the sky and ripples in the water.
-Gina Todorovich
I took this while taking a walk in the White Mountains near Plymouth, NH. The leaves hadn't really started to turn yet, so I wasn't even looking for foliage shots. However, this gave me a chance to capture these really popping out against the dull ground and dead leaves. Nikon D40, 18-55mm lens, 1/80, f/5.6, ISO 800, adjusted slightly for contrast in Picasa.
-Greg Carlson
Taken with a Sony A200k in Bath, Uk.Free for non-commercial use! It was slightly tweaked in iPhoto!
-Harry Jones
I planned on taking these photos with my Canon SLR, but it's in the shop having some sand cleaned out of it (don't ask). And my Lumix went missing a few weeks ago. No, these shots were taken with the camera in my Xperia X10 Mini Pro phone. So, they're not the best quality. Even so, I haven't done any retouching at all — these are straight off the phone.
These were taken in my back yard here in the north of England. No, they're not *technically* of Fall leaves... however, these mushrooms (Amanita muscaria) start popping up in the Fall when the leaves start falling and decomposing, making the perfect fungi food source.
-Intrepid Eddie
I had some time to kill in the morning so I decided to take a walk around my campus at Trent University. On the West side of the campus there is a trail called the Drumlin that runs through the hills, so I decided to go for a nice hike since I hadn't done it since first year. I was playing with the whole lens flare low contrast experiment and somehow came up with this.
Camera: Canon Rebel XS
Lens: 50mm f1.8 mkii
ISO: 100
Aperture: f1.8
Shutter Speed: 1/4000 sec
Filter: Hoya uv haze
Shot at: 0916h EST on Oct 7, 2010
Post-process: Aperture 3
-Javin Lau
This was shot at the same time as the first submission. I found that my iphone 3gs was becoming literally the best camera to have since I had it all the time. Because my dSLR only had the 50mm, I wanted to get a wide angle shot of autumn, and whipped out my iphone. I thought the antique yellows showed Trent University's rustic awesomeness.
Camera: Iphone 3gs
Shot at: ~0916h EST on Oct 7, 2010
Post-process: Best Camera - 2x warm filters
-Javin Lau
There is a park 2 minutes away from me, and I brought my cheap little GE A730 point and shoot. Walking on a trail, I noticed a beautiful dew-drop leaf laying with it's "companion" alone in the middle of a bunch of tall grass. Light dodge/burning, curves, USM, and saturation boost in Photoshop.
-Jesse Hall
Image taken with a Samsung Rogue cellphone camera (reinforcing that the best camera is the one you have with you).
While I am sure others went for the traditional multicolor Fall leaves, I thought that this branch dropping its leaves, and going bare, against a cloudy sky showed the transition from Summer to Winter.
-Jonas Demuro
I was walking around and found a wall with leaves of different colors. I took it using my Canon Xsi and 17-55 lens. Theres no wallpaper sized pictures for fall 1 because its in portrait mode.
-Kevin Lin
Shot With a Nikon D40 with i be leave was my sigma 70-300mm lens on manual.
-Kristopher Buccola
Name: Birch Leaf in the Frosty Morning
This picture is taken with 5MP Sony Ericsson K850i on Sunday, 19th this month sometime in the morning, when i was walking with my family. As you can see, it is cold here and there is still some frost on grass around the leaf. So here are some specs:
Horizontal and Vertical resolution: 72dpi
Bit depth 24
F-stop: f/2.8
Exposure time: 1/100 sec.
ISO speed: ISO-125
Exposure bias: 0 step
Focal length: 5mm
Metering mode: Spot
Flash mode: No flash, auto
White balance: auto
-Manuel Vrhovac
It's actually an old shot I took in Berlin on a business tripp. I used my old Canon 40D and I accidently saw this state library while walking down the street. I shot it without a tripod and I did some minor colouring in Photoshop.
-The Marvin
This pictur was taken in the Swiss Alps.Equipment is Nikon D3X and the 24-70 mm 2.8 Lens. Love 'cloudy' white balance, which gives warm and strong colours.
-Michael Sengers
Equipment: Nikon D3100 w/ 18-55mm lens
Settings: f5.6, cloudy white balance, 400 ISO, aperture priority mode
Story: I am just getting started with photography and had just purchased this camera. I had it with me at work and during my usual mid afternoon stroll outside my office building I noticed this lone red leaf lying next to the sidewalk. The bed green grass seemed like a nice contrast for the changing seasons.
-Nathan Hales
Photo 1 - Summer's Over
I am at my friend's wedding in the Poconos. (Congrats Vida!) I walked
down to the lakefront at the rear of our cabin, and this scene just
struck me. Empty beach, calm water, beautiful colors. Some trees
have yet to turn, and others are almost bare. I don't think anything
captures fall like this does.
Camera - Pentax kx
Lens - DA 55-300
Focal Length - 55mm
Aperture - f/5.6
Shutter - 1/1600s
ISO - 200
Cropped, that's it.
-Nick Giardina
Same location, just liked this tree. Awesome colors, so I
oversaturated it a bit. I was interested in how the tree was almost
symmetrical.
Same rig
Aperture - f/5
Shutter - 1/800
ISO - 200
Increased saturation in Camera Raw, cropped.
-Nick Giardina
Canon EOS 5D Mark II, Canon EF 50mm f1.4. Photo taken at a bus stop in Manchester, UK.
-Nicole Kucera
Taken with a Nikon D90 a Nikon 24-70 @ 50mm, f8, 1/400 at ISO200. Edited in Lightroom with just basic whitebalance adjustment and a bit of vignette. This was taken at a pumpkin patch about an hour south of Chicago. It was a perfect fall day with a bit of sun and clouds and 60 degrees.
-Pat Holden
Taken with a Nikon D90 a Nikon 24-70 @ 24mm, f8, 1/500 at ISO200. Edited in Lightroom with just basic whitebalance adjustment and a bit of vignette. This photo was taken inside the very large corn maze at Siegel's Cottonwood Farm about an hour south of Chicago.
-Pat Holden
These are my entries for the Fall Leaves contest, I shot these using a Rebel XS Camera with a Takumar 50mm 1.4 lens which I literally received an hour ago in the mail. All the trees in my neighboorhood haven't turned yet except these little guys. I hope you guys enjoy them as much I liked taking them.
-Patrick Marcoux
The photo is an HDR photo merge, uncropped, colors slightly altered by Photoshops Auto Tone and Auto Color. Plus it's more a Fall flower and trees than Fall leaves. Hope that's OK.
Description: The small lake behind is the result of some heavy rains a few days ago. The landscape is very nice. Taken in Grosuplje, Slovenia.
-Pedro Kostelec
white (I dont know why thats imperative but I think its cool) Pentax K-x with the Standard 18-55mm lens
ISO 200
1EV
f/11
shutter speed 1/160
one light color filter and brightened the highlights? Maybe I think.
-Praz E Bear
Here's two picture taken in Quebec Canada with my D90 using HDR technique combined with photomatix and Lightroom.
-Rael Dussault
Not much of a story here. Stepped outside with my morning coffee shortly after seeing this post and saw just a single leaf laying on my porch. So I pulled out my iPhone4, sat it down there on the porch and took the shot. Never considered entering a shooting challenge because I lack a DSLR and other professional equipment, but I liked the way this turned out and figured what the hell.
-Robert Whitt
Hiking with my dog Haley outside Park City, Utah. Canon 50D, 55mm, ISO 320, f/4.5, 1/320. I LOVE FALL.
-Sarah Ause
Equipment: Panasonic FZ28, Settings: F-stop: f/2.8, Exposure: 1/30sec., ISO=250, focal length = 5mm, Technique: On one knee
Story behind the shot: This shot was taking in London. My camera was two days old and I wanted to take it on a test drive so thought why not the city. I shot a wide array of pictures and was pleased with my outcome.
On my way home, walking along Southwark peer I noticed my laces were untied to leant down to tie them up when I looked up and noticed the leaves and thought I'm probably only going to get this opportunity once so took the shot and was by far the best shot of the day. I don't really expect to win this competition to be honest because I'm sure a lot of pros will produce some compelling shots, but at least now you know you have readers in London.
-Sunil Chauhan
Taken with my iPhone 4.
-Thaiyler
This is my own photo, taken on the way home from work. It was taken by an good old iPhone 3g. That's also the reson why the larger file has only 1600*1200. IP made a good job. I don't think I have chance to win but it shows that iPhone 3g still isn't that bad.
-Tomas Kolarik
This was shot in Black Diamond, WA. I cross these train tracks every day going to work but I never thought of taking a photo until the day I took this shot.
For some reason I happened to look down the tracks and it just caught my eye. The fall leaf colors and the way the
track just seemed to never end in the distance. The rainy day gave it a nice effect.
This was shot with a Canon 5D Mark II,F4, ISO250, 24-105mm lens @ 105.
-Tom Jones
This shot was taken with my iPhone 3G (should attempt another shooting now that I have my iPhone 4). It was taken the fall of 2009 at around 7:00 AM. I saw the leaves and immediately knew that I just HAD to snap a picture. The bench in the middle provided a decent focal point. I took this picture at the park behind my apartment, I was waiting for my girlfriend to meet me there and was looking for ways to kill time. I used a landscape mode because I wanted to capture as much as the sides as I could while still keeping the focal point as the bench.
Vigasan Gunasegaran
Canon T2i
ISO 800
f/3.5
1/3200
An early fall pic snapped late one morning in Atlanta.
-Vincent Aricco
Canon T2i
ISO 200
f/5.0
1/125
LucaBear was an unwitting autumnal subject.
-Vincent Aricco

Two shot, top down tree shot taken on the Nikon D300 with the unglamorous 18-55mm kit lens at f/5.6 (auto ISO 2000) This was taken leaning over the rail on the CTA platform at the Washington and Wells stop, here in luxurious downtown Chicago. The ivy shot taken with the lovely and talented manual focus AIS 105mm f/2.5 at f/5.6 (ISO 200). First shot processed with Nikon ViewNX2, second with Raw Therapee. Both programs are free and excellent, by the way. Final editing and touchup in Photoshop CS3.
-Wade Saarthoff
I used a Motorola Droid phone using the default settings of the camera and just walking up closer to the object with using the zoom. I was just walking by my local post office and noticed this pumpkins and thought that it would make a great picture.
-William Watts
This is my 1st submission.
-Zach Duvall