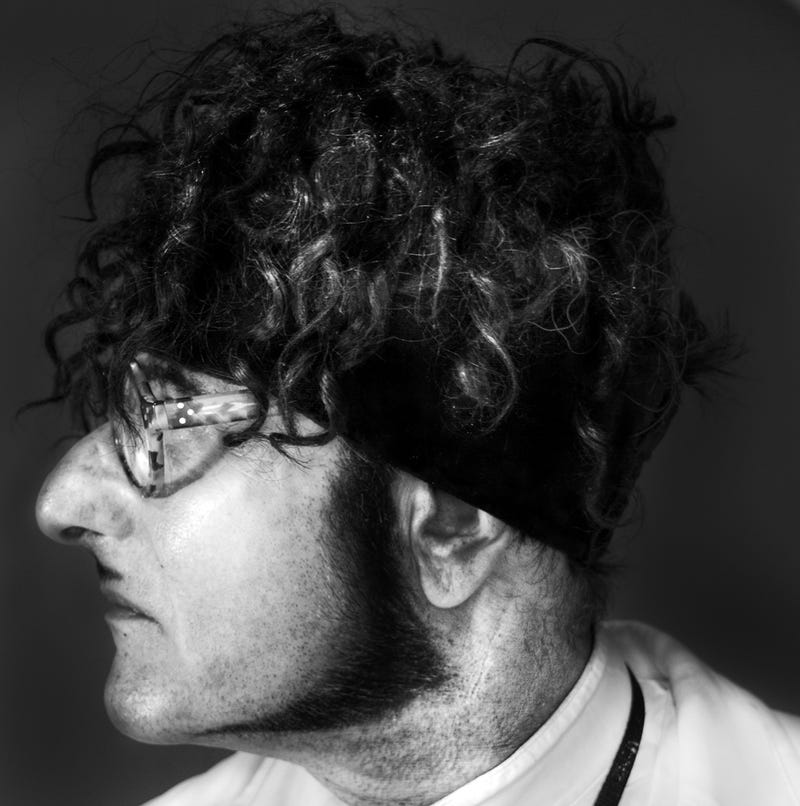 This is a shot I took of Scott Seekins only this afternoon, a relatively famous local guy in the art scene of Minneapolis. Scott is well known for his bizarre homage art to Brittany Spears as well as his choice in wardrobe through seasons. In Summer he wears all white, in winter he wears all black.
Camera 7D
Lens Canon efs 17-55mm
ISO 400
-Patrick Pierson
My window is the only "real" light source anywhere near my room, which is isolated from every other bedroom in the house. Took the photo from the dark laundry room facing towards my room. The light coming from the window really bounced off the white walls to make it bright and contrasted.
Shot with Panasonic DMC-GF1, 14mm at f/3.5, ISO 400, B/W preset.
-Kaleho Naki
This is a picture I took with a crappy point and shoot my Mom gave me after she broke up with her loser boyfriend. The handsome subject is my pensive and pragmatic friend Gambit. He has a natural ability to solve crime and bang dames (bitches in his case). I took the photo in color and then jacked with the contrast and saturation obviously.
-James Stevens
Rebel t1i
Stock kit lens 18-55mm
Shot deep within the Catskills we stumbled across this abandon gem. Shot in a ten shot HDR then post processed with Photomatix, Lightroom and lastly magic bullet to give it the nice Noir effect.
-Jonathon Share
This is a picture of my son (19) playing guitar in his room. I noticed striking effect of the light from the window silhouetting him and thought of this contest. I grabbed my camera, snapped the photo, and then threw it into Photoshop to get rid of the color and make the contrast a little more extreme. My son liked it so much it's his current Facebook profile picture.
Shot with my Nikon D3100, 1/640, F3.5, ISO 400, 18-55mm standard zoom lens, manual focus.
-Vak Beacon
So there was nothing on TV tonight, and I had a couple of new optics for my Lensbaby Scout, so I went outside as the sun was setting to see if I could get a couple of good shots with sunset light. I stayed out after the sun went down to see if I could then get some moonlit shots w/clouds and/or trees/streetlamps. No such luck, so I ended up taking this picture of my front porch light. I'm by no means anywhere near being a professional, but I like the challenge of manual aperture, manual focus that the Lensbaby presents.
As far as settings used :
Canon T1i body on a tripod w/wired remote
Lensbaby Scout with Sweet 35 optic
35mm focal length (hence, sweet 35 name of optic)
F/22
1/160th sec exposure time (I was using Av mode, so not everything was manual)
No flash
Used Picasa on my Macbook Pro to edit :
used "I'm feeling lucky"
used "warmify"
used "black&white"
manually adjusted the fill light just a little bit after the above 3 steps.
-Matt Akins
I shot this with my Canon T2i with the kit lens 18-55. i used the natural light that was going into my goes at night with a long exposure..
I always liked Agent P, so I thought i would used him for this my first shooting challenge.
-Arnold Martinez
This shot was taken by the lake of Zurich as we're always looking for new challenges (jumping in the lake, not taking photos). The flagpole was pretty tempting during the whole summer. My best friend Key now finally did it and climbed that thing to the top as it were a caribbean palm tree. I used a Canon EOS 550D with a Tamron 18-270mm lens and a 270UV filter.
-Michael Muller
My girl and I got into the mood. I shaved and she did make up. I got my suit and fedora and she got her hair done. So we grabbed our gear and headed to the town over. It was fun going through alleys, streets and businesses. We had lots of good shots, yet we had a hard time choosing one. Well here is the best of us together. Sony A230, f/4.5, 1/2s exposure, ISO-400, 28mm focal length with a tungsten WB. All in all, we love it. Hope you guys like too.
-Felix Garcia
Pip Noir
Upon seeing the subject for this week's contest, I honestly found myself utterly uninspired. I was staring at my desk, feeling useless when I noticed the bobble-head staring back at me. I started to think about how this iconic character is used to exemplify pure good and pure evil based on the person playing the Fallout games. With inspiration in hand, I set up the shot: 1 desk-lamp at a 90 degree angle on his left, 1 lava lamp turned on it's side from behind facing the camera. I screwed on a +2 diopter for a macro effect, and the shot was made. I then desaturated the color in post-processing, which gave the shot an added atmosphere that I feel suits the theme.
Camera Data: Model:NIKON D40
Shutter Speed:1/20 second
Aperture:F/5.3
Focal Length:46 mm
ISO Speed:200
-Sean Evans
"Caged Bird"
I've been following Gizmodo's Shooting Challenge for some time now but never actually gotten round to taking part. Since purchasing my NEX-5, I knew this week's challenge was the one that I would take part in. The inspiration for this photo came awhile ago when I noticed in pitch darkness that an LED shining through some metal shelving created a nice shadow pattern on the wall.
The lightsource from the photo came from my phone, via a flashlight app. The light was placed such that it shone through the shelving and onto the wall. The object was positioned on the shelving, creating what we see here. I guess the funny thing is that this object that was used to create the image of a bird is actually a whale; it is in fact my niece's pink rubber whale, the size of a small rubber ducky. The problem with the whale was that it's silhouette never looked like a one. I discovered that by adjusting the pose and position of the whale and of the lightsource, its silhouette could be made to look like an elongated fish. In this photo, using a fair bit of imagination, it looks like a plump tasty bird, trapped in a birdcage. I used the in-camera picture effect of "black and white posturisation" to hide the flaws in my physical setup, to darken the shadows and to exaggerate the ribs of the cage. The final result is somewhat striking and comical. No post-production editing involved.
NEX 5, SEL18-55 lens at 21mm, f/4, 1/2 sec, ISO 1600, with "Black and While Posturisation" in camera effect.
-Tony So
Shock and awe, and shock.
Canon T2i, 18-55mm lens, ISO 6400, f4.5(ish), shutter speed 0.5seconds (or so).
-Aaron Kapelus
This is shot is from the backyard a custom car builder. He has a lot of vintage car memorabilia and along with all of his cool signs was a classic Quik Save gas sign just reminding me how much it cost me to get there.
Nikon D40 w/ 50mm 1.4 Manual Lens. Iso 100 f/2.0 Shutter 1/60
-Justin Tyler Ekema
This is my first time entering the Shooting Challenge and my first week in my new home in Boston. I wanted to be inspired by the sights and sounds of my new home and this downtown statue of Benjamin Franklin provided the right venue. I walked circles around Mr. Franklin trying to capture the best combination of light and contrast. I wanted to capture the intended style with natural light. I decided to keep some color because polarization from the morning light coming through the clouds seemed to add to the mood. Shot with Canon 7D, ISO100, EF24-105mm, f/22, 1/500s.
-Brian Jones
For this picture I used the camera Nikon D5100 and a normal Sony tripod. I did not use the flash on my camera instead I used a flashlight to have more control as this photo is a self portrait.
The texture on my face is actually a facial made from mineral in the Dead Sea. As it dries over time, the dried areas become a light gray whereas the other parts are still green. I waited for around 30 minutes until the mask started becoming the design I wanted it to be.
-Maysam Alani
After seeing this challenge, I stare blankly at the screen thinking what to make. Then it came to my mind, I actually looking at the most even and modifiable light source in the whole world, the monitor. Why not use it?
After trying a few hours using a couple of model with a couple of background, I finally chose the Chris Redfield statue I got from RE:5 special edition. Then I start trying cloud, fire or explosion backgrounds, everything just doesn't seem fit. Then I remember about PS emulator(I know) and remember how classic and awesome the RE 2 and 3 are.
Then I set my tripod, make a mini black mountain by piling stuff and cover it with a mouse pad and put Chris there. Play the endings of RE:3. Shoot some, edit it with lightroom and photoshop to add dramatic effect.
And there you go...Chris staring blankly at Racoon city where it all began and should have ended. The irony.
60D 24mm f/7.1 1/30 ISO800
-Zefanya Hanata
Our south facing windows let in a lot of sunlight making mid-day naps sometimes difficult to achieve, but it gives my daughter enough light to stay mesmerized by her mobile, and just enough to provide a great noir scene. Shot using a Canon EOS REBEL T2i, f/3.5, 1/30, ISO-100, 18mm.
-Kris Balow
There's not too much to it I guess. Basically I saw this weeks shooting challenge and I thought it would be quite easy. So I took out my camera and for like the second time ever I put it in the B&W mode zoomed so the hand filled the frame to how I wanted it and snapped a picture.
Camera - Sony DSC-T9
F-stop - f/3.5
Exposure Time — 1/30 of a second
ISO — 80
Focal length — 6mm
Max aperture — 3.625
-Aaroh Mankad
I am not too happy with my photo this week. I'm even less happy with the crop for the required smaller image needed for submission. I tried to get a shot that utilized last night's full moon as my single source of lighting but none of the photos came out well. I decided to take a shot of my neighborhood street at night with the lamppost acting as the lighting. I like the mood the photo sets: deserted street, dark night, ominous mailboxes... Oh well. Thanks for the challenge. I really enjoy these assignments!
Canon EOS REBEL T1i
EF50mm f1.8 II Lens
50mm
f/1.8
1/80
ISO 1600
0 EV
-Matthew Johnson
I think I want to.
Panasonic Lumix. Party bound.
-Valerie Carrasquillo
Sony Nex-3
Shutter: 1/30
F 14
ISO 6400
-Jaclyn Breit
My sister and I always enjoy taking photos together, yet we still have yet to enter Giz challenges but after I saw this challenge I knew now was a better time than ever to give it a try. We decided to shoot an interpretation of the scene from "The Empire Strikes Back" when Hans Solo gets frozen in carbonite and loaded onto Boba Fetts ship. We took about 100 photos and decided this was our favorite. We had a lot of fun and hope you enjoy it!
Equipment: Nikon D3100, 18-55mm, ISO 800, f6.3
-Matt Browning
I visited an arboretum today and I've found a part of an old castle. There was only the frontage left of it, the rest has been torn down: there were trees growing where the rest of the building was supposed to be. The plaster wasn't in the best shape and with the sun shining through the trees, I decided to take the picture.
Nikon D60, 35mm f/1.8; ISO 200, f/2.8, 1/2500 sec., handheld.
-Balazs Albertini
I work in a lab that studies praying mantises so I pulled one out for a photo shoot. I snapped about fifty pictures with my cell phone camera (Motorola Droid X) and loved this one. While I was shooting the mantis would stand mostly in one place but turn its head to follow the light. In a weird way it kind of reminded me of a dog tracking a ball.
ISO: 794 - Shutter speed: 1/15 - f/2.8
-Will Aisenberg
Shot from my girlfriend's balcony off of Van Buren at Racine in Chicago looking East (towards the Loop). This is made of 3 auto-bracketed exposures then worked on in Photoshop Bridge, then Nik Software HDR Efex Pro, then Photoshop CS5. I hadn't really planned on using this shot (shots) for the contest but happened upon Nik HDR Efex Pro's "Monochromatic" preset. I did a lot of tweaking from there, then threw it into Photoshop and used a few filters on it. I think for this to be a true Noir print a la 'Sunset Boulevard' or 'The Bad and the Beautiful' it needs a voice-over narration and for me to die in the end, but neither are happening.
Canon EOS Rebel T2i
Kit lens EF-S18-55mm f/3.5-5.6 IS
ISO 100
f/5.0
8.0, 15.0, 30.0 sec exposures (auto-bracketed)
Post:
Photoshop Bridge
Nik HDR Efex Pro
Photoshop CS5
-Rob Lennox
"First on Scene"
So after a night of drinking with friends, we all decided to go out and do the shooting challenge, so you will most likely see "The Detective" show up in a few shots this week as he was our willing model for the shoot. We shot in an alley in downtown (albeit a very nice one) and brought along my lighting equipment and went from there. As a huge noir film fan, this was right up my alley so I specifically wanted to have the back lighting and sharp lighting angles. For the scene itself, I look at this as the beginning of an imaginary film, and maybe if I get the chance, might keep doing photos in this style, I could see some femme fatales showing up to give our Detective a hard time.
Camera: Nikon D7000
Lens: Nikkor 35mm f1.8
Nikon SB-600 Flash
Aperture: f8
ISO: 320
Shutter Speed: 1/160
-Marc J. Wrzesinski
I have wanted to start attempting the shooting challenges for a while, but I did not think I would have the chance to attempt this one. While I was enjoying some Live Music with my trusty explorer ,(Panasonic DMC-TZ5) point and shoot, I noticed that the way the lighting was I might get something. Flipped it to Black and White- and some contrast adjusting. I am not a "Photographer" or do I pretend to be I just like pictures.
-RJ Burkey
My roommate Steve (pictured) and I set out to shoot pictures of the Perseid Metor Shower at a golf course nearby. The gratuitous light pollution had other intentions though, as did the park officials that kicked us out (twice). We eventually got some pictures on our college campus, using a walking path light as the light source around 3am. Used Photoshop to enhance the contrast.
Canon T2i - EF 50 mm f/1.8 II
1/40 sec
f/1.8
ISO 800
-Rich Zarick
I read this weeks challenge on Thursday and was immediately inspired to try and produce a shot with the values attributed to the "Film Noir" idea. The subject of the photo is actually a coworker of mine who graciously enough accepted my request for help. Her taste in design at home made for the perfect location to shoot these pics. I wasn't sure I would be able to pull this off but once I got home and took a look, I was pleasantly surprised at how well they came out. This shot I felt truly embodied that feeling of light and shadow, hope and despair, good and evil, as described in the challenge itself. A few friends of mine called it "intriguing" and overwhelmingly liked this shot compared to the others. My hope is that you and the readers here will like it as well. I have a feeling this photo, taken from a simple challenge will be a lasting part of my collection and inspiration for a very long time to come.
I used a normal clip on spot light for the light source as well as limited natural sunlight.
Camera - Sony Alpha 55
F-stop - f/2.8
Exposure time - 1/160 sec.
ISO speed - ISO-1600
Focal Length - 26 mm
Lens - Sigma 18 - 50 f/2.8 Macro
Flash - None
-Paul Bentley
Canon Rebel T1i
18mm - 55mm
10" exposure
f/22
ISO 100
Used an external flash with a soft box as the only source of light, had to go into my closet to get a completely dark room.
Edited in Gimp to reduce Saturation.
-Joseph Killebrew
Abandon foundry / warehouse / illegal chemical plant outside of Gary Ind.
We 'got in' (talked to some workers there, they didn't care what we did) and spent an afternoon shooting at the facility. I remembered this contest when I saw the iconic ventilation fan. We found a busted up ladder* and got to the catwalks to set up the shoot. The lighting was challenging since the speed of the fan was constantly changing & my subject was fidgeting. Considering this is straight of the camera, I'm fairly happy with the result. Sadly they will be demolishing the site in 2-3 months. I'm 100% positive I was exposed to asbestos and quite possibly tetanus. I got bonk'd in the head with said ladder.
Canon Rebel XTi
F/6.3
1/20th
ISO-400
+1.3step
20mm
Sigma 10-20mm
-LeAnn Ditter

Remembered this challenge while out walking my dog on the boardwalk on a foggy night, but with no one really out I snapped this pic of Wally here. Take with an iPhone4 Hipstamatic John S lens, and Black Keys Ultrachrome.
-Adam Szachacz
Great challenge for a cool summer evening in Philadelphia. My kind and accommodating boyfriend agreed to a late evening walk so that I could photograph him smoking a cigarette in a hat. I put him in front of a baptist church that has a purple neon cross above its doorway. Could this be Prince's church? Perhaps. Anyway, those photos came out too staged, full of cliches. The shot I am submitting was taken on our walk back from the church in Philadelphia's Fairmount neighborhood. Shot using a Canon 7D, 50-250mm lens at 50mm, 5.6, 1/40, handheld shot about 2 inches above ground. I heard the kids giggling, I saw the kids running, I remembered those long childhood summer nights that seemed to last forever.
-Alexandra Wawrzynek
It was raining fairly hard when I took this picture and I felt the lights playing on the wet surfaces added to the Noir 'mood'. I would've liked to have captured the rain as well but didn't want to ruin my camera (so I was under an umbrella :).
Canon T2i. ISO 400
-Josh Yehaskel
My first thought for this challenge was doing some sort of crime scene photo, so I went to a local party supplies store to buy some cheesy props. However, since both my friend Jen and I are camera shy, we decided to go out and try to find some photo opp that didn't require any models, fake blood or trench coats. We walked around Beacon Hill in Downtown Boston (right where John Kerry and other local celebrities live) and ran across this cool entryway. We played a bit with the lighting (i.e., hesitantly turned on and off some light switch circa 1970) and aperture settings, and ended up with this image. I like that it looks like a movie still, and you can't help but wonder what's happening on the other side of the door.
Now I have no idea what to do with the fake blood, handcuffs, and crime scene tape?
Canon T2i, f2.8, 17mm, 1/30.
-Diego Jimenez
A humorous twist on a serious genre. I used a Sock Monkey as the subject in an attempt to achieve the "Why so serious?" attitude. The lighting was achieved using a flashlight and several coffee filters with varying size holes to achieve such a narrow focus of light. ISO was left at 100 for the shot, exposure seemed best at 15 seconds.
Nikon D5100, 18-55mm Kit Lens
-Geoff Clark
I wasn't entirely sure what would be appropriate, so I decided to enlist a taxi, my girlfriend and her son in which to tell a story and picked a fairly remote location away from too many lights.
The shooting took place for almost an hour doing various poses with the kiddo saying goodbye. They were such great sports. My absolute favorite ones was the flash photo version, but I think this told the story in this genre better.
Sony A55
F-stop 3.5
1/16th exposure
ISO 1600
-Rick Villarreal

This weekend we went to the Wilson County Fair outside of Nashville and of course we brought the camera. We decided that the entire day would be shot on manual as Zot is becoming obsessed with learning everything about his new hobby. My son on the left and another boy staring off at the girls catching chickens. We couldn't help but laugh at the thoughts that must have been going through their 8 year old heads as they noticed girls for probably the first time. Shot with a Nikon D90 50mm lens F2.2 and exposure at 1/100.
-Ashley Chavez

I got so excited about this challenge. I've been sort of basking in noir fiction lately... L.A. Noire, Mad Men (well it may not be strictly noir, but it's thematically similar), and count Chinatown and Blade Runner amongst my top 5 favorite movies. For this shoot, I was inspired by the L.A. Noire menu screen. Very cool and evocative... Also, my buddy, (the model), got a lot of photographic attention at my wedding because he was sporting the rat pack look to a T... and our wedding was at Frank Sinatra's pad in Palm Springs.
We set up the shoot in an alley where I live (Redlands, Ca, USA). I parked my car at the end of the alley with the headlights on. I had my buddy throw handfuls of flour in front of the headlights in an attempt to capture the light beams. It worked well in this shot because I was able to get a good shillouette of our model (Ryan Luce). Of course the slight breeze got the flour all over my car, but hey art's forever, right? ;)
Canon Digital Rebel XT
17-85mm zoom @ 30mm
f/22, 2.5 second exposure, ISO 800
B/W conversion in PS CS4 with some minor editing.
-Colin Robertson

Being an older film fanatic, I jumped on the Idea of a film noir challenge. It's probably my favorite since I started doing photo contests. I decided I wanted to take a shot that would be as realistic as possible. The goal was, make it look like it came out of Sunset Boulevard, Touch of Evil, Shadow of a Doubt, or the like. I started out with an 800 ISO to give it some grain and gave it a small f-stop because in the 40's film lenses couldn't handle shallow depth of field very well. Got a few friends to act out a scene. 2 men are at a table planning a heist of some sort. The Femme Fatale is in the foreground with other thoughts about it. Both guns are modified paintball guns, but look real enough.
Canon EOS REBEL T1i
17-85mm EF
F-13
1/5 sec exposure
ISO 800
Little bit of Photoshop to add contrast.
-Nikita Ostrovsky
My buddy and I, whose name also happens to be Colin, heard about this challenge and immediately tried to come up with some ideas about what to do. We both sketched up some pretty unique ideas and set about trying to accomplish what we envisioned. My first thought was to have a detective type guy squatting over a chalk outline of a body in a dark alley, trying to fit the pieces together of just what had happened. That shot turned out pretty good and I was happy with it, but then my friend told me we had roof access to his business. We scoped it out and I knew I had to change up my plans. I like the tension in the shot and am curious about what's going to happen to our dear detective. Many thanks to our friend Ryan who was a good sport about being directed by someone who seemed to know exactly what he wanted, and me.
Canon Rebel T3i
f/8
.8 second exposure
ISO 6400 for that grainy look
-Colin McLellan
I shot this early this morning (8/15) just as my friends from out of town were pulling out of my driveway to leave for the night. I was sharing a cigarette with my friend when the rain and the car lights reminded me of your contest for this week so I had my friend hold his cigarette out a little to his side and got the shot off before the car turned down the road. I'm a big fan of the bit of smoke coming of the cigarette and I love film noir (favorite= Maltese Falcon).
As far as specs go: Canon 7D at 1/60 at 24 mm with a 24-70 f 2.8 at f/3.5 and ISO 800
All I did was place it in greyscale and a basic grain filter from photoshop.
-Jordan Kenna
This photo was taken on my plane ride this week to Las Vegas, Nevada for a family vacation. Mainly for my parents to get re-maired by Elvis in one of those cheesy chapels. We were flying as I looked out the window and I noticed this amazing site of something I had never seen before! The sky was split into two by a thin line of blue sky. I chose to "Noir" this photo as it increased to dramatic feeling it gave you as you enjoy the amazing site. I had a great trip and this is just one of many photo's I took, I hope you enjoy and look forward to your feedback!
Nikon D5100
Tamron AF 19-270mm
ISO 100
f/9
-Chris Petruccio
It poured all day Sunday. In the evening, I got my mother to get out an old raincoat and umbrella that looked appropriate to me, and we went for a walk to the park in the pouring rain. A stroll in the deserted park in a downpour was surprisingly enjoyable. I particularly like this shot because it's pretty bright, so the few things in the photo - figure, bench, trees on either side of the path - show up as silhouettes. The rain on the sidewalk made for some nice reflections, too. This is one of the first successful shots I've taken using the manual settings on my camera (Sony DSC-H20). Or possibly not so successful, since I ended up using iPhoto to adjust shadows, exposure, and contrast a huge amount. Many thanks to my mother for being a very cooperative model.
-Leah Nicolich-Henkin
This shot was taken very "last minute" as I was searching and searching for things to shoot. My (always creative) wife suggested taking a picture of one of our cars in the moonlight, so thats what we did! I know its not your typical "noir" shot, but our car is more photogenic than I am and my wife didn't want to model the shot hehe ;)
The shot is of our 1983 Toyota Supra under the moon light JUST before a storm rolled into town. I tried to capture the lightning behind the car, but my shutter finger was too slow. You are just able to see the edge of the monster thundercloud in this picture. This car has some phenomenal lines and edges to it that would have made a fantastic shot where the body was covered in lines of shadows and light, but I wanted to catch the moon in the shot to add that "noir" feeling so I missed my chance.
Shot with a Canon T2i with a EF50mm f/1.4 at 1/20th of a second, f/1.4 and ISO 800.
-Aaron Judt
I used a Ricoh GRDIII to capture this image. I've pushed up to ISO1600 to get a grainy and less detailed effect. The shooting mode used was Aperture priority and shot in the default camera B/W mode. The shot was taken a couple of months ago in China, Nankun Hill while on a company retreat. I like the eerie atmosphere there with the dripping water and the 3 slabs of stones (this is one of them) engraved with Chinese wordings.
-Raie Hung
The thing is that when I think film noir, I think of Whose Line is it Anyway, as that had been the only place I ever heard the term. So this weeks challenge was a learning challenge too.
After looking at the info from the challenge announcement, I had a number of ideas. Unfortunately, they counted on the cooperation of the weather and other people. Needless to say, the weather did not cooperate, and getting my wife to go along was less than successful. So I ended up using my oldest son as my model. Took him outside to take a number of test shots. Eventually, I had him put my trench coat and hat on, standing next to the car. Sort of a cowboy look juxtaposed with a modern car. Something was still missing, something to change the setting and take the photo to a different place. So I went and got the broad sword I made for a Witch King of Agmar costume I made for Halloween a few years ago, and had him hold it, making for a Cowboy Knight.
Camera- Canon EOS REBEL T2i
Exposure- 1.6
Aperture- f/5.0
Focal Length- 44 mm
ISO Speed- 3200
Exposure Bias- 0 EV
Flash- Off
-John Hays
It has been a very rainy weekend. What goes hand in hand with a dark rainy weekend... THE CROW! So I broke out some awesome action figures put on some Nine inch nails listened to the rain and came out with this snazzy picture.
Canon Rebel XS
18-55 mm
ISO 1600
f/22
-Gretchen Hargrove
For my Film Noir submission I ended up taking a photo of myself. I setup a tripod in my kitchen and used the oven hood light at the lowest lighting setting. I took about a dozen or more photos as I played around with the camera settings. Raised and lowered the ISO settings, exposure time, aperture, etc. When I finally did have the camera settings I liked, I took about a dozen more photos as I adjusted the lighting. I ended up soaking a paper towel in red wine and covered the light with it. This gave the room a very slight red hue which normally wouldn't make any difference; but since the room was so dark, it actually worked very well.
I must say I really am learning a lot about how to tweak my camera settings as well as different photography techniques and styles. Thanks Gizmo!
Nikon D3100 18-55mm F/3.5-5.6G lens
ISO 400
39mm
F/5
0.5s Exposure
-Fernando Fernandez
Just finished watching "The Letter" directed by William Wyler. Lots of shadows, window blinds creating lines, moon with clouds casting light...etc. I took some pictures of the moon over the ocean but I wasn't quite happy with them for this specific challenge. The other night, I was coming up the stairs of my parents' condo building and looked down the hall. I grabbed my camera and borrowed my dad's tripod. Fret not, the hallway is actually open, well lit, and looks over a courtyard. I was hoping that a neighbor wouldn't come up the stairs on the other side and think I was a weird girl with a camera. I don't remember my settings (I was on manual) because when I upload pictures, I delete them off my card...
T2i, Vanguard tripod, 18-55mm lens.
-Wai-ling Quist
Cannon t2i 18-135 lens. 100 ISO Aperture 3.5 with 30 sec exposure.
-Jay Johnson
I woke up 30 mins before the deadline and the dreariness of a rainy New York monday morning inspired me to take this shot. i liked the contrast between the iron bars and the filminess of the curtain and the various other materials. Monday morning blues seems like an apt name since I will have to rush to work after sending this.
Taken with Sony Cybershot, ISO 200, converted to black and white, with some minor adjustment to lighting levels to bring out some of the details.
Sent with about 9 minutes to go.
-Brooke Chuang

Took this while I was on a hitchhiking trip with my friends in South Korea (which is where I'm from). Not very film noirish, I know. But I thought the lighting from the gas station in the back and the thick fog we had, and my friends who fell asleep in the middle of nowhere, made an impressive scene.
It was around 3 o'clock in the morning when we were dropped off at this service station. And it was so foggy at the time, nobody was driving out of the station, so we waited and waited until the fog died down. By the time somebody finally picked us up, it was almost dawn. We were trapped in there for almost 3 hours.
Camera: Canon EOS 7D
Lens: Canon EF-S 17-55 f/2.8 IS
ISO: 3200
Exposure: 1/60, f/2.8
Focal Length: 17mm
-Hwy-Seung Ahn