I took this photo in Edinburgh, Scotland from the Edinburgh castle. I had left on Thursday the 21st and before I went to Edinburgh I checked what the Shooting Challenge of the week was and thought that I could possibly do this challenge. My camera is placed on top of one of the original cannons of the Edinburgh Castle. This is the view point that a shooter of one of the cannons would have had when fighting a war back in the 16th century. Now it is a modern and beautiful city, but I could only imagine then what this picture would look like. I used a Canon PowerShot SX20 IS, ISO of 80, 1/800.
-Alexa Kaminsky

Walgren WPhoto DX Professional Qualitiy 35mm Color Print Film 24 Exp ISO 200
Lomo LC-A+ RL, 32 mm, f2,8
I really like the ability of the LC-A and it's 21st century incarnation, the LC-A+, to keep it's shutter open as long as it needs to get enough light on film, no matter how long an exposure that'll get you. Perfect for available light—if you are able to prop the camera up somewhere or don't worry about motion blur too much.
For this challenge, I wondered what would happen if I didn't use a wall, fence, light pole or a piece of furniture car to stabilize a long exposure shot, but a moving object. I shot through a couple underground stations from the train's window as we pulled into the station, toying with different distance settings and covering the aperture of the exposure meter with a finger to enforce seriously extended exposures. The camera was pressed with an angle against the glass of the window and its rubber frame, using this as tripod-substitute. To ward off evil reflections in the window, I also somehow squeezed my cap behind the camera to provide a dark shade. But that's not what I submit today.
Entering and exiting the stations, I used the handrails of the escalator in much the same way. First checking which rail vibrated less, the left or the right one, then put the camera down, cover the exposure meter, and bang away. I experimented with exposures while the camera went over the bend at the end of the rail. This gave interesting but more cryptic, crowded pictures. Lots of interesting zoom-in blur, especially nice with passing pedestrians turning into ghosts.
The shot enclosed is very nice for it's monochrome colours, the stairs which are not blurred, and the strips of the neon lights turned into trapezes. Reminds more of a medical setting, a surgical ward, perhaps, and the lights in the surgical theater. The emptiness of the picture helps to not give away what is depicted at first glance and adds a forlorn mood to it.
-Alexander Schuth
G/O Media may get a commission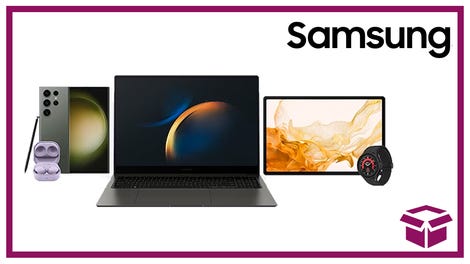 24 hour deals
Discover Samsung - Daily Deal

Taken with Blackberry Tour no flash, white balance - sunny, picture size - Large (2048x1536), picture quality - superfine, color effect - normal (couldn't fit a better camera into a skeleton). Untouched but resized with Photoshop.
I work at a medical school and we have this skeleton hanging in the one room. I had never seen a picture from the perspective of inside a skeleton. Picture was taken around hip level facing up toward the skull.
-Alex Milo

Camera - Canon 1Ds Mark 3
Lens - Canon 50mm
Exposure - 1/80th at F/14
ISO - 100
I shot this on a hike the 18th of October 2010. I was looking around
at all of the fall colors in South Lake Tahoe and noticed this unique
looking branch on the ground. I figured I could get a pretty cool
photo if I shot it from a unique perspective. I think it worked.
-Andres Quintana

Canon EOS Rebel T2i, EFS 18-55mm @ 27mm, 4.5, 1/320
Took this photo on the outside of my apartment window and edited with Adobe Lightroom 3.
-Austin Taliaferro

I looked around my dorm room for a vantage point and decided to place it on top of my blu-ray player within my Entertainment Stand. I set the timer and then jumped in my chair pretending to play Xbox and this is the shot I got. I used my D3000 set at 18mm, ISO 400 and f3.5 I also did some post production decreasing the brightness and adjusting the contrast.
-Barnes Ty

I was thinking about this challenge and some possible spots that I could put my camera to take a picture and decided to an under the bed perspective. But since our bed is directly on the ground, I used a pillow case and my dresser to simulate being under the bed. I was initially going for a monster under the bed picture but wasn't really sure how to express that idea so in the spirit of Halloween I decided to go for a ghost picture. I had my wife stand as if she was walking and then jumped out of the picture mid-exposure. Nikon D90, ISO 200, f18, 8 sec shutter.
-Ben Douglas

This is my first entry into the shooting challenge, so I wasn't going attempt scaling walls, traffic lights etc. because I'm scared of heights and i didn't really fancy spending multiple hours in the ER. Instead, I used something we look into nearly every day, a fridge...
I rested the camera on the middle shelf and took about 40 pics before getting it right, thus making the camera cold after a while. The hardest part was getting the camera to focus on the object in the forefront, rather than me. Once i was done i downed the whole tub of salsa...
Taken with Canon Rebel XSi @ f4.0, 1/13, ISO 640.
-Ben Morris

Camera Settings: 1/400 second exposure at f/ 13 ISO 800
When I saw this contest I immediately thought of the scene in North by Northwest where Carey Grant is running out of the U.N. building. I decided a similar shot might be cool. I experimented leaning over my appartment building, and a few other tall structures, but nothing was cutting it. In the end I decided to check out the new glass boxes at the top of the Sears (Willis) Tower and try my luck from there. I took a bunch of shots with feet and without, but decided to keep the feet because they add some scale to how high up I am (1,353 ft). The reflection was impossible to get rid of, so I just kept it in instead of messing with it.
-Barry Smith

Taken with a Canon PowerShot S90, 1/30 second exposure at f/2.0, ISO 800.
A "loofah-eyes' view" of my foot in the bathtub. I used my waterproof case to hold my camera partially above and partially below the water. This shot got my foot underwater, a reflection of my ankle, and my leg above water. Processed in Paint.NET to make it look like I keep my bathtub clean.
-Brian Hall

This is one of my golfing buddies. I had to get down on my stomach, while he stood up on a side hill. I used my Nikon D70s with the kit 18-70 lens on 18mm at f/3.5 at 1/1250 sec on ISO 400. I told him to look left, and took the picture. I've bought 4 cameras since getting my D70s six years ago, but it still remains my favorite.
-Cameron Hunt

Ok to start off this was my first time entering any kind of photo
contest. When I read the "Shove It" idea I thought of everyday
household places that we use, and what it looks like from that
perspective. I went around my house thinking and i wound up in my
kitchen and my fridge reminiscent of the fridge from fight club full
of condiments and no real food i Shoved my Camera between the ketchup
and the pickles and set up. Using my Nikon D60 with the Nikon 35mm 1.8
Prime i set the camera to F8 with a 1second shutter speed i left the
fridge cracked open so the only light source was the fridge light i
began shooting with a remote and this is the best photo out of the
bunch and I hope you enjoy
-Carlos Bulk

My 5d sat this one out, and instead I attached my GoPro HD (yes it takes pictures too) to the engine block of my friend's motorcycle. To capture this shot I put the GoPro in timelapse mode to take a photo every 2 seconds. This picture is from the turn onto Huron River Drive, one of the most scenic drives in Ann Arbor, MI. Unfortunately the GoPro doesn't shoot RAW, but a quick contrast curve and straightening in photoshop did wonders anyway.
-Charlie Dwyer

Camera: Canon EOS Rebel T1i
Shutter: 1/160
Aperture: f/14.0
ISO:400
This picture was my attempt to express the feeling that playing a musical instrument can give. Their ability to free your mind and like a runway does for a plane the fret board can launch your soul... and chicks dig it.
-Chris Mack

Equipment is a Nikon D90 with 18-55mm Nikkor AF-S 3.5-5.6G at 18 mm with UV filter – laid on top of rock in a drainage channel.
Settings:
Apeture: f22
Shutter priority: 1/40s
ISO 200
Auto settings for white balance and exposure was -1.7 EV
I envisioned my photo being about the notion of speed with an oddly mounted camera (say mounted to the car at the rocker panel or sideskirt). But I couldn't get the camera and the gorillapod to stay pointed the right direction and I couldn't get it any further from me than the remote shutter cord would allow me (about 3'). Also there was the little matter that the Gorillapod might get jarred loose and crash my camera to ground. After a few slow 10-20 MPH test runs through my neighborhood and madly clicking away, I abandoned the idea of using the gorillapod on my car.
I then headed to my backup idea location. Namely a drainage channel for stormwater run-off from the mountain uphill from my house. The weather cooperated and I made my way to the culvert that goes under the road. After trying unsuccessfully to get the mountain in the frame from the perspective of the bottom of the channel, I went to the other side of the culvert where traffic was going by at about 25 MPH. I ended up using the remote control after laying my camera on top of a rock. At first I was just taking picture with the groundplain in the foreground and the culvert and handrail in the background. I remembered the traffic going by and picked up the camera, set it for 1/40s shutter priority, put it back on the rock and angled up to get a vehicle in frame. I heard a vehicle approaching and ducked so I wasn't immediately visible and caught this Lexus SUV unaware and held down the shutter. My third shot is the one I submitted.
-Cory Newkirk

Picture taken with a Canon EOS 450D, at f/2.8, 1/6 sec. exposure, ISO 100 and 11mm focal length (the lens is a Tokina 11-16mm f/2.8)
I had a few ideas and these is the one that came out best: I shoved the camera inside the fridge and took a few shots with the remote, pulling several items. Coincidentally beer turned out to be the ideal subject! Who would've guessed ;-)
I like these challenges which go beyond the mere technical and force you to think out of the box!
-Ernest Figueras

Shot with a Canon Rebel XSi, Sigma 17-70mm 2.8-4 Macro HSM Lens @ 58mm, ISO 100, Shutter Speed 1/50, Aperture f/4
The perspective of my bottled water...I cut off the bottom of a one liter sized bottle of water, fit it over the lens and posed for it. It was more of challenge to turn it into a self portrait. I tried it with a beer bottle, but even the smaller 58mm (filter size) lenses didn't fit, I just ended up with several jaggedly broken beer bottles before i decided to try the perspective of the bottle i was actually drinking from...
-Esmer Olvera

I was emptying groceries from Trader Joes and looked inside the empty bag and I thought it had a nice texture and warm color.
So I stuck my camera inside and took this picture.
I used a Canon Powershot SD 1200 IS.
200 ISO with a full flash. 1/60 sec at f 8.0
-Gerard Leifel

For this shot I decided to see what the view was like underneath my bed. With two books I was able to prop my camera up for the desired angle, and I fired off shots with my remote release. Taken with a Nikon D60, 55mm Nikkor lens. f/7.1, 1.3 sec, ISO 200.
-Haley Strohschein

This is my 50mm lens aperture. I set up my Nikon D70s with a 105mm macro lens, on f/32, pointed straight at the 50mm. I placed a sticky note, with the letters "CH" on it, behind the 50mm and a red light behind that.
I finally got enough light with a 30 sec exposure at ISO 200. I had to set the aperture up to f/32 in order to get the depth, every other time you couldn't read the letters behind the aperture.
-Howard Hunt

Nikon D60, 18-200 VR II, SB600 Speedlight, ISO 400, 18mm, f/3.5, 1/60
I shoved my camera in my fridge. I couldn't get the right angle so I took it out, shoved it in a Tupperware container, pointed it up slightly, and shoved it back in the fridge. I used the chocolate sauce and milk to frame the shot, and to remind everyone that they should go make chocolate milk immediately. Set up two external lights from above and below to mute the shadows and illuminate the door. I set the camera timer, then got myself a sweet sweet Miller Lite while I waited for the camera to fire. Enhanced the color a bit in post. Tried it in B&W also but the color of all the different snacks, condiments and booze looked nicer.
-John McGrail

The mouse won't play.
Nikon D40 w/ 35mm f/1.8 Nikor lens. ISO 200, f/2 and 1/15" exposure.
Point of view of a mouse being dangerously stalked. Carved a hole in a cardboard box and put camera inside. The main difficulty was not the lighting (a couple of desk lamps set around the box), but getting Manly here to cooperate by luring him with a string going into the box (seen out of focus).
-Jorge Jimenez

Canon EOS 7D
Tokina 11-16mm f/2.8 AT-X116 Pro DX @ 11mm
B + W 77mm Kaesemann Circular Polarizer
Mode: Manual
Shutter: 1/50
Aperture: 7.1
ISO: 200
AF On
AF Area Select: Point Expansion
Touched up in PS CS5 to subdue some of the unfortunate CA this lens has at its widest.
After spending most of my Saturday trying to find a traditional jungle gym that I could hang upside down from, I gave up that idea. Instead I decided to try to swing and shoot at the same time. It worked out, and I do have a few pics that I dig, but overall it was too hard to try and swing, whilst trying to focus and get the composition just so. "Oh well," I thought, "This will have to do...." Then we went to a local fall attraction here and I had my camera (as always) so I started shooting some pics of us on these pedal cars and was stunned by the results. I just love the sense of speed you get from the blurring of the barrier and ground (yet she's pretty damn sharp) and how the super wide distorts the edges and is able to catch part of me in the image. Sooo, while I realize that something similar was suggested in the contest details, I think this came out so much better than any of my contrived Saturday attemps that I'm gonna enter it! ;)
-Joshua Winkelmann

I used my Canon EOS 5D Mark II, 17-40mm f/4L lens, and wireless
shutter remote to create this shot.
Camera Settings:
Mode: Av
Shutter:1/25th
ISO: 4000
Aperture: f/4.0
Focal Length: 19mm
I wanted to come up with a reverse point of view for this image. As
mentioned in the challenge, 98% of most photos are from the view of a
person. I wanted to see it in the eyes of an object. This shot was the
second option I came up with, and the most practical of the two. My
first idea was to take a shot from inside my toilet bowl. But
voluntarily putting $3,000 worth of camera equipment into the same
place I take a dump every day didn't seem like the greatest idea. So
it was off to the fridge!
I took about 50 shots of my father and myself in total, in hopes of
getting the correct focus point and composition. It was difficult as I
could not check the LCD screen unless I took the camera out, which was
balanced on top of jelly jars.
-Julion Bush

Canon Rebel XTi f/3.5 1/60s
This is a photo of an old rundown stainless steal spiral staircase. Its taken from the ground looking up.
-Kassie Fisher

I used a Nikon D80 at F/5, exposure 1/20 sec, ISO-1600 through a Nikkor 18-55mm wide angle lens to get this shot, then lightly processed it in Photoshop.
My husband had baked me a birthday cake Friday morning and was letting it cool, which gave me the idea to stick the camera in the oven. I, obviously, waited for it to cool as well and then stuck the camera in the back corner, slightly propped up by the shoulder strap, with the timer set. Fun times!
-Katy Haile

Olympus E-510, 14-42mm, 1.3", F22, ISO 100
I went inside a pumpkin! I carved a peek-a-boo hole in the back rather than the top to allow for the lens. Sat Mr. Pumpkin on a stool and tilted him up a bit with a mitten tucked under his front. My Gorillapod (love it) was very handy to get a preferred perspective. Discovered that the balcony rail and neighboring building make excellent teeth. The rail is lit by a 40W lamp ~4ft away. Woke up for sunrise the next morning to see what that might turn out... Here it is— Good Morning! Edits only include removal of a few noise dots and a crop. As a side note, there is an airplane in the lower right eye.
-Lea Chambers

iPhone 4 (rear camera)
Flash off
Free "SuperCamera" app
10s delay
When I read this week's shooting challenge, I didn't think I'd have time to do anything cool. The next day when I was carving pumpkins with my fraternity, this shot popped into my head. I wanted to get the vantage point from inside a pumpkin as someone is carving it.
The only camera I had on me was an iPhone 4, so I downloaded the first free time delay camera app I found on the App Store (which was the free SuperCamera, and was horrible to use). Then I wrapped my iPhone in saran wrap everywhere except the camera, hit the shutter button, quickly dropped the phone into the pumpkin and had my friend Shai be my model/carver. It took quite a few shots since I couldn't compose the shot well at all. The photo is right from the camera, no editing at all.
-Louie Livon-Bemel

Shot with a Canon XTi and the Sigma 10-20mm set at 10mm, F22, and aperture priority (1/10s).
I used Gaffer's Tape to tape up my camera to my bicycle. The bike is a Mixte Frame, so it made it easy to position the camera. I used a remote shutter to trigger the camera over and over while riding around the block as fast as I could. Pulled into photoshop for levels and color adjustment.
-Matthew Neuman

Fujifilm s100fs / 1/80" / F10 / ISO 100 / 11.2mm
-Mike Case

Canon EOS Digital Relel XSi, f/22, ISO 200
My husband and I spent the weekend in the mountains in Macungie, PA. I was hoping to snap a photo from a chair lift but, unfortunately, they weren't running yet. This shot, straight up through the trees along a nature trail, was my husband's suggestion. We came across some abandoned stone buildings and deep old mines, up on the mountainside, but he wasn't thrilled with the idea of lowering me inside for an extra special shot.
-Nicole Lombardi

Canon 5D
EF24-105mm L USM
HDR Shot at f/4 - 24mm for 1/4 ,1/15, and 1sec exposures. ISO 200. Polarizer Filter on.
I woke up early Friday am and headed over to 8th ave and 42nd street for this shot. I decided to go for NYC rat eyed view of the NY Times. I used my small Manfrotto Tripod and got down on the street for this angle. Shot in HDR to get some motion and enhance the shadows. Hope you guys enjoy it.
-Peter Lawton

This shot of me is a still from a video I took with my Kodak Zx1. I had it attached to the bottom of my RC plane. For most flights with the camera I either have it facing straight forward or backwards but those weren't producing the results I was quite looking for. I was hoping for a more dramatic shot, but I ran out of time and batteries.
-Quentin Swager

This was shot on my Nikon D3000 at f/6.3 and 1/160 sec. This is taken from the perspective of walking up the stairs in this really cool complex of buildings on my university campus. This area is what a lot of students call the 'wind tunnel' because it's right in the middle of the complex and on windy days it's pretty extreme.
-Rachel Weiss

Got my shot with an iPhone 4 using the default camera app. Not very exciting, but the size of the phone/camera is what inspired me to get the shot! I was at my family's annual fall gathering, where we all carve pumpkins, and whipped my phone out to get a quick shot of my work (Jack Skellington in pumpkin form) when I remembered this week's shooting challenge. I looked at my iPhone, then at the opening in the top of my pumpkin and realized I need to jam that thing in there and get a shot from inside the pumpkin looking out. While I was fooling around trying to get a good angle, my cousin poked his head in one of the eye holes to see what I was doing, which I think made the shot even better. Ended up with a bunch of pumpkin gunk all over my phone case, but it was worth the mess.
-Ryan Griffin

Canon Power Shot SD750.
My buddy Matt took my camera at a bar. Came back from the Bathroom with this photo. I love it because I hate Marcel Duchamp.
-Ryan Markkula

Nikon D60
AF-S Nikkor 18-55mm VR (kit lens!)
18mm, 1/640th sec exposure, F 8
It finally got sunny again in "Sunny California", so myself and a few friends decided to escape the valley and ride up the Pacific Coast Highway to Malibu. The PCH in Malibu is always beautiful, so we stopped off at the random beaches (yes, in October) and took in the Pacific. Pretty much sitting in the sand, I started to mess around with extra low shots of the beach when one of my buddies walked in front of the camera. This was a blind shot, but I liked that off-kilter horizon once I took a look at it, and the action and shot itself look really cool. This image is as shot in camera, with some cropping done in Lightroom 3 and Preview.
-Sam Ejnes

Taken with my iPhone 4G (keeps surprising me with the quality) using GorillaCam on time lapse mode to try different framing without moving the phone itself.
I spend way too much time in the fridge. Recently moved in with my girlfriend and she buys healthier food than I do. So on a daily basis, I have this dilemma: healthy or not so healthy. I'll let you decide which you think I went with.
-Sam G

This was shot with a Canon Powershot SX110 IS....quickly.
A football game...from a player's perspective! I'm the athletic trainer (the person who fixes athletes when they get hurt in games) for a high school, and I had a couple of neat ideas for this contest. Unfortunately, it was an injury riddled game, so setting up and taking pictures wasn't my first priority. I swiped a helmet from a lineman and snapped a shot of the game through his facemask. It's kinda blurry, but I think the effect is pretty cool.
-Stephanie Peterson

Nikon D90, 18-55 kit @ 18mm, 1/200, 8.0
My first photo contest entry! I've really been enjoying these contests, and had the perfect opportunity to join in this time. It has been raining this last week here in LA, and with that brings a lot of wrecks and bad driving, but it also brought out these CRAZY look fungi! There were 4 different ones on the tree both high and low. I tried laying on the ground for a few shots, and tried hanging from the tree for a few. Finally I opened the lens up as wide as it would go, and shoved it right under this one at the base of the tree to where I couldn't see what I was shooting at all. I took a shot, pulled it out from under the shroom, checked what I took, keep trying, and finally got this one. I had the camera set to Vivid, but even so, these shrooms really were this technicolor. No post manipulation. So this is what it is like to be an ant.
-Steve Neese

"Warning: Do Not Immerse"
Nikon D5000, f/10, 1/200s, ISO 200.
So they say, a DSLR is not machine washable. I'm not about to prove otherwise. Thankfully I remembered to take the shot before doing laundry and getting the interior of the drum all wet. Tripod? No… it wouldn't fit in there. The camera was sitting on a pile of jeans. Also worth noting is that even the widest angle on an 18-55mm lens cannot possibly see the entire washer door at once. Just add flash, and this is the result.
-Ted Monchamp

Canon EOS 7D, Tokina 12-24 (14mm). F/20.0, 0.8s exposure, ISO 100.
I have taken a few shots like this before, but never using my own car.
The camera was on a tripod, right between the two front seats. One tripod leg was wedged between the seats at the back.
I used a remote trigger in my left hand to take pictures while driving. Spotted a couple of police officers on the way (one behind me at the traffic light), but they didn't seem to mind someone driving around with a huge camera/tripod :).
Next time I'll try to lower the camera a bit so it captures more of the road and less rear view mirror.
-Terry Seidler

I took this picture with my Droid X using the automatic settings. I know this sounds boring but the picture came out very clear and I liked the natural coloring. I went to the beach with my girlfriend this past week and I must have taken over 150 pictures trying to get one good enough for this contest. After getting home from the beach, I took this under the lampshade that was beside me while sitting on the couch at her house.
-Thomas Reid

Canon 7D
EF 15mm Fisheye
ISO: 1250
1/100 sec at f / 2.8
Canon EX 230 Flash
My boy is now 5 1/2 months. I have been documenting all the firsts, so why not get an extreme close up of his first meal of "solid foods" from the perspective of the spoon? My wife fed him as I tried to line the camera up with the spoon right in his face. He enjoyed his first bites and I captured it all. The finished product was nice, but cleaning the caked on rice cereal from my lens after all of his grabbing was not so nice. Thanks for encouraging me to think of a different kind of baby photo and another reason to shove my camera in my baby's face.
-Zachary Tolbert