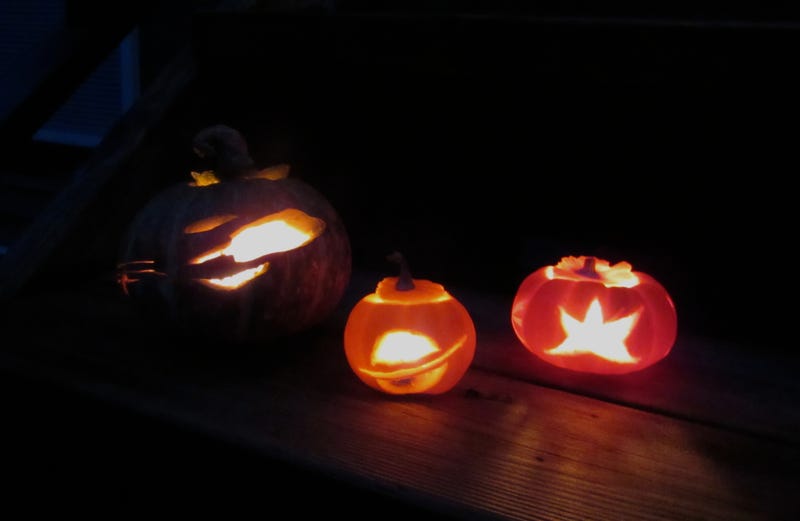 What awesome science-themed pumpkins have you found to celebrate the most hallowed of eves?
Top image: a rocket, ringed planet, and collection of stars on three wee pumpkins are gracing my steps this most halloweed eve. Credit: Mika McKinnon
Every year, Will Gater makes a delightfully elaborate space-themed pumpkin. This year's space lantern is a tribute to ESA's Rosetta, little lander Philae, and their destination comet Churyumov-Gerasimenko.
During the 2011 space-themed pumpkin carving collection, Jen Scheer carved a much more pleasingly dimensional Saturn.
Saturn in space. Image credit: Jen Scheer
Some places take it up a notch, like this tyrannosaurus of pumpkins as part of the Great Jack O'Lantern Blaze in Hudson Valley, New York:
T-Rex dinosaur. Image credit: Tom Nycz
Others streamline their space-pumpkins, adopting the clean lines of mission patches for their pumpkin:
STS-114 mission patch. Image credit: Liz Warren
What excellent science-lanterns have you seen, or, even better, carved yourself? Share your photos with us!
Need more geeky pumpkin fun? When pumpkins pair up with animals, not only is it absolutely adorable, but it's also adding seasonal enrichment.