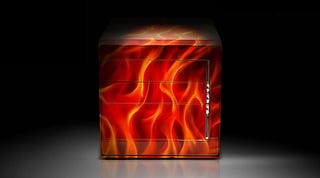 This is the new Shuttle SDXi and although it's a variation of the XPC, it's also one BMF. It comes loaded for speed with a 2.4GHz Intel Core 2 Duo E6600, 2 GBytes Crucial Ballistix RAM and a 10.000rpm Western Digital Raptor hard drive. But more importantly, the painted flames on the sides are guaranteed to make it run even faster. Or something like that.
Beyond the flames, the Shuttle SDXi supports CrossFire, so it can have two ATI Radeon X1950 Pro video cards. And the whole rig is water-cooled for silent operation. The PC comes with all the required ports, including Gigabit Ethernet, two FireWire, eight USB 2.0 but also eSATA and S/PDIF digital sound output. The SDXi has been announced in Japan but like most Shuttle products, it will probably get to the rest of the world shortly. Images of the back (with all the ports) and the box (with keyboard and mouse, also painted with flames for faster typing, dragging and clicking) are after the jump right now.

Price hasn't been announced yet, but sources point that the custom wheel rims will not be included.
Product page (in japanese) [Shuttle via PC Watch]