We've been chasing down clues about Simon Pegg and Nick Frost's road-trip-with-an-alien extravaganza Paul for a while. Now feast your eyes on these amazing set pics from a massive Comic Con recreation scene, featuring Pegg and Frost.
On the surface, Paul seems like a very simple road trip film. Two geeks, Pegg and Frost, want to go to San Diego Comic Con, and they start a massive road trip to get there. But along the way they run into Jane Lynch, Kristen Wiig, Jason Bateman, Sigourney Weaver, Bill Hader and pick up one stray alien, played by Seth Rogen in a mocap suit. But from these new set pics and set reports it seems like the two fellas reach their final destination.
Collider, which was on set, explained that while this seems like an exceptionally fan-servicey film, director Greg Mottola was keeping everything in check and modeling his movie a bit after Spielberg.
When we spoke to director Greg Mottola, he told us he was trying to shoot Paul like a Spielberg film. He went on to tell us, "There's a very low-key part of the film that's very conversational and jokey and talky. And then there are these huge set pieces and chases and explosions and craziness and sci-fi fantasy stuff."
G/O Media may get a commission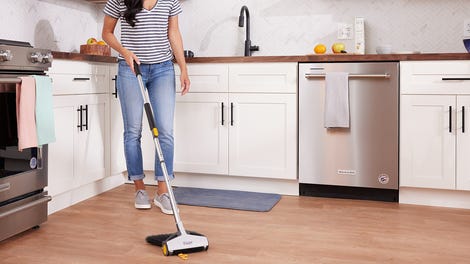 BOGO 50% Off
Flippr - BOGO 50% Off
And as for the traditional roles that Pegg and Frost play as hero and sidekick, this is much more of a buddy-type adventure, according to Collider.
Pegg: For starters, this is a two-hander. It's not me. The central characters in Hot Fuzz and Shaun of the Dead were my characters, Nicholas Angel and Shaun, and Nick's characters just stole the show, that's what they did. Whereas this is like we're both the lead in this film and Nick's character is probably a little bit more confident, a little bit more assured than mine. Graham [Pegg's character] is a bit more messy, less proactive. Paul's kind of like Ferris Bueller, you know, he kind of affects everybody around him and never really is affected himself.
Besides a few character details and these new stills the main focus of these set visits were about the big Comic Con scene. Paul basically rebuilt Comic Con, from the banners, to the carpet, all the way down to the merchandise, according to Coming Soon
Somehow, they had managed to recreate a good chunk of the Comic-Con exhibition floor, the Mecca of Geekdom, in the middle of a convention hall in Albuquerque, New Mexico. They even had scored the distinctive banners that mark the aisles on the convention floor directly from the people who put on Comic-Con. A lot of comic book companies like Image, Top Cow, Fantagraphics and Oni Press sent their entire booths over after the end of the convention to be used on set. It was pretty funny to see how many "Scott Pilgrim" posters and books were visible at the Oni Press booth as a blatant tie-in to the movie being made at the same time by Simon and Nick's long-time collaborator Edgar Wright. Neither Marvel nor DC Comics wanted to be a part of it unfortunately, so that part of the Comic-Con was clearly missing, but there were tons of other exhibitors of toys and statues to make up for them.
Well the pictures certainly make it seem like Comic Con — plus some of these shots are clearly exteriors of the San Diego Convention Center. We're excited it seems like a movie that will be stuffed to the ears with geeky references and nods that we'll love. Now, we just hope Seth Rogen can pull off a CG alien. Especially since, according to the set reports, he didn't film a single shot on location. It was all done in LA on a closed set — only time will tell, we guess. But we are curious what color he is.