It's almost Halloween — the time of year when the whole world does cosplay. Every year, the Halloween superstores roll out their new line of costumes that are vaguely reminiscent of the year's hit movies and television shows. Except a whole lot sluttier.
Check out our round-up of the trashy, strange and occasionally quite good costumes you can buy this year. Including the traditional "steampunk" and "steampunk vampire" costumes, that get updated every year these days. Now, at last, you have something to wear to your local steampunk gathering, that'll be just as good as what they spent months making from scratch! Or if not, you can bite them.
Spider-Man costumes, ranging from decent to "What happened to Spidey?"
G/O Media may get a commission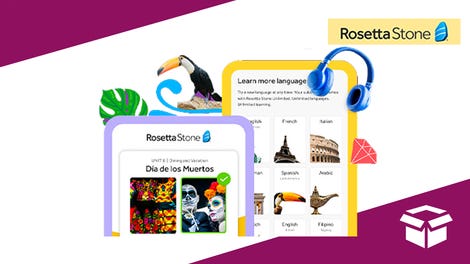 Extra 20% off
Rosetta Stone Lifetime Subscription - All Languages
A couple of Amazing Spider-Man costumes, flanked by Spider-Women
The Avengers!
More of the Avengers!
Black Widow, Fem Cap, an "Iron Man" dancer, and a terrible Iron Man
Snow White and the Huntsman - they actually captured Kristen Stewart's facial expression
Adventure Time. The men's costumes are way better than the women's
Hunger Games — when does Katniss wear silver flip flops, again?
The Many Shapes of Batman
Batgirl and Robin... we think.
Batman Villains
Female Bat-Villains... including "Plus-Size Harley Quinn"
The Many Shapes of Superman
Missing the Point of Wonder Woman's Costume
Some Vaguely Disney-ish Alice in Wonderlands
Disney Princesses and Stuff
Fantasy Characters
More Fantasy Characters
Some Fairies
The Place Where Furries and Ravers Meet
Sexy Ghostbuster, Plus He-Man and She-Ra
Random Horror Characters
More Random Horror Characters, including American Horror Story
Wolf in Grandma's Clothing, Lazy Teen Wolf Costume, and Another Horror Thing, I Forget What
These Powerpuff Girls Costumes Freak Me Out. The Eyes.
Terrible Sesame Street Costumes, Except for Oscar the Grouch with the Trash Can Skirt
Various Cartoons
Two Possible Careers: Sexy Astronaut and Sexy Ninja
The Naughty Nerd Costume — if he makes a pass at a girl who wears glasses, he gets the "extra credit panties"
Jem and the Holograms
Various Sexy Devils - Hail Satan!
Steampunk, With "Steampunk Vampires" On Far Left and Second from Right
Various Tim Burton Costumes, including Two Versions of Elsa from Frankenweenie
Some Vampires
The Exorcist, Mirror Mirror, Austin Powers, 1001 Dalmations and Clockwork Orange
Various Video Games
All costume pictures via Spirit Halloween.