He likes things the good old-fashioned way. He favors tea over coffee; thinks baseball is a daft perversion of cricket; prefers leather and wood to brushed aluminum and carbon fiber; and above all, he wishes everything were just a little more... civilized.
There's no way 'round it: you're buying for someone with a love affair with all things British. Here's what to get for your very own Englishman in New York.
---
1.Roberts Revivial iStream Radio
This re-issue of Roberts' classic British analogue radio from the fifties might look unfussy, but beneath its retro leather exterior lurks a wealth of tech. Picking up your home WiFi signal, this radio can access thousands of radio stations from around the world, or pipe your personal music collection directly from your laptop.
G/O Media may get a commission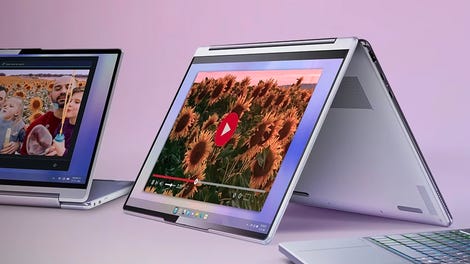 up to 70% off
Lenovo Spring Clearance
Your loved one can set the alarm and wake up to their Britpop anthems, streamed right form their computer. Let's face it, they're not going to be waking up next to Kate Middleton any time soon — this is the next best thing. $300 [Roberts]
---
2. Barbour Sporting Tweed Coat
There's something of an unwritten rule in the UK: everybody should own something made of tweed. I have a tweed jacket. So does Doctor Who, Sherlock Holmes and most of the Royal Family. But even something as terribly traditional as tweed can be updated. So I recommend a technical twist, in the shape of this wonderful Barbour jacket. It's made of their sporting tweed, but is lined with Gore Tex. Not only will it keep any Anglophile looking the part, it'll keep them dry, too. $670 [Barbour]
---
3. Pashley Clubman Urban
He's all dressed up with somewhere to go? Then it seems the gentleman requires a bicycle. But forget fixies and shove your singlespeeds: he needs a Pashley. Founded in 1926 and based in Stratford-upon-Avon—birthplace of Shakespeare and regrettable high school renditions of Shakespeare—their bikes ooze Britishness.
The Clubman Urban is ideal for round the city: simple, fast, and smart. Kitted out with more brown leather than a cow, it's like an oak-paneled smoking room in bicycle form. And it has three gears, too, so it'll beat his crude fixie friends away from the lights. $1,500 [Pashley, available in the US via Belmont Distribution]
---
4. Audio Technica ATH-ESW9A Portable Wooden Headphones
The hustle and bustle of the city can get too much for an Englishman's delicate sensibilities, so it pays to be able to drown out the noise of the marauding masses with some decent headphones. While these Audio Technica's don't hail from UK shores, they look about as English as the queen, wearing a bowler hat, stood next to Big Ben. These headphones sound amazing—the wooden housings are made of African Padauk and contain specially designed 42mm drivers and look more traditional than a gramophone. Spiffing. $350 [Audio Technica]
---
5. BookBook for iPhone
There is no decent smart phone that comes with a classy wooden case as standard, but iPhones look too damn sleek and modern for your loved one. Why not cover it up and make it look like an intellectual periodical instead? The BookBook cossets an iPhone in leather, in the least sexy way imaginable. There, that's better. $60 [Twelve South]
---
6. Paper Tweets
While Twitter seems the natural choice for sharing these days, all that self-aggrandizing public communication is too brash for a wannabe Brit. These paper tweets are just the ticket: fill one in, and hand it to a passer-by. $4.50 [Knock Knock]
---
7. Lego London bridge
Afternoon tea can only hold a man's attention for so long. So during his down time, how about offering him some Lego to build into London's iconic Tower Bridge? If that's not enough to keep him amused, you can always check out our dedicated Lego gift guide. $240 [Lego]
---
8. Sergeant Pepper Mill
His Lego playing over-ran. It's late, you're hungry, and there's only roast beef left. But it's bland, bland, bland. Lucky, then, that you got him a Sergeant Pepper Mill. You see what they've done? Iconic Beatles imagery, classic condiment pot. Seasoning will never be the same again. $34 [Amazon]
---
9. Union Jack Ukulele
It's only right to celebrate Britain's musical heritage in practice as well as pepper. You may not know it, but the Beatles had somewhat of a soft spot for the ukulele and it suits their back catalog strangely well. For added patriotism, why not get one in this fetching Union Jack color scheme. $35 [Music Room]
---
10. Phillips Sonicare Toothbursh
A hard day's night of living up to an English stereotype is tough. But if your loved one is really living up to it, their teeth must be awful. So give them this toothbrush. It uses ultrasound to help clean teeth and charges via USB. It should get even the most English of gnashers looking good. $220 [Phillips]
---
Still haven't found the right present? Don't worry, we're here all month with a new gift guide every day—right up until the last minute. To see 'em all, head on over to #GiftGuide.
---
You can keep up with Jamie Condliffe, the author of this post, on Twitter.