Admittedly, this is my first time with a Sonos speaker—ever. The brand was always too far out of my price range for me to consider over the years, and I'm not what you would call an "audiophile." I am a person who listens to the same five songs over and over again in pursuit of a "vibe." To be fair, the Sonos Era 300's coupling of powerful compression drivers certainly filled my office with a feeling. But $450 is too much for a speaker that doesn't work within my Google-led smart home.

The Era 300 is the first Sonos speaker with Dolby Atmos support. Until now, only the company's soundbars offered compatibility with the spec. With its high price point, this is not a spontaneous purchase. There's a lot to consider, including whether you have space for this speaker to perform at its best and whether your current smart home ecosystem will even accept it. Android users reliant on Google Assistant shouldn't even put the Era 300 in the running, even if it does deliver on its promise of full-room sound.
A new design for Sonos
The Sonos Era 300 represents a new "era" for Sonos and its home speakers, including introducing a new form factor. Though it looks a bit oblong, Sonos says the Era 300's "cinched" hourglass shape helps it achieve full-room sound and spatial audio.

Sonos chose compression drivers for the Era 300, since they're more versatile at "steering" audio in a specific direction. The Era 300 has one forward-firing tweeter routed through what the company calls a "custom waveguide" and one tweeter firing upward so that sound bounces off the ceiling. There are also two side-firing tweeters, one on each side, plus two woofers underneath those. I was impressed by the speaker's ability to thump through deep bass while listening to techno with the volume up high. But I will get into how other content sounds later.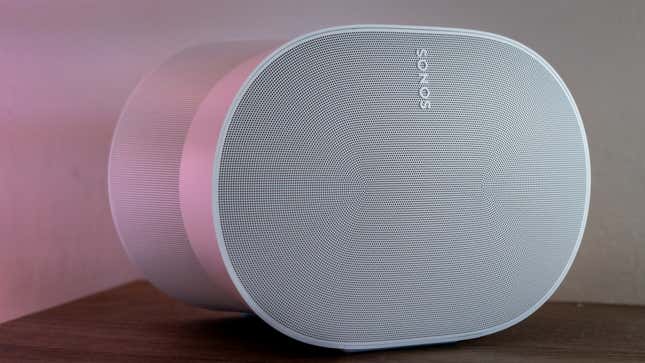 The Era 300 is big. It is much bigger than the second-generation Apple HomePod—about the size of two HomePods side by side. When I tested it in my office, I placed the Sonos 300 on a bookshelf and prayed that its density wouldn't topple my cheap furniture. The Era 300 is nearly ten pounds. Apple's HomePod is around five pounds.
I tried to find a spot for it in a common area of the house. It couldn't go in my living room because that's planned around my TV and existing soundbar and HomePod setup (I also don't have a second Era 300 to test the stereo pairing capabilities, so putting only one speaker in there seemed moot). Instead, I set it on the bottom of my dining room bar cart—where the original Google Home Max usually resides. Google's speaker is loud and boom-y and part of my home's multi-room setup, despite being discontinued. I decided to test the Sonos Era 300 as if I were to actually use it recreationally, so I put it in a spot where it would replace one of the brand's old rivals.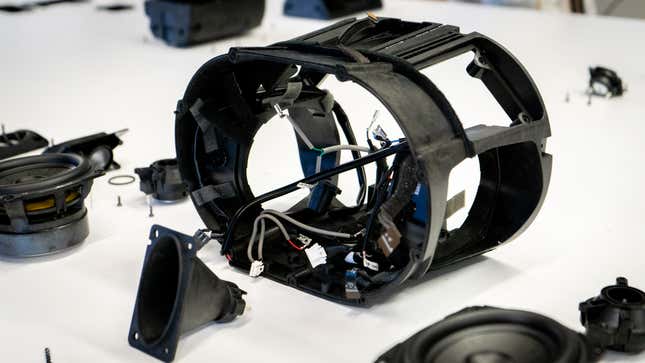 Sonos has designed the Era 300 to be more easily repairable than its predecessors. This new generation of devices can be taken apart by removing several standard screws, whereas previous models used adhesive. The choice to go with screws helps the speaker come apart almost modularly—Sonos said it takes about 20 minutes to take apart the speaker by hand. But don't count on self-repair here. While this will help Sonos lengthen the lifespan of its pricey kit, you will still need to deal with the company regarding repairs.

Setting up the Era 300 is quick and should be a familiar process for anyone who's used a Sonos product before. Once you plug it in, download the Sonos app for your mobile device, and then log in or make a Sonos account. The system will then walk you through its Quick Tuning room calibration, which is based on Sonos' Trueplay and uses the built-in microphones on the Era 300 to orient the device to the acoustics in the room. There is also an Advanced Tuning feature for iOS users only that uses the iPhone's microphones to hear the room.
The Sonos Era 300 has plenty of connection options—except for Google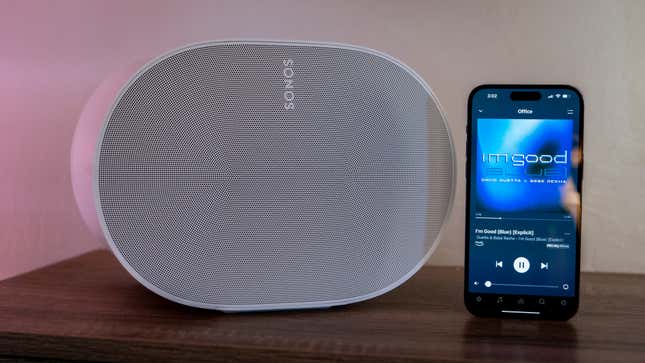 The Sonos Era 300 has more connectivity options than previous generations. It works with Sonos Connect, Apple's AirPlay, and Bluetooth 5.0. A USB-C connector on the back also lets you connect a Sonos adapter for 3.5mm input and wired Ethernet. Sonos plans to upgrade the Era 300 to Bluetooth 5.2 down the line.

If you want hands-free playback controls, you can use Sonos Voice. It's ideal for simple commands, like starting and stopping playback, skipping to another song, or adjusting the volume. Optional Amazon Alexa features are available through the Sonos app if you require some smart home integration. The setup is simple for both Sonos Voice and Alexa. While multiroom configurations work with AirPlay and even Apple's HomePods, there is no integration with Alexa Echo devices.
Notably missing from the lineup is the Google Assistant and support for Google casting. I recommend something other than the Era 300 to any Android user deep into the Google ecosystem. As one myself, I found it inconvenient to control media only through the Sonos Android app, since I can't directly cast to the Era 300, which dulled my experience (Spotify was able to connect independently, but that's because the Era 300 is compatible with Spotify Connect). I know that Google and Sonos have been in the courts over the former's implementation of multi-room audio, but affecting Android users in this way feels almost petty. Of course, we're never certain about what's going on behind the scenes. When I asked Sonos why there wasn't any Google casting offered, it said: "We're always exploring a range of integrations with partners but don't have any further details to share."

Although I performed setup through the Pixel 7, I did most of my testing with the iPhone 14 Pro Max. The app has the same experience on Android and iOS, but I preferred to use the iPhone because I could go into other music apps unavailable through Sonos and "cast" them natively with AirPlay.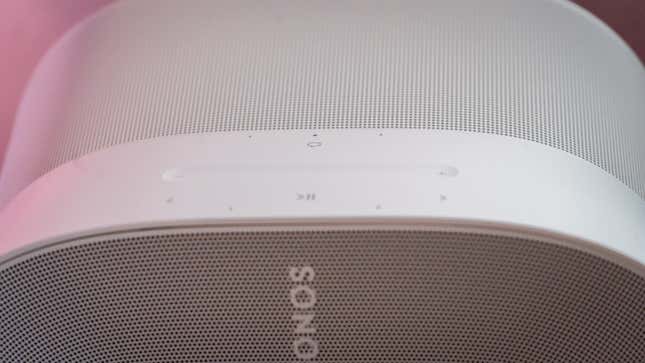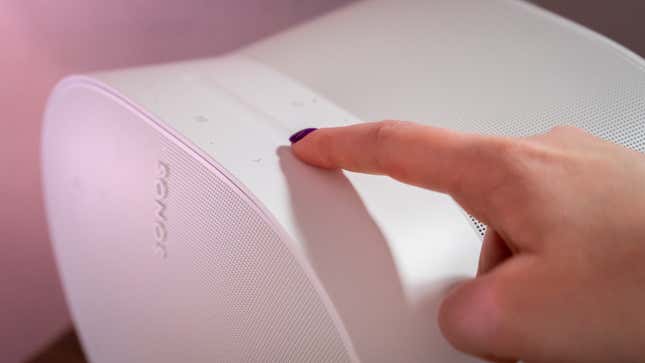 If you don't have a phone near you, you can control the Era 300 using the on-device controls at the top of the speaker. You can tap to play, pause, and shuffle through songs. Or you can slide up and down the capacitive bar to control the volume. There's also a hardware mute button for Alexa and Sonos Voice Control on the back, which shuts off power to the device's microphones, or you can long-press the speech-bubble icon on the top of the device to activate an assistant.
How does the Sonos Era 300 sound?
The Era 300 should be in an open room for the best results. When I first started testing the lone speaker in my office, which is about 110 square feet, the sound felt like it was bouncing off the mess of objects scattered throughout my room and concentrating around the speaker rather than dispersing. At one point, the music felt too loud at less than 50% of the volume and even started to make my head ache a bit. At the very least, I heard some excellent detail come through while AirPlaying Digitally Imported's Lo-Fi channel through the Era 300 at the lowest volume, which helped me set a vibe as I wrote this review. The speaker was especially impressive at keeping the sound contained within my room.

Then I moved the Era 300 into the dining room, an expansive room with higher ceilings extending into the living room. I placed it on the bottom of the bar cart I mentioned earlier, where my original Google Home Max usually resides. The sound dispersed more evenly out there than in my small office quarters, even with the dining table in front of it and beverage bottles surrounding it. I turned the Era 300's volume nearly two-thirds of the way up in that room without it bothering me. I could feel the sound fill up both the dining and living rooms on the other side of the house.
I compared the Sonos Era 300 to my current big-ass speaker, the discontinued Google Home Max. I also listened to it against the second-gen Apple HomePod, which is not as loud as the Era 300, though it has similar specs (five tweeters and one woofer vs four tweeters and two woofers). In almost all cases, I preferred the way the Era 300 sounded to the aging Home Max and the second-gen HomePod. For instance, the Home Max was much less bass-y during songs like The Midnight's "Shadows," despite its two woofers. While mid-tones came out clearly, they were much more pronounced when listening through the Era 300. The Google Home Max also sounded like it was pushing sound out through just one direction, whereas the Era 300's playback had a bit more presence to it—no doubt helped by all the different-facing speakers.
The second-gen Apple HomePod is more tempered with bass-heavy tracks. Sam Sparro's "Hands Up" sounded like it was struggling to escape from the lone HomePod I have placed on my living room mantle, whereas the Era 300 seemed like it could contain it enough to deliver the punch. The speakers also work together through AirPlay, which is nice (for Apple users), but you get less of the directional effect from the Era 300 when there's also a HomePod in the mix.
Unfortunately, I couldn't test the Sonos Era 300 in a 7.1.2 setup with a movie playing, where it can serve as the rear-stereo sound. I do not have the Sonos Beam soundbar or a second Era 300, which you can pair all together to achieve surround sound. However, I did play some of my favorite TV through Bluetooth to hear what dialogue sounded like. I was struck by how much more atmosphere a vintage episode of Beverly Hills, 90210 has when piped through the Era 300. Even the commercials on Pluto TV had thumping bass.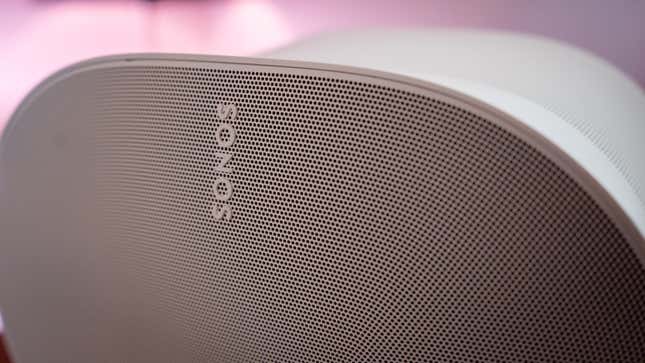 Finally, it was time to test Dolby Atmos. I was limited to Amazon Music's offerings through a trial subscription for this review. First up was M.I.A's "Marigold," a track that Sonos suggested reviewers try. I listened to it several times in my office. The Atmos version of the song sounds fuller, likely because the spec allows each track layer to be routed through a particular directional speaker. I could hear M.I.A.'s vocals clearly, specifically through the front speaker. The bass also reverberated slightly more. Then, I went into Apple Music to listen to the same song with regular stereo playback. I couldn't achieve equivalent fullness without first increasing the playback volume.
I looked through Amazon Music's offerings for an Atmos-capable song that's more my style and started playing one of my current favorite bops from the radio, Bebe Rexha and David Guetta's "I'm Good." The same song sounded bass-forward when I listened to it on Apple Music, but it didn't offer as much depth there as with Atmos.
I tried out one more radio hit, "10:35" by Tiesto and Tata McRae. I thought it was bassy when I listened to it on the Era 300 through Spotify. But when I switched to Atmos through Amazon Music, I realized the bass in the original version was muddying up the vocals at the song's beginning. They were much more prominent in the Atmos version.
Dolby Atmos sounds nice, but it works best when multiple Sonos speakers are playing along. And that's the most challenging thing to swallow about a Sonos-led ecosystem. The surround sound setup I mentioned earlier costs around $1,400. That's a phenomenal amount for many. Soundbars, even Sonos' own Ray and Beam, are affordable and capable enough that most people can achieve their desired effect for under $500.
The Era 300 is still for the Apple-using Sonos fan
Apple Music's spatial audio will go live on Sonos devices beginning March 28, so I didn't get to test it with the Era 300. I will test it when I get to my HomePod review. As mentioned, I listened to a few songs with the Era paired with the second-gen HomePod. It sounded great, and I felt a little jealous of the compatibility. I would have to rebuild my entire smart ecosystem to integrate the Sonos Era 300—and even then, it would only work with the few AirPlay-capable devices rather than the mass of Google cast devices I have throughout my abode. It is frustrating to think this "feud" between Sonos and Google may be what's holding back Sonos' cross-platform compatibility.
For Apple users, however, the Era 300 is a much better choice for a single speaker setup than one second-generation HomePod. The Era 300 is $150 more, but it offers much fuller sound than one lone HomePod can produce. It's also worth considering if you like to dance or get lost in electronic music like me, and you want that atmospheric presence to come through on playback.

Update 3/27/2023 at 12:57 PM: This article originally mistakenly stated that the Sonos Era 300 was $50 more expensive than the second generation HomePod. This has been corrected to reflect the actual pricing difference, which is $150.
---
Want more of Gizmodo's consumer electronics picks? Check out our guides to the best phones, best laptops, best cameras, best televisions, and best tablets and eReaders. And if you want to learn about the next big thing, see our guide to everything we know about the iPhone 15.