Sony's finally put a name to their motion controller, and it's called PlayStation Move. Updated with hands on.
Sony will have multiple packages. A standalone Move controller, or a package with PlayStation Eye + Move + a game, or an entire console solution. The Eye and Move and game combo will be less than $100. The preliminary launch window is Fall 2010.
One of the games for it is called Sports Champions, a game with a bunch of smaller mini games. One demo is a swordfighting duel game with a sword/mace and shield. It's similar to the swordfighting one in Wii Sports Resort, but with a shield too. This needs two motion controllers at once.
G/O Media may get a commission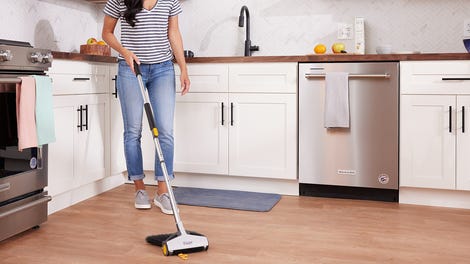 BOGO 50% Off
Flippr - BOGO 50% Off
One cool effect that they can do with the benefit of having a PS Eye is that they can do augmented reality stuff, like putting a paintbrush or a tennis racquet onto your Move controller on screen.
Sony also didn't say that the controllers came in a pair, so for the games that require two controllers (like the swordfighting one), you may have to buy two Move controllers. Very Nintendo WiiMote + Nunchuck-esque in terms of having to buy two things.
Motion Fighters. A street fighting game that actually looks pretty cool, as it makes you make the entire motion instead of just flicking your wrist.
Oh, and there's also a sub-controller that you can buy as an attachment to turn the controller into a WiiMote+Nunchuck like configuration. It's also wireless.
Hands On
Update: I just got hands on with two of the games, one is Socom, a shooter that has been adapted to use the Move and the sub-controller, the second is the Sports Champions swordfighting.
Socom, compared to point-and-shoot shooters on the Wii, was much smoother, much less jittery and more accurate. The combination of Move and PlayStation Eye seems to work well in this aspect, but it's not exactly better to use this when you compare it to a standard controller or a Mouse + Keyboard. I can see this as better for novices to shooters, being able to aim where you want to shoot.
The other game, the Sports Champions sword + shield fighting, is about what you'd expect. It's more or less 1:1 motion, like the Wii MotionPlus, but it's not so much more accurate than the Wii that you'd call it a dramatic improvement. An improvement, yes, but not dramatic. The left hand also holds a controller in order to wave the shield around, and that was a bit awkward in my experience. Right hand was fine, left hand a bit awkward to control simultaneously.
Swinging the hammer to your left, or right, or over your head actually moves it on screen, but again, it's not SO much better than Wii MotionPlus. The graphics, of course, are one generation higher, but the controls, ehhh.
PLAYSTATION®MOVE MOTION CONTROLLER DELIVERS A WHOLE NEW ENTERTAINMENT EXPERIENCE TO PLAYSTATION®3

New PlayStation®Move Sub-Controller, Enabling Intuitive Navigation, to Accompany the Release of the Motion Controller This Fall and 36 Developers and Publishers to Support PlayStation®Move Platform

Tokyo, March 10, 2010 – Sony Computer Entertainment (SCE) today announced that PlayStation®Move motion controller for PlayStation®3 (PS3™) computer entertainment system launches worldwide this fall, offering a motion-based, high-definition gaming experience unlike anything on the market. Concurrently with its launch, SCE will also release PlayStation®Move sub-controller to be used along with the motion controller for intuitive navigation of in-game characters and objects. The PlayStation Move platform, including the motion controller, sub-controller, and PlayStation®Eye camera*1, together with a strong lineup of software titles, will deliver an innovative and highly immersive experience on the PS3 system.

The combination of the PS3 system and PlayStation Eye camera detects the precise movement, angle, and absolute position in 3D space of PlayStation Move motion controller, allowing users to intuitively play the game as if they themselves are within the game. PlayStation Move motion controller delivers unmatched accuracy through its advanced motion sensors, including a three-axis gyroscope, a three-axis accelerometer, and a terrestrial magnetic field sensor, as well as a color-changing sphere that is tracked by PlayStation Eye camera. Through PlayStation Move system, both fast and subtle motion can be detected, whether the user is swinging a tennis racket, or painting with a brush. With PlayStation Move motion controller, users can provide direct input through action buttons and an analog trigger, while receiving physical feedback from rumble functionality and visual feedback from the sphere's ability to display a variety of different colors. Furthermore, PlayStation Eye camera can capture the player's voice or image, enabling augmented reality experiences.

The newly announced PlayStation Move sub-controller is a one-handed controller, developed to further expand the game play options that PlayStation Move games can offer*2. PlayStation Move sub-controller features a sleek curved design that pairs with the motion controller and comes with an analog stick and directional buttons that allow users to easily control the game when moving characters or choosing a direction. Like all other Wireless Controllers for the PS3 system, it comes with a built in lithium-ion rechargeable battery as well as Bluetooth® technology, enabling the controller to transfer the input information wirelessly to the PS3 system without a cable. PlayStation Move motion controller and sub-controller will further broaden the gaming experience on the PS3 system for all genres, from games that use one motion controller to games that use both controllers.

The introduction of PlayStation Move controllers has been well received within the industry and now 36 third party developers and publishers*3 have decided to support PlayStation Move platform. In fiscal year 2010, SCE Worldwide Studios will also release more than 20 games that are either dedicated to or supported with the PlayStation Move platform.

SCE, with strong support from software developers and publishers, will deploy various measures to enhance the PlayStation Move software title line-up and vigorously promote the PS3 platform.