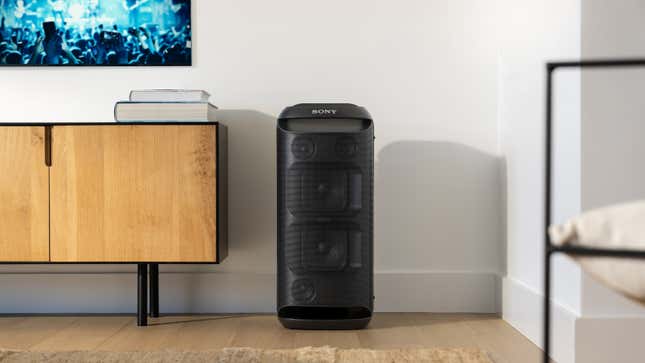 Giant party speakers are the easiest way to bring the tunes to wherever your guests are hanging out, but once everyone has gone home, you're probably not going to drag it around to listen to NPR every morning. They're usually only rolled out for specific occasions, but Sony's latest party speaker is useful for more than just parties or karaoke, as it can also be used as a standing soundbar for your TV.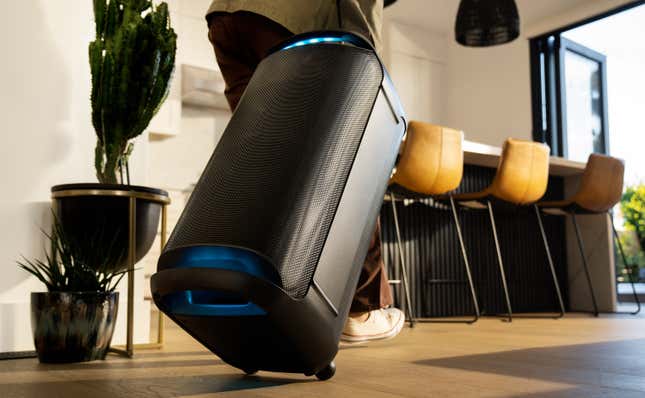 Standing a little over 28-inches tall, the new SRS-XV800 stretches the definition of a portable wireless speaker, but Sony does include a pair of wheels on the bottom so you can simply drag it from room to room without worrying about leaving behind scrape marks. The speaker also features sturdy handles built into the top and the bottom, as it can be used standing on its own, or lifted onto a table and laid on its side—a built-in sensor will determine how it's being used and adjust the sound output accordingly.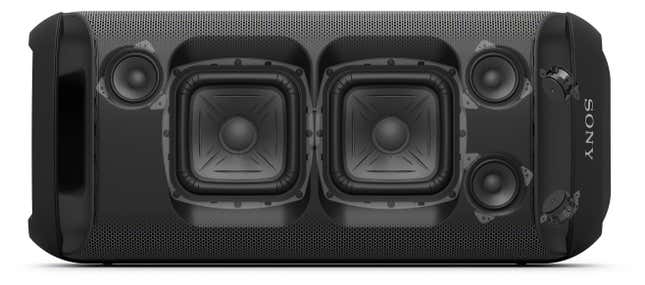 A built-in rechargeable battery promises up to 25 hours of sound from the SRS-XV800's five tweeters—three on the front and two rear-facing units on the back that help to fill an entire room with sound—which are paired with dual X-Balanced speaker units on the front that help boost bass performance. And because a bumping soundtrack isn't always enough to get a party in gear, the SRS-XV800 also includes color-changing LED lighting accents that can be synced to the beat of what's being played.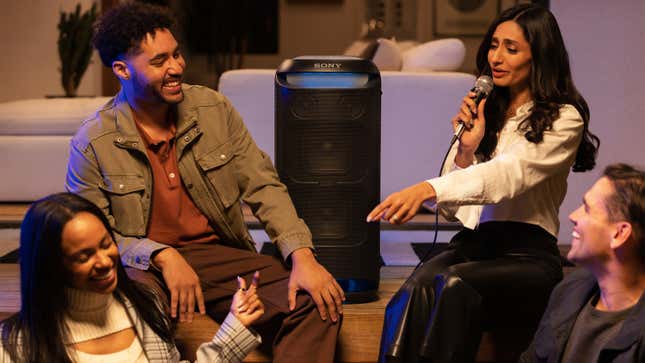 The SRS-XV800 is first and foremost designed for music, and includes inputs on the back for a guitar so you can use the speaker as an amp, as well as a karaoke input (you supply the microphone) with controls on the back for echo effects and Key Control.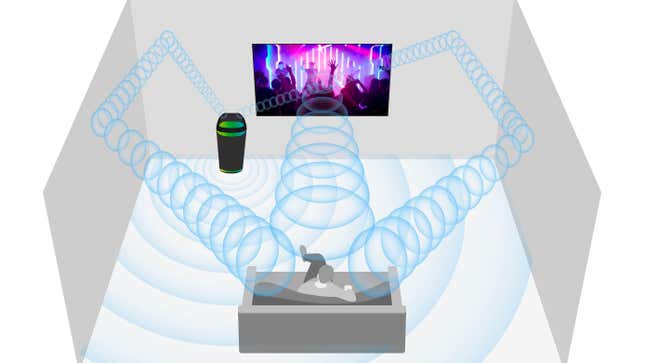 If after a long night of listening to party guests butchering Bohemian Rhapsody, you feel more like watching movies on the couch the next day, the SRS-XV800 includes an optical port and even a bundled optical cable so you can easily connect it to your TV and use the speaker as a standing soundbar. When positioned at the front of a room near a TV, Sony also claims the SRS-XV800's pair of rear-firing tweeters will produce sound that bounces off the nearby wall and better fills the room, but you definitely shouldn't expect a surround sound experience.
The Sony SRS-XV800 is currently available for pre-order through Sony's website and other retailers for $649, with shipping and availability expected to start on May 15.
---
Want more of Gizmodo's consumer electronics picks? Check out our guides to the best phones, best laptops, best cameras, best televisions, best printers, and best tablets. If you want to learn about the next big thing, see our guide to everything we know about the iPhone 15. Click here to save on the best deals of the day, courtesy of our friends at The Inventory.