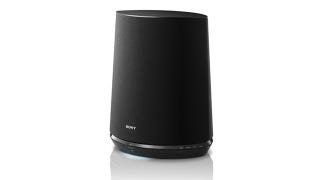 Sony's SA-N410 has upgraded its leading Pandora- and iPhone-friendly Network Speaker into a more powerful "Large" version, so that the music you stream from all over your house will have even more oomph.
The aptly named Large Home Network Speaker is more powerful than its predecessor, and has low-end boom owing to a built-in subwoofer. Sony claims that the speaker creates realistic 360-degree, room-filling sound. The speaker can play music from different sources around your home using your wireless network. It can play directly from iTunes using AirPlay, and can be controlled using Sony's iOS and Android apps. It also comes in a SA-N310 "Small" version without the built-in subwoofer. Both network speakers will be available this Summer.
Sony's BDV-N890W, Blu-ray Home Theater System, which will be available in the Spring, is also adding a bundled HomeShare network speaker. The 1000W, 5.1 Chanel, Wi-Fi-, 3D Blu-ray system is otherwise indistinguishable from the BDV-N790W, which is itself indistinguishable from the BDV-N780 it released last year, except that it is compatible with HomeShare. Sony's bottom-end system is now the BDV-E390, which also takes home share. This system will cost $400, the price of the rest is unknown.