Baseball fans will always associate the name of Wrigley Field, which celebrates its centennial today, with the Windy City. But it wasn't the first stadium to bear the name.
Instead, that honor belongs to a long-lost ballpark in South Los Angeles. Though it had been open since 1914, Chicago's historic stadium was still known as Cubs Park on September 29, 1925, when the Los Angeles Angels dedicated the original Wrigley Field with a 10-8 victory over the San Francisco Seals. It would be more than a year before the Chicago park also became Wrigley Field on December 3, 1926.
William Wrigley, Jr., who owned the minor-league Angels in addition to the major-league Cubs, spared no expense in erecting the ballpark that first bore his name. Built for a then-extravagant $1.5 million, L.A.'s Wrigley Field was a modern masterpiece: fireproof, all steel-and-concrete, room for 30,000 fans, with a double-decked grandstand and a nine-story clock tower behind home plate. In place of stairs, concrete ramps provided access to the grandstand's top level—an innovation that, in the words of the Los Angeles Times' reviewer, foresaw "the day when all the boys will be equipped with motor roller skates and will want to drive right up to their reserved seats."
Fanciful visions aside, the ballpark did look different from existing ballparks—and that's largely due to what fans couldn't see. At the insistence of its owner, L.A.'s Wrigley Field was completely free of advertisements. Where most ballparks plastered loud ads onto a wooden outfield fence, Wrigley Field built a wall of red brick—punishing to outfielders' shoulders, perhaps, but pleasing to spectators' eyes. (The L.A. ballpark, like Chicago's, would later plant ivy at the wall's base to soften impacts.)
For decades, then, there were two Wrigley Fields: one in Los Angeles at 41st and South Park, and another on Chicago's North Side. Wrigley Field of Los Angeles continued to host the Angels until 1957, when the Brooklyn Dodgers moved to town. It briefly returned to service in 1961, when the new major-league Los Angeles Angels moved into the stadium for their opening season. After the wrecking ball finally came in 1969, only one Wrigley Field was left standing: that beautiful ballpark, dripping with tradition, that Chicago celebrates today.
G/O Media may get a commission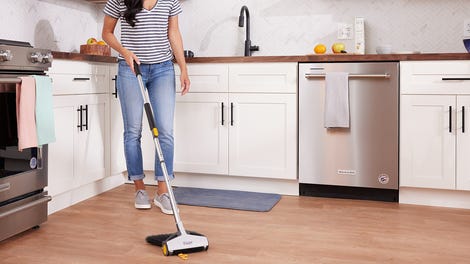 BOGO 50% Off
Flippr - BOGO 50% Off
Here's a view of L.A.'s Wrigley Field on its opening day in 1925, from the Los Angeles Public Library's Photo Collection:
This reverse-angle shot from the USC Libraries' California Historical Society Collection shows how the two-tier grandstand wrapped from foul pole to foul pole:
Here's a rare Kodachrome film of a 1948 exhibition game at L.A.'s Wrigley Field. That's Satchel Paige on the mound:
Wrigley Field appears in the bottom-left of this 1931 aerial photo (looking west) from the USC Libraries' Dick Whittington Collection. That's the Memorial Coliseum at right-center:
Top image: Wrigley Field of Los Angeles in 1961. Courtesy of the USC Libraries – Los Angeles Examiner Collection.