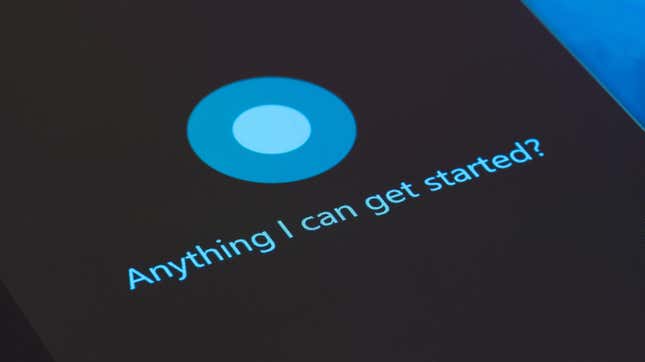 You can now visit the gravestone of Microsoft's virtual assistant app Cortana in the growing mortuary of failed products. The company ended support for the Bing search-based voice control engine on Windows to help make room for its continuing AI-ization of Bing and its bevy of other digital products and services.
Warning! Microsoft Wants ChatGPT to Control Robots Next
We knew this was coming for a few months now, but it's sad to watch an old digital compatriot slip away into the beyond. Microsoft put out an end of support notice for Cortana in Windows and Teams noting the app is "deprecated" back in June, saying support would end "late in 2023." Though the app is still available in Microsoft Teams, Teams mobile, and Teams displays, the app's days are numbered there as well, as support for the platforms will end in fall of this year.
You will still be able to use Cortana in the mobile version of Microsoft Outlook, at least for the foreseeable future. Still, the app was made unavailable on smart speakers and discontinued on iOS and Android nearly three years ago, so for all intents and purposes, Cortana is deceased.
As first noticed by The Verge, users on Windows 10 and 11 who try to load the Cortana app will receive a message reading, "Cortana in Windows as a standalone app is deprecated." Instead, the company is trying to push the Microsoft 365 and Windows 11 Copilot AIs. Those people still on Windows 10 are simply out of luck save for the Bing in-browser AI.

The company debuted Cortana back in 2014, and in 2015 it was integrated into Windows 10. Later that year, Microsoft added its digital assistant to Xbox consoles, as well. Cortana was supposed to be Micorosft's virtual assistant to compete with the likes of Apple's Siri, Amazon Alexa, or Google Assistant. By 2019, progress on virtual assistants slowed to the point that Microsoft and Amazon let users access Cortana and Alexa interchangeably. In 2020, Microsoft removed Cortana from the Xbox dashboard.
Microsoft has been looking to say goodbye to Cortana for years. The final move came after years of controversy over who had access to users' voice recordings and voice commands. Other assistant apps may be on the rocks as well. Alexa is also losing features like much-loved celebrity voices.
Meanwhile, Microsoft's current push for AI assistants hasn't been without its own hurdles. While other companies are working with proprietary AI language models, Microsoft has partnered with OpenAI to the tune of several billion dollars. OpenAI's ChatGPT chatbot integrated Bing search in July, but the company had to quickly put a pause on the feature after users bypassed the AI-maker's paywalls. The real test for AI assistants will be how it can disrupt regular search functions. Bing already has its AI-enhanced search open to all, but Google is still keeping its own Search Generative Experienced under closed beta. Amazon and even the incredibly close-lipped Apple may be working on integrating AI into their products.
The days of digital assistants may be waning, but our new AI-fueled digital lifestyle awaits, as does the verdict as to whether it'll pan out any better. In the meantime, pour one out for Cortana.