Microsoft is now putting its AI into all of its 365 apps, including Word, Excel, PowerPoint, Outlook, Teams, and more. What's more, Microsoft said it will be accessing your data, including anything you might have in your OneDrive, email, and beyond, to personalize all the content this so-called "Copilot" generates.
Making the Facebook Papers Public
On Thursday, Microsoft showed how much it's still gunning for big tech AI dominance. In a live press conference held on LinkedIn, Microsoft's corporate VP Jared Spataro touted the new AI system's power to remove the "drudgery" of modern work. At the same time, he hedged somewhat on how accurate the system would always be, saying "Sometimes it will get it right, but otherwise it gets it usefully wrong."
The company's head of office apps Sumit Chauhan showed how the AI could create Word docs, PowerPoint slides, Excel spreadsheets, and more using simple prompts.
For instance, Chauhan asked the system to create a 10-slide PowerPoint for celebrating her daughter's graduation. The system pulled pictures and information from her OneDrive to craft slides separated by different subjects. Users can then ask the AI to further refine text to shorten it or make it more "fun." The Copilot can also modify the images or animate them based on user prompts.
G/O Media may get a commission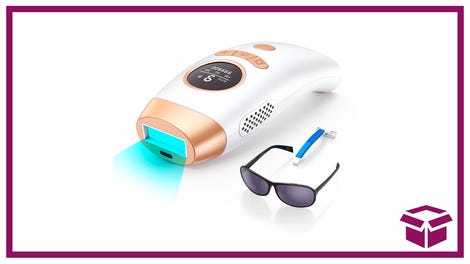 58% Off + Coupon
IPL Hair Removal Device
Microsoft called the process of taking context from users' data "grounding." Spataro promised this system of checking through users' data goes through "security compliance and privacy reviews." 
The Copilot in Microsoft teams can summarize and extrapolate information based on the meeting transcript. In Outlook, the AI can write emails or responses for users. Microsoft said the AI can create speakers notes for public speeches, and it will also make suggestions of items you can add to any of these documents, like adding an FAQ to a demonstration document. It can also format documents to fit the style of past work, such as when creating an official standard company document complete with official letterhead.
In a Word doc written by the AI, Chauhan demonstrated going in to edit a single paragraph of a graduation speech for her daughter "to sound more like me." It adds a somewhat sour note to the whole presentation. Imagine a parent not even taking the time to speak from the heart, instead just letting the AI do all the work then changing a few sentences afterwards. But indeed if this is us being "separated from the soul of our work" as Spataro put it, then we can imagine a lot more staid, AI-generated graduation speeches in our future.
The AI is being tested with "select commercial customers," though the company did not give a date when users can expect to have Copilot in their own 365 apps.
Rumors of Office AI integration have been going for more than a month now, but the company is also sticking its Prometheus AI into its sales programs as well. Much like Salesforce's own integration into its cloud platforms, Microsoft's Dynamics 365 will get access to similar AI integration even beyond the existing AI system in Viva Sales.
Microsoft is in a running battle to integrate as much AI into as many of its user-side systems as possible. Just like Microsoft beat out Google with the original announcement of AI integration into the company's Bing search engine, Google turned the tables this past week and showed off plans to put AI into Gmail and Google Docs.
As first noticed by Windows Central on Wednesday, Microsoft drastically shortened the sign up for the Bing AI preview. The Bing search chatbot has gone through quite a few iterations since it was first unveiled, especially after people quickly found the program could easily hallucinate. Even with those obvious problems, the aI program has already been integrated into Skype and the Windows 11 Taskbar as well. The current version includes a few different "personalities" to force the AI to give slightly more opinionated answers to responses.
This article is part of a developing story. Our writers and editors will be updating this page as new information is released. Please check back again in a few minutes to see the latest updates. Meanwhile, if you want more news coverage, check out our tech, science, or io9 front pages. And you can always see the most recent Gizmodo news stories at gizmodo.com/latest.